This weekend! This weekend was…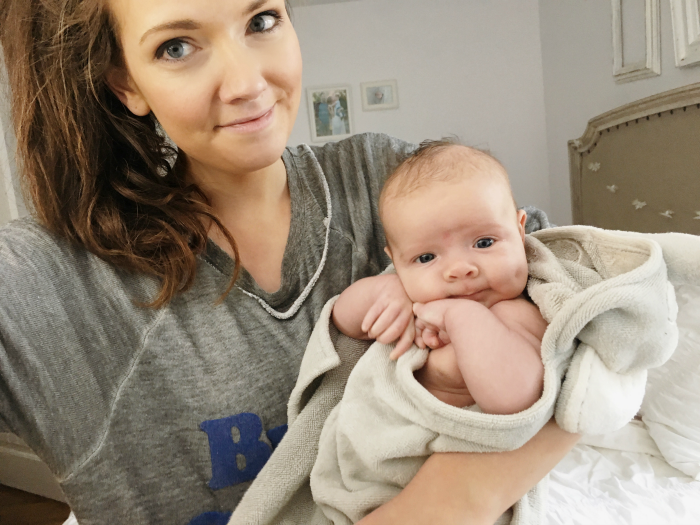 sweatshirt
Snuggles from my babies.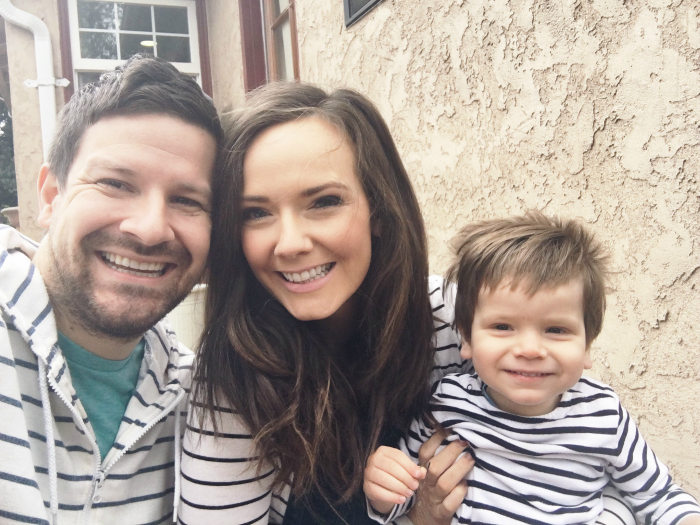 Matching with my boys- stripes on stripes on stripes. We're only missing Sophie! But she was napping, and don't you ever wake a sleeping baby! Don't you do it!! ;)
Also, I can't get over Sam's sweet smile in this photo! It's so hard to get a good picture of him these days, all he wants to do is GO-GO-GO, so this was a rare opportunity! And to get that genuine little grin?! Also, he looks so grown up these days. I can't even handle it…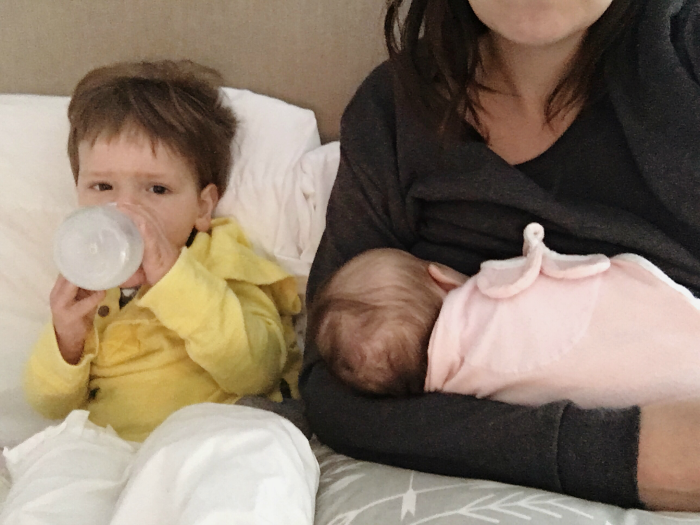 This weekend also consisted of…
No sleep. No, really. I get asked a lot to share how life with 2 under 2 is, and well. To sum it up, I'd say, exhausting. ;) Like, some days the stars align and they nap at the same time and that is just like PRAISE THE LAWWWD! But then there are the days where Sam refuses to nap, and Sophie is super fussy (not often, though, she really is an easy going baby, thank God!), or even better, the days where right when Sam goes down for his nap, Sophie gets up from hers. And right when Sophie goes down, Sam gets up. The days where there is literally NO break? Those are tough. Very tough.
And then also there's nights like Friday night, where both babies were awake until 1:00 AM, neither of them sleeping, both of them screaming and crying and upset. And both of us on the verge of insanity and delirious. Oh, that was super fun.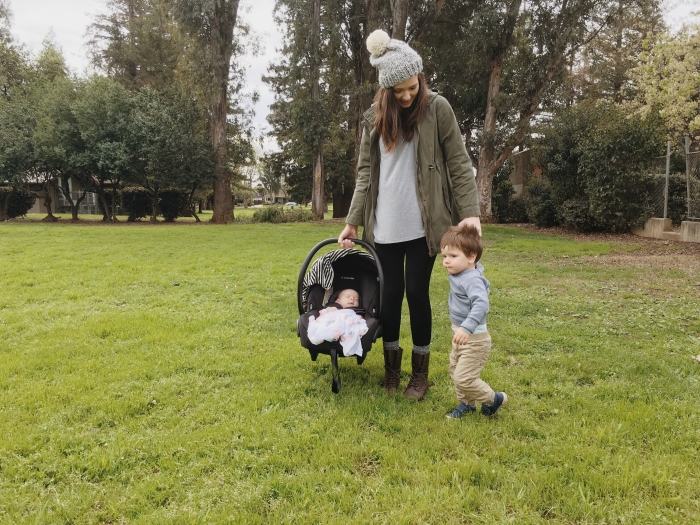 jacket | top | leggings | boots | car seat | car seat cover
So yes. Life with two under two is cuh-razy! And not for the faint of heart. Some days we don't get out of pajamas until after noon. A couple days last week I didn't even get around to washing my face and putting on some sort of makeup until 1:00 PM- because that is when they were both sleeping at the same time. Sometimes (most times) it feels like a balancing act. And some days I'm super skilled and have it down, and other days all of the balls come crashing down.
Also, we'll sleep when we're dead?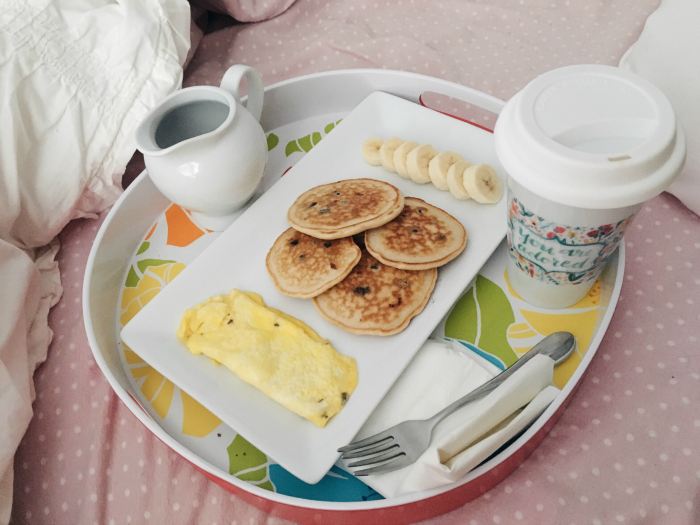 Zack surprised me with breakfast in bed on Sunday morning. When I asked what the occasion was, he simply said, "Because it's Sunday."
Well okay then. I'll take it. Also, I HAVE THE CUTEST HUBBY EVER.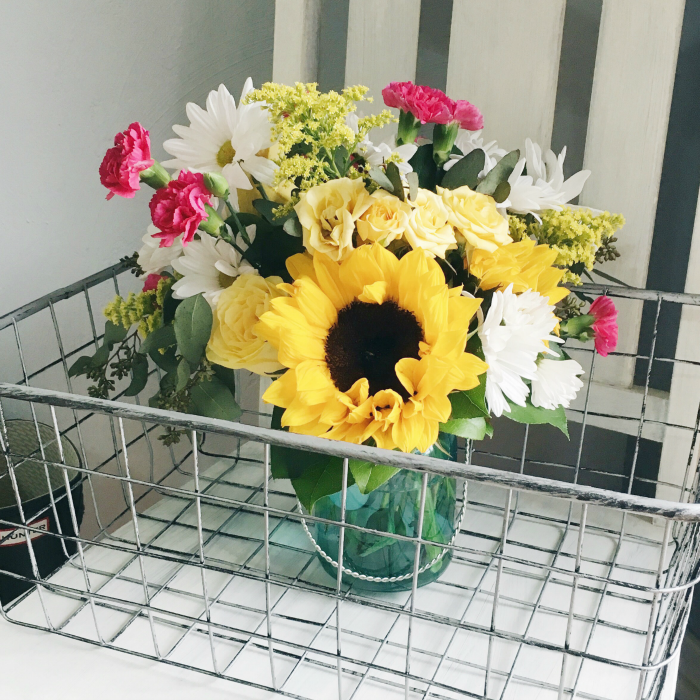 And some flowers from FTD flowers to brighten a dreary and rainy weekend. Continuing my streak of always having flowers in the house. Did I tell you? It's my new life goal, to always have flowers in our house. They just make life better.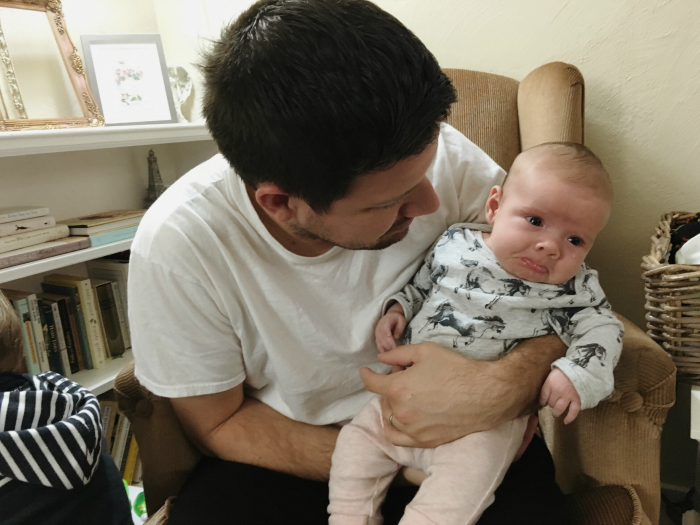 This was just too hilarious not to post. That little pout she gives!!! And the single tear!!! Do you see it?! And this is always when Zack is holding her. ha! He jokes that she totally hates him. But it's only because I've got the goods. Just you wait, tables are going to turn soon enough and she'll only have eyes for him! That's just how it works. #daddysgirl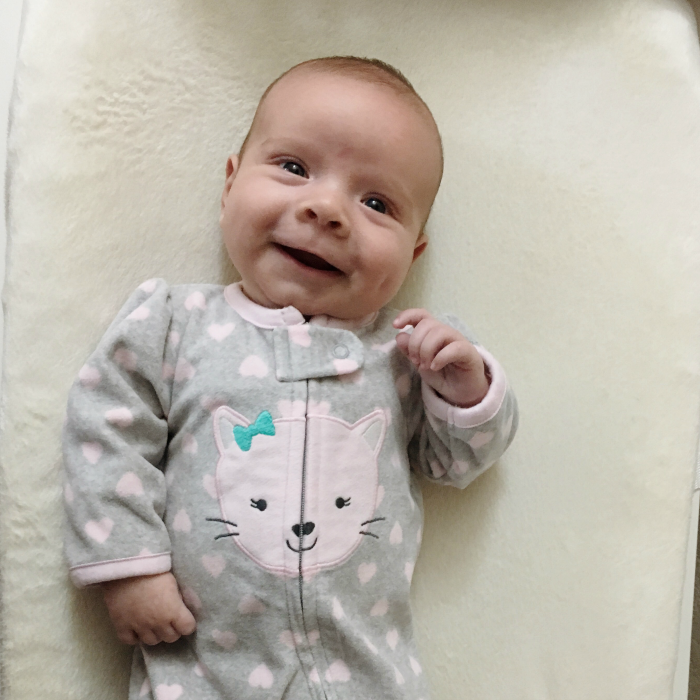 Ahhh. That's better. :)
And now it's a new week, and tonight is the FINALE of The Bachelor, OMG!!! Team Lauren!!
How was your weekend?
If you have two little ones (or more!) share your favorite piece of advice in the comments- would love to read!
xo