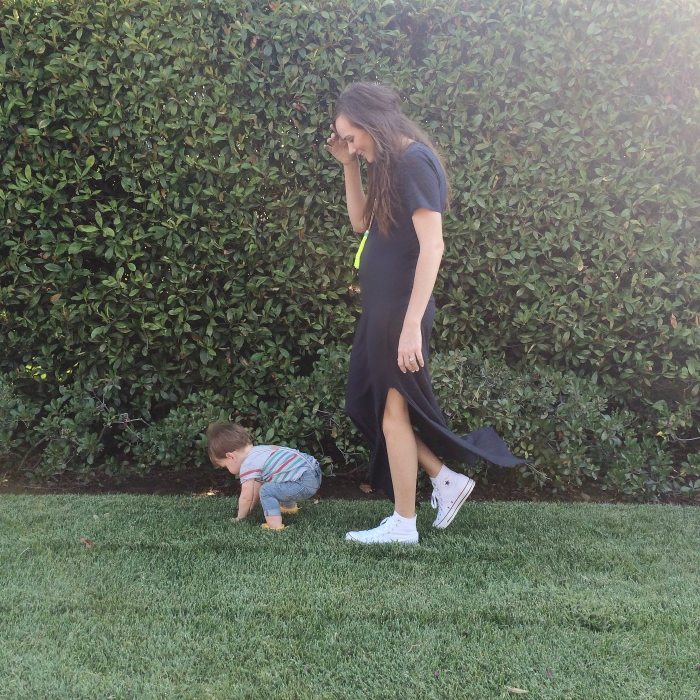 dress: forever 21 // necklace: c/o riffraff (use code katiedidwhat for 10% off!) // shoes: converse
So last week was ROUGH in this household. Zack got the flu on Sunday, then Sam got it on Tuesday and I got it on Wednesday. Thankfully, Sam got it the least, and it lasted for only about half the day for him. Mine, unfortunately, lasted ALL DAY LONG and a bit into the next. We are talking 24 hours of not being able to eat or drink anything without it coming back up within a half hour (TMI?). Now, having the flu always sucks, but having the flu whilst pregnant? WHOA. Guys. It was absolute misery. The worst I have ever felt in my life, hands down. At least I knocked out a half a season of Downton Abbey…?
Speaking of Downton Abbey, it's time for a bit of a seque for a sec. K. I am wayyyy behind in that show. I love it so much and got SO into it the first and second seasons, then life got in the way (aka a BABY) and it got harder to find time to watch it. So while I was sick, I started the third season, and let's just say, as much as I love that show, there are a few things to take note of.
ONE: there will be tears. So many tears. It's sad as it is, but then throw in the hormones of pregnancy, and I about lost it every episode. I was literally sobbing. Actually, I was crying upon the opening song when I began watching, but that's just because I'm a crazy person and also extremely nostalgic (especially with music), and it brought me back to watching it at my parent's house when my mom was really sick. So. I guess I get a pass for that one.
TWO: because of the excess amount of crying that will inevitably happen (especially for us preggers out there), binge-watching Downton is not necessarily advisable. It got kind of exhausting, actually. I was an emotional and physical wreck. Just sayin'. SO. MANY. TEARS. Regardless, I'm hooked all over again. Downton fan for life. (BUT WHY DID THEY DO THAT TO SYBIL?! NOT SURE I CAN FORGIVE THEM FOR THAT ONE).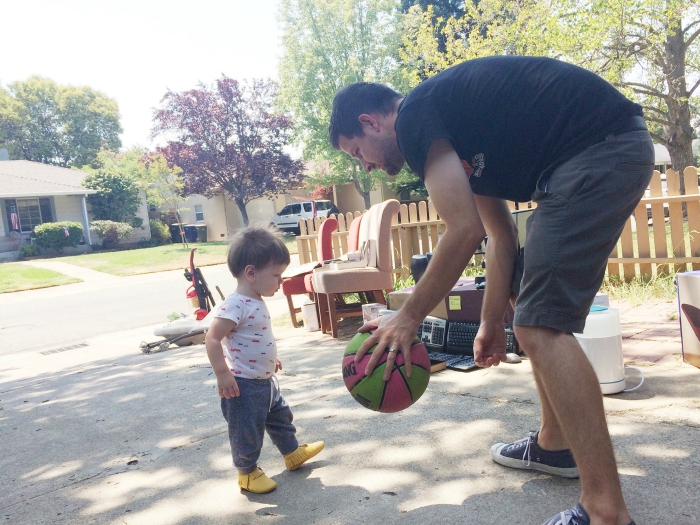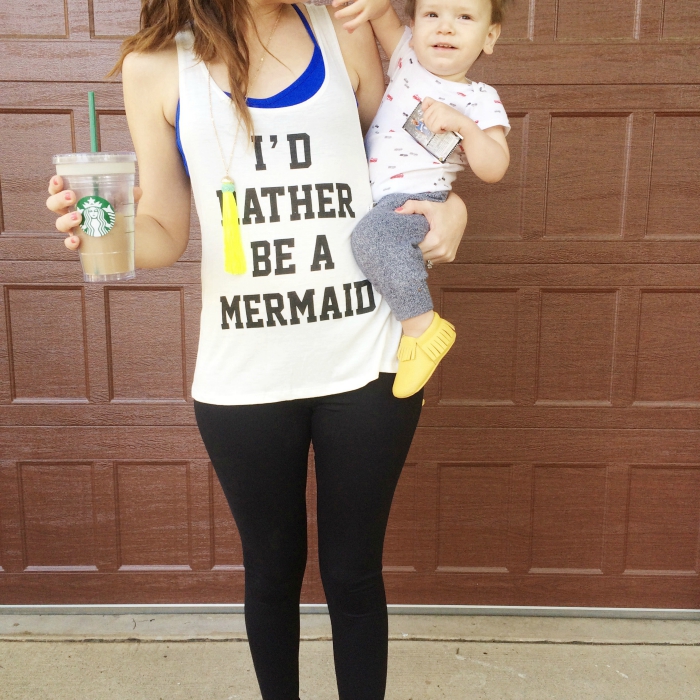 top: c/o riffraff // necklace: c/o riffraff // leggings: zella
We were finally all feeling 100% once the weekend rolled around, so we made the most of it. We had a spontaneous garage sale on Saturday, family dinner for my grandpa's wifey (LOL) that night, church on sunday (and donuts!) and dinner at Zack's parent's house Sunday night. It was the perfect weekend.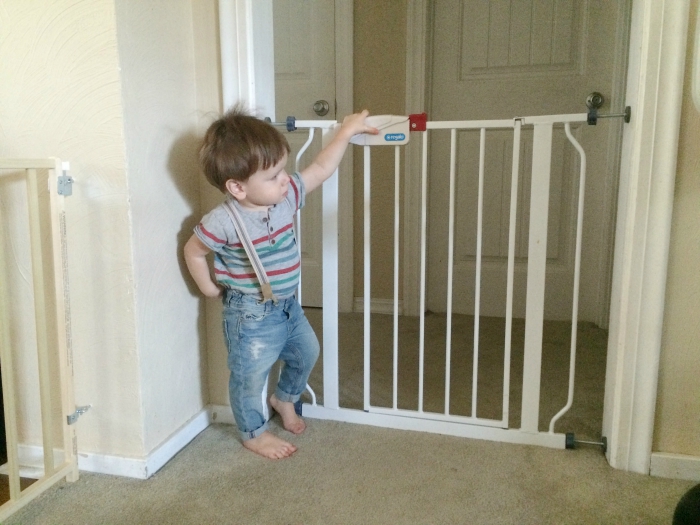 BABY IN SUSPENDERS, I CAN'T EVEN.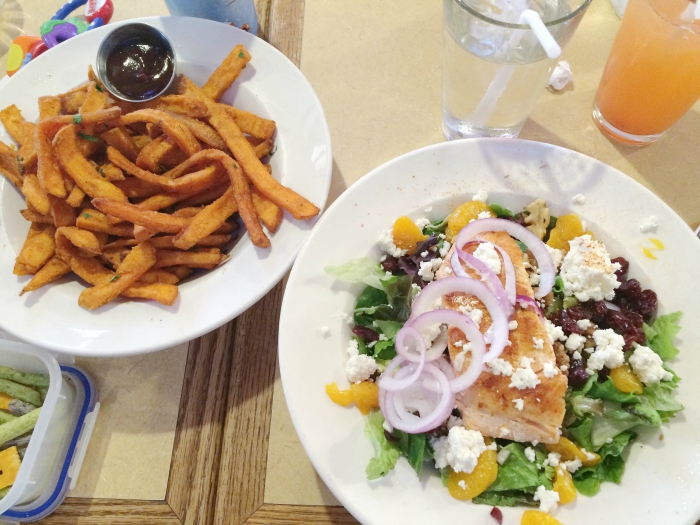 Salmon salad and sweet potatoe fries. Mmmm mmmm.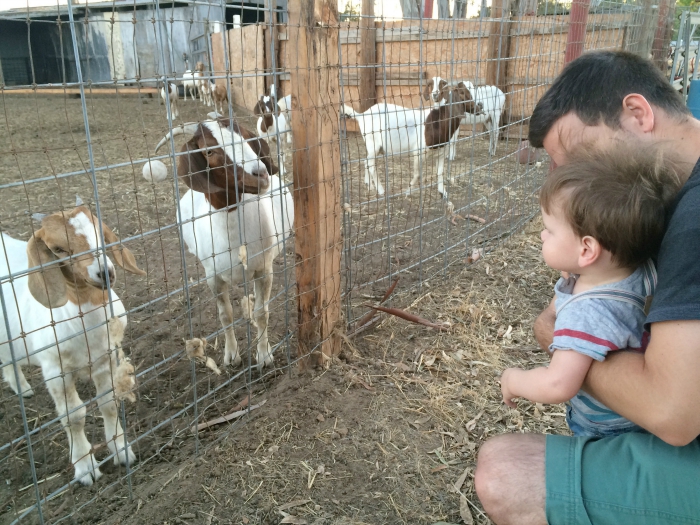 My grandpa has goats. Sam was a BIG fan. The feeling was mutual. It was cute. He would have hopped the fence and frolicked with those crazy goats if we let him. Ha!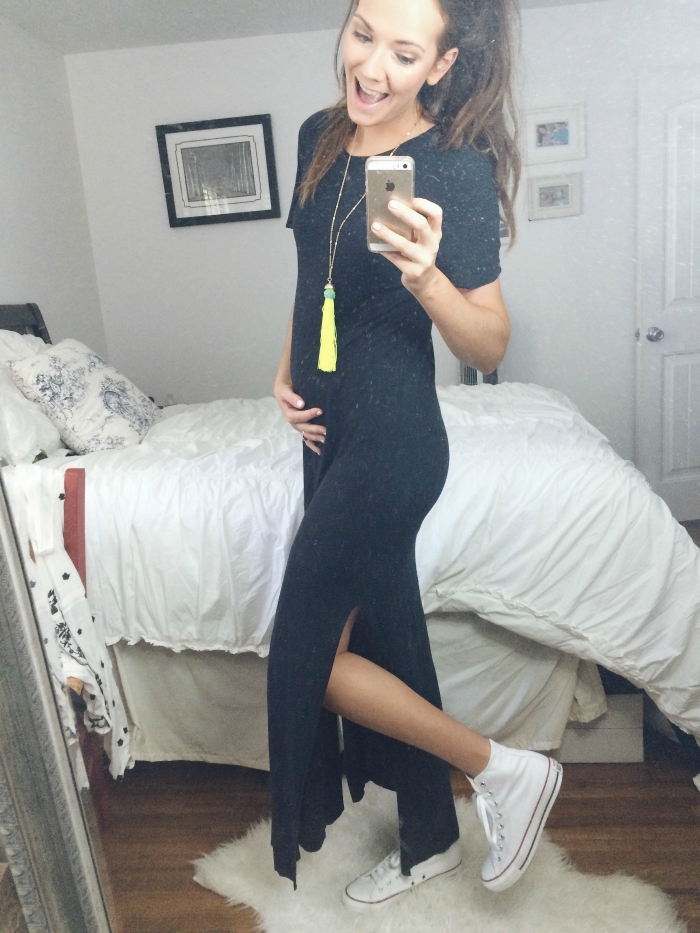 Hello, little 16 week bump! I love you so!
How was your weekend?
Any other Downton fans out there? No spoilers for what's to come, please!
xo