This "Flavor Your Adventure" post is sponsored by Blue Diamond Almonds. For more snack ideas to "Flavor Your Adventure" this summer, visit Blue Diamond Almonds on Facebook, Twitter and Instagram.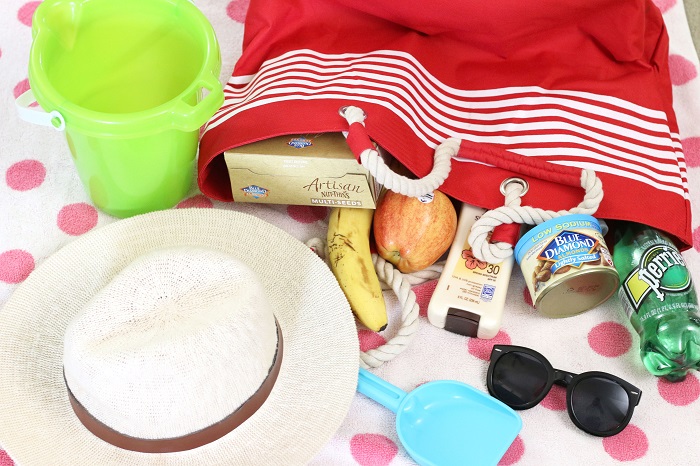 Can you believe summer is already halfway over? It seemed I blinked and here's August! Once August hits, I feel summer is dwindling down. Maybe it's because Zack is a teacher and goes back to work in the beginning of September. Whatever it is, once August hits, I go into panic mode. Must. Do. All. The. Summer. Things.
We'll definitely be sure to bring some summer must-haves along with us on all of our adventures. Sunscreen, sunglasses, water, toys for Sam and a bunch of snacks. Blue Diamond sent over some lightly salted almonds, which I've really been loving.
In the spirit of savoring all the summer that's left, while I can, I thought it'd be fun to share our August/End of Summer To Do List. Because "Bucket List" is too morbid.

1. Road trip down the coast to Southern California. To get our beach fix. Also, my brother lives there, so a free place to stay is added incentive!
2. Pool days. It's been like 100 degrees every single day this week. More pool days are necessary.
3. Day trip to San Francisco. We live so close and we still haven't taken Sam, so that is a priority. Plus it's always like 30 degrees cooler there.
4. Baseball game. We can't leave the quintessential American summer pastime off the list. Especially when we have a AAA team right here in Sacramento!
5. Picnics in the park. On days when it's not 100 degrees, this is one of our favorite free activities.
6. Splash pad. Sam is such a water baby, I know he'd just love going to a splash pad. And I know I'd love to see him running around giggling in the water.
7. Boating. My dad just got a boat and he lives near a lake, so we're really excited to go out on it. And swim. And cruise. And paddleboard. It's become a new summer tradition for us.
What are some last-minute summer adventures that you'd like to squeeze in?

xo