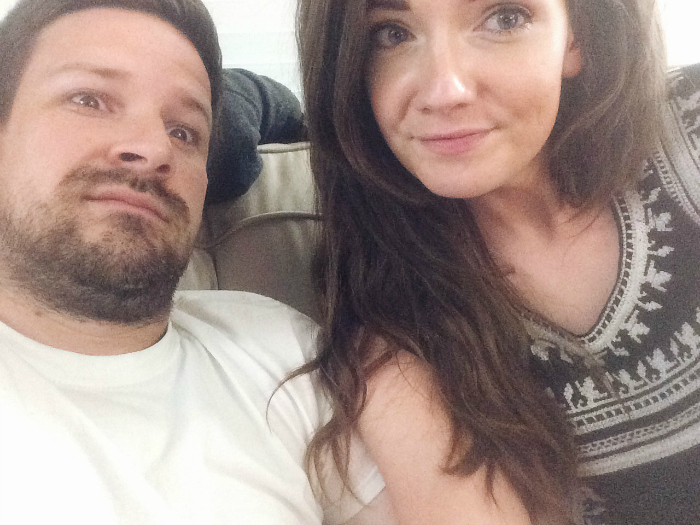 I can't believe we're already here once again! The Bachelorette has returned, and with it so do the Man Quotes. If you're new around here, Man Quotes are the silly things my husband (and I!) say whilst watching The Bachelor/ette. Yes, my husband watches it with me. Because he is awesome. And it's become a little Monday night tradition now, which we love! He definitely adds to the enjoyment of the show, and if you have a man of your own I highly encourage you convincing him to watch with you! It's that much funnier, I promise. If you do or if you don't, either way, come here every Tuesday for the hilarity that comes with watching this show with your man, i.e. Man Quotes.
But first a few things. Okay the two girl thing? It's just SO AWKWARD. Them both standing there, and the guys getting out of the limo and having to choose who to go to first… I don't know. Way too much awkwardness for me. Can't we just all agree that Kaitlyn is the better one, and go on from there? Also, notice how all the guys who are #TeamBritt are like boring and just talking about how pretty she is, but all the #TeamKaitlyn guys are silly and funny and have personalities. So there's that. Okay.
On to the quotes!
Hi, I'm Chris Harrison.
Zack: Hi, Chris Harrison. We know who you are. You need no introduction.
Kaitlyn: "My nerves are out of control right now."
Zack: Nerves of steel, girl.
I wish I could say I live in a mansion with a white picket fence.
Zack: But in reality, I live in a van down by the river.
Joe: "I want the Bachelorette to be Kaitlyn."
Zack: Alright, Joe. You're back on my good side.
A male dancer? Really, The Bachelorette? Way to keep it classy…
Love is what makes life worth living.
Zack: No, love is a battlefield.
Zack: This guy's got three dice hanging in his rearview mirror? First of all, fuzzy dice, NO. Second, three??
The Healer Guy: I'm definitely unique.
Zack: If "unique" means effing WEIRD.
This is so weird… Not a fan of the two girl thing.
"He's in a cupcake!" Okay that was just hilarious.
Guy: "My conversation with Kaitlyn was… easier than with Britt."
Zack: Because she didn't talk about ponies and hairspray.
Chris Harrison: "I just sent Ryan (the drunk) home, for a myriad of reasons."
Zack: Too bad.
I wish we had a counter on how many times the phrase "not here for the right reasons" was used tonight. SO MANY.
Brady/Nashville Guy: "On a scale of one to ten, I'd say Britt is a solid… Billion."
Zack: Oh, that is GOOD.
Annnnnnd of course we don't find out who the Bachelorette is tonight. Typical. Part two tomorrow…
Okay, sooooo did you watch? Are you excited it's back? Indifferent? Are you excited that Man Quotes are back? Cus I ammm! ;) And most importantly: Are you Team Kaitlyn or Team Britt?
xo