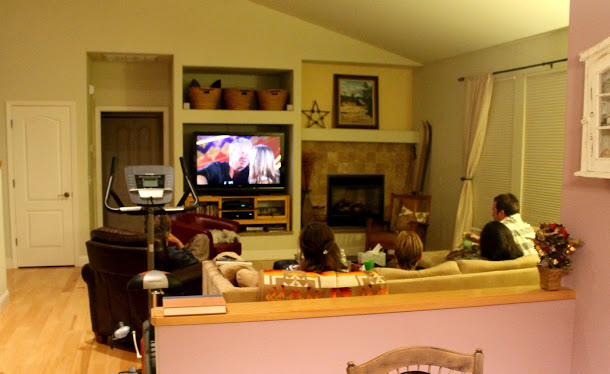 {captivated audience}
So. The Bachelor happened again last night. It was, after all, a Monday. Here are the highlights, with guest quotes from my brothers (Jeremy and Josh) and my sister-in-law (Christina). [WARNING: THERE ARE A FEW SPOILERS AT THE END]
-Sean stands on the edge of the boat-
Dad: It's not the Titanic, Sean.
Zack: I'm the king of the world!
Sean: "I could see us with little kids running around…"
Zack: Little Seans running around carrying dumbbells with perfectly chiseled abs.
Dad: Who IS Sean?
Me: He owns his own furniture company.
Dad: Is he Amish?
Lindsay: "When I was an adolescent, the war started."
All of us: What war?? World War 1? Who says "the war?"
Sean, to market lady in Thailand: "How do you say "Thank you?"
Lady: "Kha!"
Jeremy (in Sean voice): Now I know Thai!
-When Sean and Lindsay eat off of the same piece of fruit, at the same time-
Christina: How do you even do that?
Zack: That's how Katie and I eat all of our fruit.
-Sean and Lindsay are at a beach with a bunch of monkeys-
Christina: Ooh, monkey beach.
Zack: All of a sudden, there's like 80 of them. Uhh, we should go…
Sean: "We have monkeys just feet away from us."
Jeremy: That's my dream. Monkeys on a beach.
Me: His face is so shiny and red.
Christina: He probably has a fever from feeding the monkeys.
Lindsay: "It doesn't get any better!"
Zack: Yes it does! He's got 2 more dates!
Jeremy: They're best friends now?
Lindsay: "I feel like I'm in a movie."
Zack: You're on a TV show. That's pretty close!
Lindsay (reading the date card): "If you choose to forego your individual rooms…"
Me (in Lindsay voice): What does "forego" mean?
Sean: "You could be my best friend"
Josh: One of my 3 best friends.
Dad: I can't take it any more.
Zack: Wait, she's a personal organizer? "Put that there, put that there, give me 20 bucks."
Jeremy (when Sean and AshLee are swimming and Sean gets a floaty bag): I like how he's holding on to the flotation device.
Zack: He shakes her off. "You're weighing me down."
Jeremy: Sean just cares about Sean.
Christina: He's saying the same thing to all of them.
Dad: It's a script.
AshLee: "Sean's my soulmate."
Christina: You have NOT met enough guys. It's cus she's 33. "Man, if I don't get picked, I'm never getting married!"
Christina: He's always shirtless, wet…
Sean: "I can see myself marrying you."
Zack: He's not supposed to say that! The producers are shakin' in their boots!
Christina (on Sean's smooth talking about the fantasy suites): He knows what to say to get her in that room.
Jeremy (when Sean is looking at each framed picture of the girls): Time for Sean to consult the pictures.
Christina (on AshLee's gap): That is a HUGE gap! There's like a good 2 inches there!
Dad: Oh, Sean. Go take a shower and think about it.
Christina: AshLee looks like such a mean girl. That's quite the stank eye she's got.
Zack (on AshLee being cray): She takes out a knife and stabs him. "Nobody will have you!"
Annnnd that was our Monday night. After the Bachelor, we watched some Downton (we're in the 2nd season, so no spoilers, please!) I'm going to miss my siblings when they go back home, boo.
Read More on Katie Did What