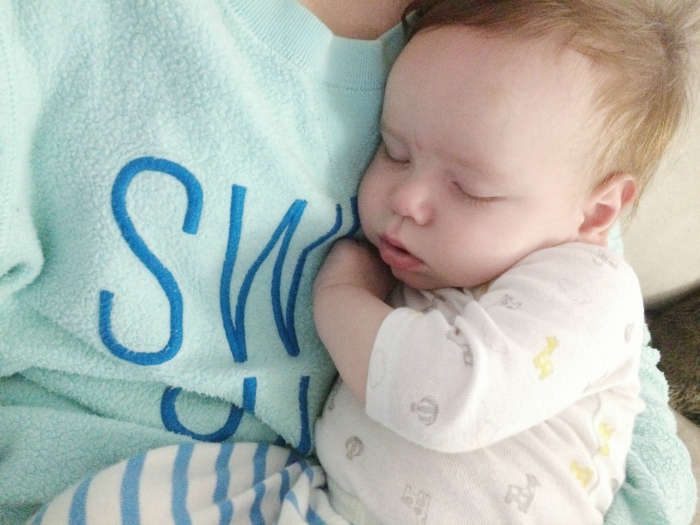 First, there's this. My baby fell asleep in my arms for his morning nap yesterday. I debated transferring him to his crib, like a crazy person, for just a second, and then my heart grew ten thousand times and I just couldn't bear to move him, so in my arms he stayed. And he slept for 1.5 hours. It was literal heaven on earth and I basically just stared at him for the entire time. Oh, that sweet angel baby. He is my joy.
Okay, one more. Twist my arm. ;)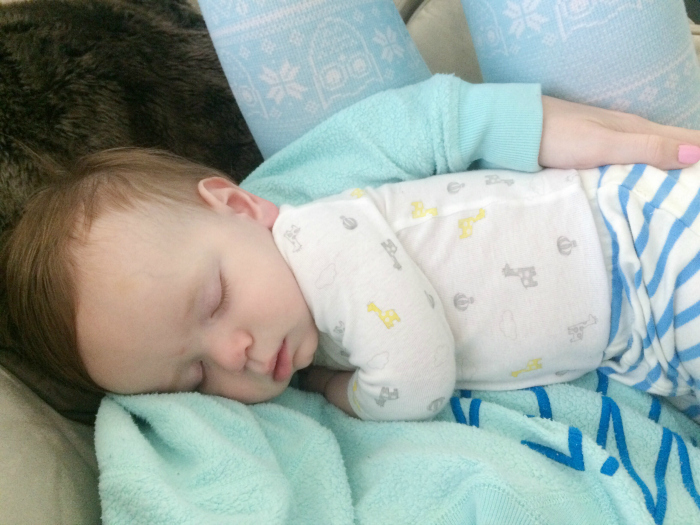 Woo boy, folks. This week was a doozy! A TWO-FER Bachelor! But Sunday night was also the SNL 40 special, so obvi we were like… mmmmmm… let's see here… and priorities won over, and SNL won by a landslide. But we are devoted to these darn Man Quotes (and plus, yeah, hate to admit, I'm kind of devoted to the Bachelor, too) so we found it and watched 4 HOURS OF BACHELOR last night. My poor husband. And also, bless his heart. Or as my mama would say, bless his pea pickin' heart. :) On to the quotes! There are a lot! You're….welcome? Sorry? Not sure which way to go here.
First off: Be sure to read last week's quotes here!
[Sunday's Episode]
Zack: Whoa, she's got a greasy face.
Chris: "I have to just let you go…"
Katie: …It's because of her greasy face.
Chris: I just can't send another girl home tonight.
Zack: Can I marry all of them?
"We're going to Iowa!"
[All the girls scream and jump up and down]
I have never seen anyone be that excited about going to Iowa…
Jade: "Chris's house has a very "bachelor" feel to it."
Katie: Well, yeah. He's the BACHELOR.
Chris: "Jade has a wild side…"
Katie: Oh, you have no idea.
Chris: "I don't think Jade has come out of her shell with me."
Zack: Not with you…
Jade: "It was basically a Hometown date."
Katie: Well.. I mean… It was a hometown date, so…
Kaitlyn: "I'd want to pop out babies ASAP if I lived in Arlington, Iowa."
Zack: It'd give you something to do.
Katie: And someone to hang out with.
Whitney: "Our picture had been painted on the wall, like a mural!"
Zack: Well, that is what a mural is.
Allll the Britt stuff: DR-AMA.
–About the Britt drama– Okay, so she just said that her first impression of the town (which took them approx. 2 minutes to drive through) was that she couldn't picture herself living there, but then thought more about it and could. I mean, I think that was just her being 100% honest, and NOT being fake. Pretty sure they all thought that right away, even if they didn't say it. So, yeah. But when she fails to mention that and just tells Chris that she "LOVED" it and could totally see living there! Um, no. That was fakety fake fake. And near the end she was just soooo annoying and I was basically so over her. Like, go home already. Stop talking about it and go.
[Monday's Episode]
"And tonight, the drama in Iowa continues."
Zack just laughs.
Chris: "I think that's what I love about you the most."
Zack: All she heard was I love you.
Britt packed her bags and is talking about leaving early.
Zack: Britt is not leaving early. Watch.
Britt: "There's no cocktail party. I don't know what I'm going to do."
Zack: I thought you were going to go.
Britt: "The train is moving."
Katie: Jump aboard!
Zack: The old cancelled cocktail party trick.
Katie: Wait… There are gators, and then the just go in a tiny little boat? Um. HELL no.
Katie: Okay, Becca's sister telling Chris that Becca is not affectionate.. Um. How does she know?!
Katie: …What does Becca's sister think a "sugar donut" is?
Zack: Is sugar donut code for something, or…?
Becca: "I think this feeling is the feeling that I'm feeling that love is starting to happen."
Katie: That's a lot of feelings.
Chris: "I make corn, and she makes babies."
Katie: Yeah. She wins. Although, corn IS delicious…
Zack: Overprotective sis-ter!
Okay, I like Whitney's sister. He asked for approval, and she said "I need her to be THE ONE, not one of four. So call me when you have that." BOOM. PERFECT.
And the classic Bachelor moment: "I love you." [Responds with makeout sesh]
Whitney: "It just makes sense. Traveling back and forth between Chicago and Iowa."
Zack: Wait. That doesn't make any sense.
Zack, who said two weeks ago that Carly is going to win the Bachelor: "Kaitlyn will win the Bachelor, even though I want her to be the Bachelorette."
Katie: Jade's father is totally sabotaging her!
Chris: "He referred to as a wild mustang."
Zack: Here comes the wild mustang!
Time for the awkward face twitching! Any time Chris is uncomfortable, his face twitches.
Thoughts? I think Whitney is super sweet, but it's weird because I feel like we hardly saw her relationship with Chris growing at all, since it was mostly just like THE BRITT SHOW. Like, I don't even know her? So it's hard to be gung-ho about them. I really like Kaitlyn, as does Zack. She's just awesome, but I'm actually rooting for her to be the next Bachelorette.
xo