Alrighty guys, I have another sale to share with you! Shopbop, one of my very favorite online stores, is having their biggest sale of the season! 20% off orders under $500 and 25% off $500+ with code EVENT17! Sale ends Friday 4/14 at 11:59PM.
It's no secret I loooove me some Spring fashion! I've shared some of my favorite Spring finds here and here, and now to share what's on my wishlist from the Shopbop sale: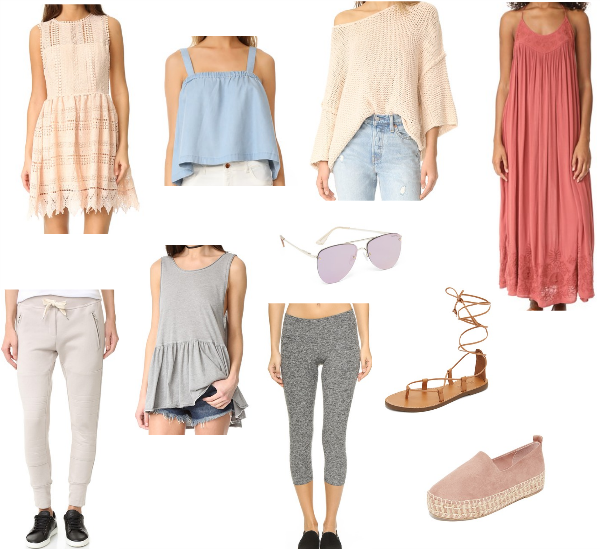 lace dress (beautiful for easter or any springtime event!)
Chambray Top (adooorable with some high-waisted shorts or jeans!)
Pullover Sweater (staple)
Maxi Dress (I have this and LOVE it- the terracota color is beautiful! I actually wore it for Sam's birthday here!)
Joggers (I have these in black already, and just picked this color up- so comfy and cute!)
Tank Top (I snagged this one! Will be living in it this spring/summer!)
Workout Leggings (these are the softest workout leggings ever!)
Gladiator Sandals (a spring/summer staple! I own these and brown and black!)
Espadrille Platforms (These are sooo cute! I just bought these and love them!)
Mirrored Aviators (super on-trend and adorbs!)
Be sure to shop the rest of the sale here– remember to use code EVENT17 and let me know what you end up picking up for yourself!
What are you needing for spring?
xo