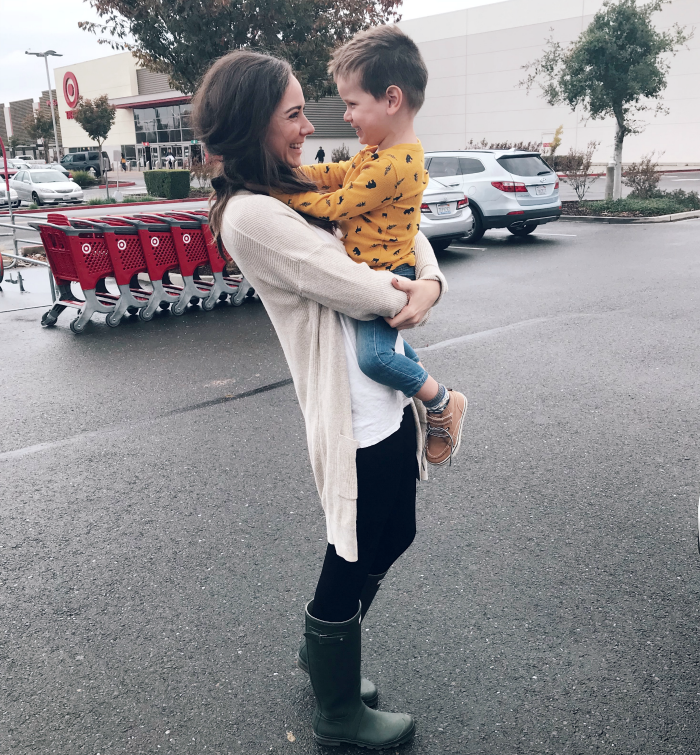 CARDIGAN | TEE | LEGGINGS | HUNTER BOOTS
That smile of his. It's everything. Double chin grins for the win.
Hey hey heyyyy! Happy Fri-dayyyy! See what I did there. SO. This week! I feel like it's been the cold that never ends. Much like the song that never ends, but even more annoying. Literally, the runny noses and coughing are just lingering on in our household… It's been a week and a half and we're all just DONE. OVER IT. TIME TO MOVE ON. Anyone else feel me on this?! Ugh. Here's praying for health ASAP because I'd like a break from wiping runny noses of kids who reallyyyy don't want you to wipe their runny noses.
I mean, not that I blame them, but still. Over it.
Some things, from this week!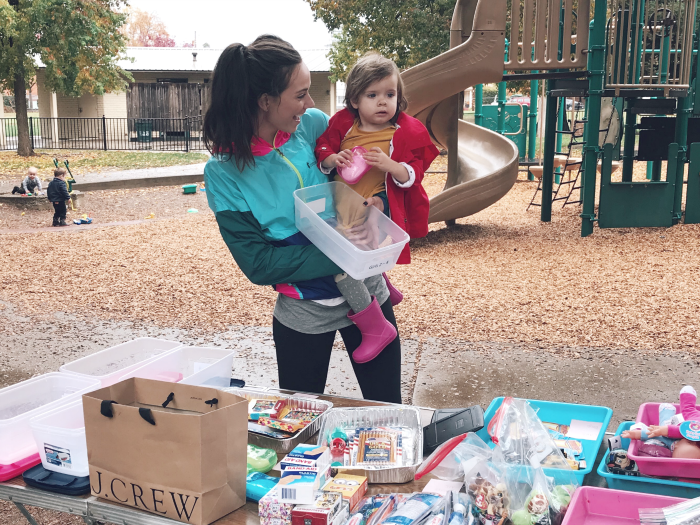 JACKET c/o | LEGGINGS | SOPHIE'S RAIN BOOTS | SOPHIE'S DRESS
We packed boxes for Operation Christmas Child! One of my favorite Christmas traditions! We did it with my workout group this year, and it was so darling and great having all the kiddos help out. They're never too young to start talking to about the importance of giving. We picked out a little stuffed unicorn for one of the boxes, and Sophie got a bit attached to it right away (no surprise there! She loves her plush toys!), so I explained to her that it was for a friend in need, and would it be okay to give it to the kid who doesn't have much? And she looked at me and said, with her big blue eyes, "Yeah." (Her favorite word right now, which is her response to most questions these days, but STILL). Then she happily put the unicorn into the box. :) No protest. Atta girl.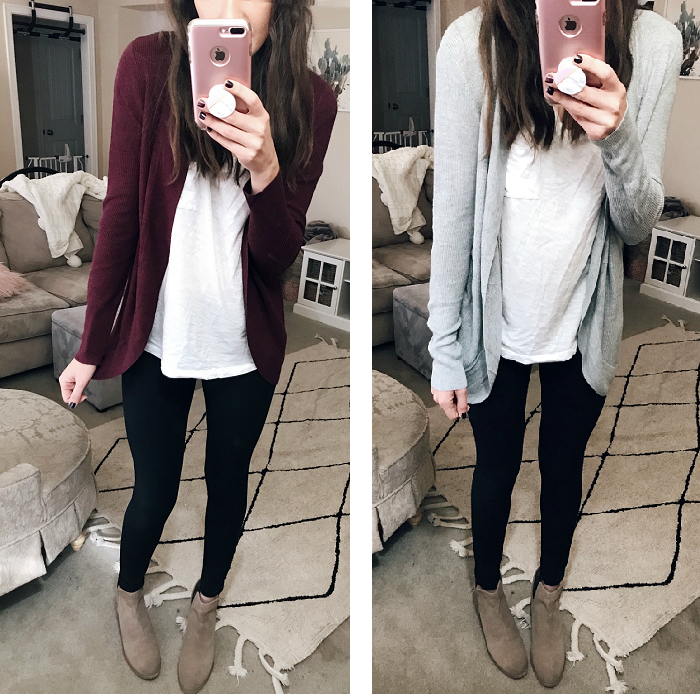 SWEATER (size up!) | TEE | LEGGINGS | BOOTIES
I picked up a few sweaters from Target, all on sale! THIS ONE is super cute, and is a very big contender for Thanksgiving! I ordered both a Medium (in cranberry) and Large (in grey) in this one, and would recommend sizing up! I like how the large fits so much more! But I like the cranberry color, so I need to order that one ASAP! Bonus: It's only $20, shipped!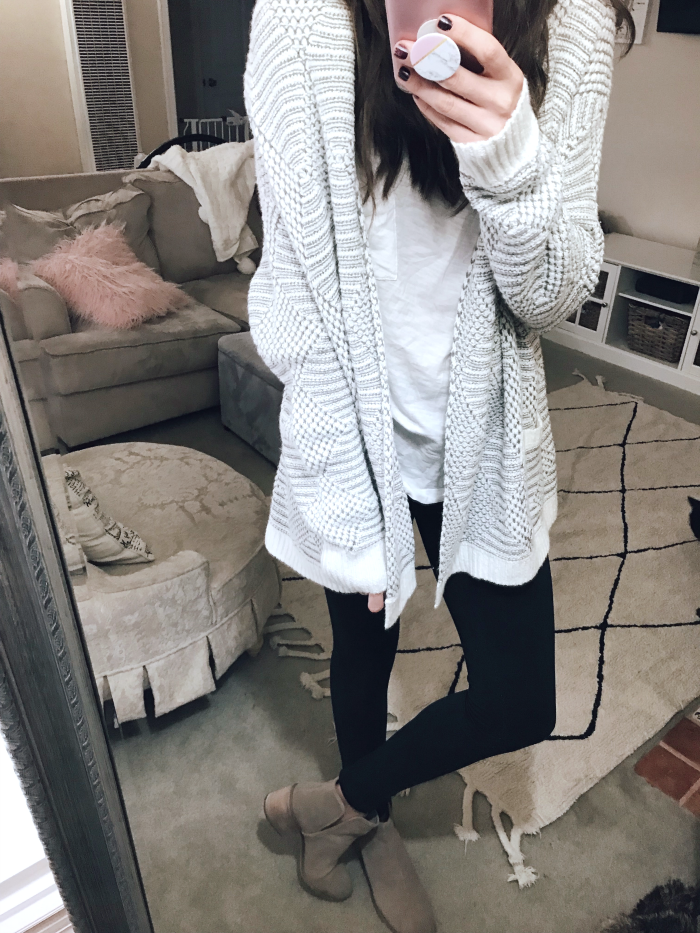 I also picked up THIS CARDIGAN from Target- also on sale, for just $25! It's prob my fave. I sized up to a large and love how it fits. Soooo chunky and soft and just cozy, which as we all know, is my favorite word of the moment, and certainly my favorite type of clothing. Give me all of the cozy things! All of them!
WEEKLY AMAZON PURCHASES:
Real exciting week in the world of Amazon guys…
ELASTIC HAIR TIES– These little buggers were recommended by a few of my mama friends, because a certain little miss does NOT for the life of her keep her hair ties in! And her bangs are all up in her eyes all the time, but I'm just not ready for a haircut yet. SO. I was told these are teeny tiny and thus impossible for her to yank out? We shall see… I'll keep you posted. Also, yes, 1200 is a ridiculous amount.
ERGONOMIC MOUSE– The cutest mouse ever. Plus, it's good for your hand. And it's smooth and I likes it.
PRETZELS– The kids looooove these for snacks. And I love that it's so quick and easy to just grab a bag and go. I throw one in Sam's lunch and bring them as on-the-go snacks at the park. Just don't forget the water. These pretzels are making me thirsty! (Anyone, please tell me you know where that is from!)
AND! In case you missed it, I posted a GIFT GUIDE FOR HIM! Up next: Gift Guide for Her Under $50! Coming soon…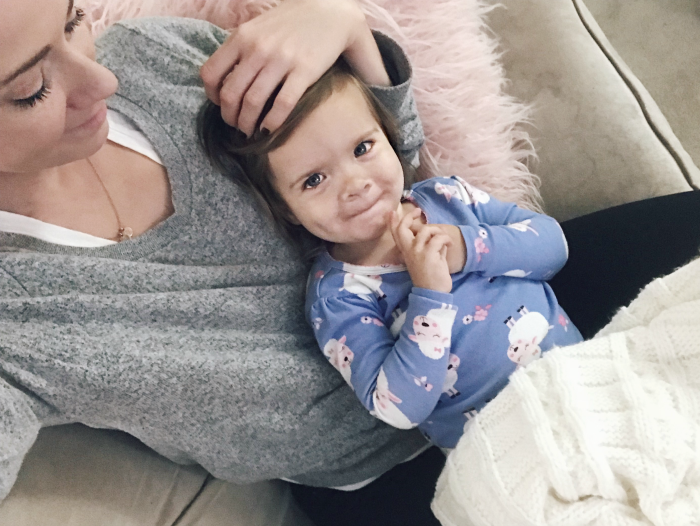 SWEATSHIRT | FUR PILLOW
Have a great weekend, friends! Hope you get extra cozy. I know I will, with this little cuddle bug.
xo