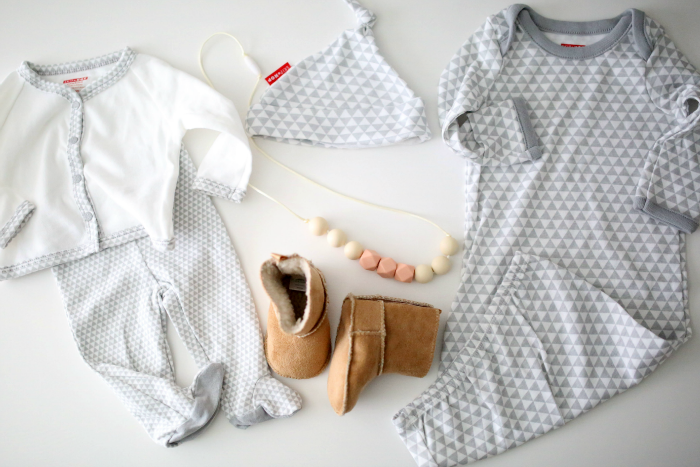 new born set: c/o skip hop // gown: c/o skip hop // teething necklace: littleteethease // booties: gap
I am getting so so so excited to find out the gender of Baby Did What #2! I've always said, I love gender neutral things, and I'm sticking to that, buuuuuut. Well. It'll be nice to add some gender specific things to the mix, too. ;) How cute are these little onesies, teeny tiny pants and teeniest booties, though? And that teething necklace is genius! I never used one with Sam, so I'm excited to see how Baby #2 loves it. And I can't even handle how tiny all of the newborn clothing is! Like, was Sam ever this small??? (Yes, he was). To be a second child means to have a lot of hand-me-downs, so I'm making sure to get some new things just for Baby. I think it's important. :) This baby is so unique and special in his/her own way. And I want them to always feel that way.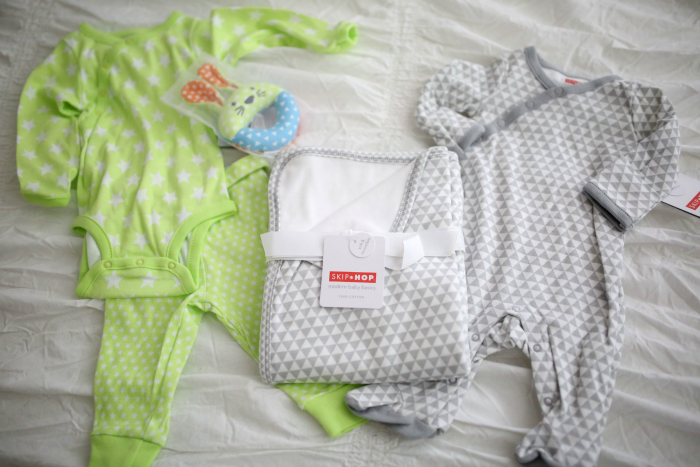 Annnnd now it's time for a little giveaway! I've teamed up with Skip Hop to give away this 3-piece Baby Gift Set in size 6 months, the Side Snap Footies in newborn and the Welcome Home Blanket!
To enter: leave a comment with your favorite store to shop at for babies!
Bonus entry for following me on Instagram, @katie_did_what (or a social media of your choice, if you don't have Instagram- see my social icons to the right)- and be sure to leave a comment with your Instagram/social media handle!
[GIVEAWAY CLOSED. Congrats Natalie!]
xo