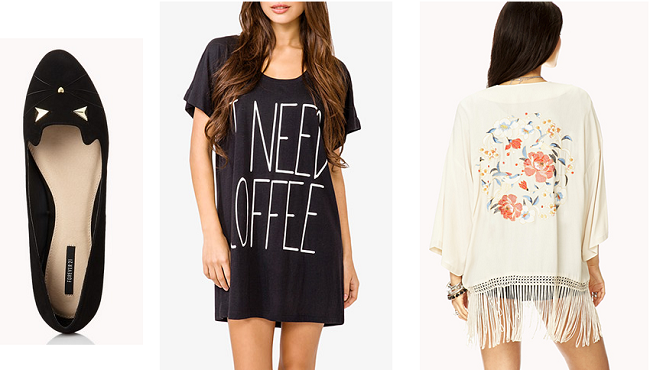 cat ballet flats, coffee nightdress, fringe kimono
I did some retail therapy yesterday. Don't tell my husband (only kidding, he knows), but I was perusing the internets and happened to find a few really cute things that I simply could not live without, AND on top of that I found some things for a few people for CHRISTMAS! And so. The stars aligned and stuff and things and I clicked the little "checkout" button and I was a very happy camper. I mean, hi, ballet flats with cat faces on them. Yeah. Need I say more? I'm telling you, that retail therapy stuff is no joke. It's a real thing. And it helps. It helps everything.
Another thing! Some big happy news that I haven't told you yet, is that my husband got a part-time job as a computer teacher! I knowwww! He's so smart and handsome and awesome and I am SO SO SO proud of him! Go Zack! :) He's teaching 4-12 year olds at a private school and he dresses all cute when he goes to work and I know all the little girls are going to have big crushes on "Mr. Reyes" and I've been calling him "Professor Reyes" because I think it's funny.
Do you believe in retail therapy?
What's the last fun purchase you made?
Go ahead, you can congratulate Zack. I won't be mad. ;)
xo
Read More on Katie Did What