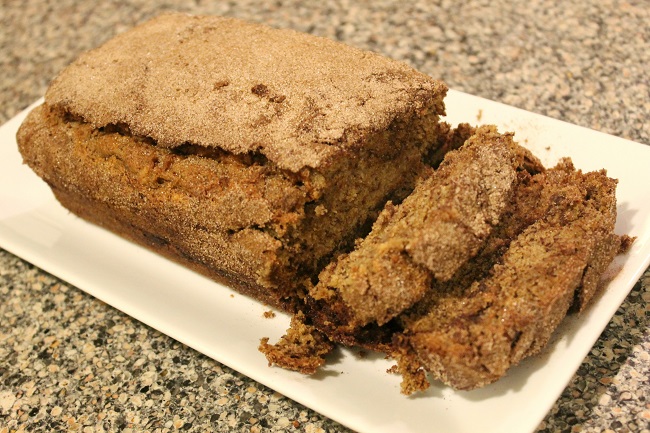 Let's talk about banana bread for a sec, k? It's delicious, check. It makes your entire house smell incredible, check. Annnnd I was totally craving it the other night. Plus! Bonus! We had these bananas that had just been sitting in our fridge for a few days too long and made me cringe every time I looked at them. A.K.A. the perfect bananas for the job. Because, as everybody knows, that is the purpose of old bananas. To make delicious banana bread. Just like stale bread's only purpose is to make french toast. And soft avocados are perfect for guacamole. Capiche? Capiche. Anyway, those old bananas, man. It was fate. So I googled a recipe for cinnamon banana bread, because I was in the mood for something a little fancier than just plain ole' bananer bread ("not that there's anything wrong with that!") ((name that t.v. show)) and found a good one. Okay, a reeeeal good one. And I followed the directions down pat and it was incredible, and so! I thought it would only be right to share the recipe with all of you, my dear friends. I used this recipe from For the Love of Cooking and the only difference was that I left out the cloves. The reason being? I didn't have any cloves. I know.
So. Yes. Make this. And thank me later. Also, we ate slices of the banana bread with ice cream and holy cow. It brought it to the next level. Do it.
Have you made anything delicious lately?
xo