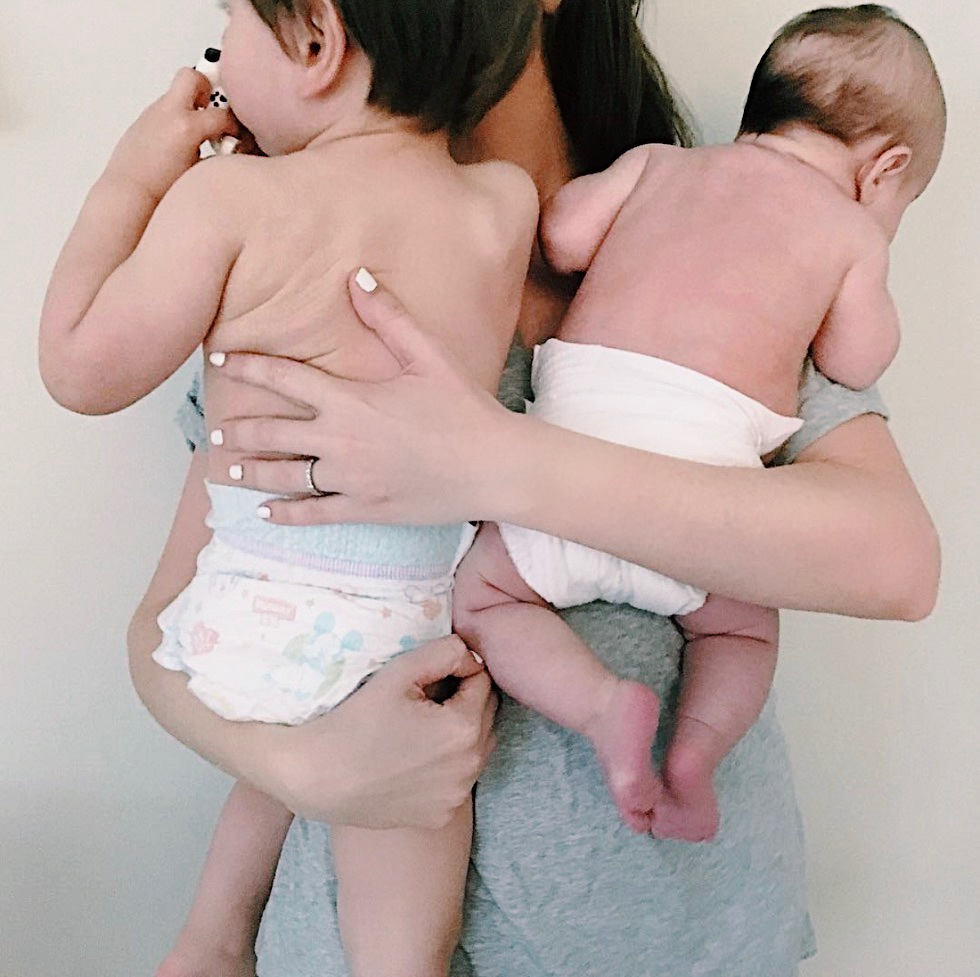 Okay, today's post is all about baby must-haves! But we're not just talking baby must-haves (check out my post on Baby Registry Must-Haves!), we're talking the must-have baby registry items for second baby. Of course, you already have some things from your first, but these are the items you find yourself re-buying for subsequent babies. Unless of course, you're crazy like me, and kept literally everything! ;) Even so, there are some items you need to stock up on once again! And here is my list, in no particular order:
DIAPERS and WIPES.
This is a given, though, right? It's kind of my favorite thing ever to be so used to giant size 5 pull-ups, and then start all over with itty bitty newborn diapers. THESE ACTUALLY FIT A REAL PERSON?! Yes, yes they do. And it's so stinkin' cute, it almost makes up for the fact that you're out of diapers FINALLY, and now you're diving right back in all over again… Almost. (Whyyyy?!)
DOUBLE STROLLER.
With one kid, we had quite the collection of strollers- a jogger, a couple umbrellas, a "pretty" stroller (lol tell me I'm not alone here)… And then you have a second (or third, or fourth) kid and your needs all of a sudden change to MORE SPACE. So, it's time to upgrade, my friend. Bigger and better- the large, clunky slightly awkward (even if it's the best one out there!) double stroller. And that's okay. You will grow to love this thing. My recommendations? This jogging stroller (I'm in a moms fitness group, and it's hands down the most loved one!) and this everyday one. You could of course use the jogging stroller for everyday, too. Just depends on where you're at! Remember to keep in mind the infant car seats that are adaptable with each stroller, as not all strollers fit all car seats (major bummer). Another cool option is a stroller board that attaches to a single stroller, so the big kid can just stand on it and get a ride!



Favorite double strollers: BOB jogging stroller, Uppababy Vista (extra seat here), City Select, Double City Mini
CLOTHING.
This is especially true if you're having the opposite gender. I went with a lot of gender neutral for my first baby (a boy), but of course still ended up with lots of boy-specific clothing. When I found out my second was a girl, I went on a biiiiit of a spree for the cutest little girl clothes I could find. Couldn't help it! Everyone is different, but for me, this was one of the most fun parts of an otherwise slightly stressful pregnancy. ;) Find the joy, my friends! No judgment here.
My favorite places to shop for kid's clothes: H&M, Old Navy, Target, Nordstrom, Bloomingdale's
BACKPACK DIAPER BAG.
This is a GAME CHANGER. With my first, I had the classic one strap diaper bag which totally worked, but now with 2+ kids, you're going to need to have both hands and arms fully mobile and a backpack is just the best way to go about it, I've found, so you can run after both (or more)!



Some of my favorites: Freshly Picked, Skip Hop, another Skip Hop and love this one
BABY CARRIER.
If you don't already own one of these, GET ONE. You will absolutely, now more than ever, need those hands free! Another life-changing item, for sure. Get your husband on board too. Nothing more attractive than a baby-wearing dad.



Favorite baby carriers: Ergo Baby, Baby Wrap, Babybjorn, Boba wrap
WHITE NOISE MACHINE.
Each child will need their own! This is my top tip for baby sleep- we swear by white noise! It drowns out any other sounds from the environment/outside/other rooms of the house (hi, other siblings!), and mimics the sound they're familiar with in the womb. I can't sleep well without some sort of white noise myself, now, too!



Favorite white noise machines: Lectrofan (we have one in each kid's room!), marpac dohm, Sound Bub (clips onto car seat/stroller), homedics
BOTTLES AND PACIFIERS.

Comotomo Bottles, these look cool (mimic the boob!), Wubbanub, Love these pacifiers!
BABY MONITOR.
We love this wifi camera, it's super affordable and connects to your phone so you can watch your baby anywhere. Love that! I kind of have an obsession with watching my babies sleep, I also have an obsession with NOT waking them up from said sleep, so a monitor is a must. ;)
TRAVEL.
A couple things for travel that you'll want for the next kid: a car mirror (gotta see that sweet face, and Baby loves seeing himself too!) and a seat protector to keep your car clean!
TEETHERS.
We have a few favorites we'll be buying again for Baby #3.


Sophie the giraffe, Baby Banana (also a toothbrush!), this and this!
DOCK-A-TOT.
If you don't already have a Dock-A-Tot, I highly recommend! Absolutely LOVE this! You can read my full review here!
MAMAROO.
Another item that I highly recommend if you don't already have one, is the Mamaroo! So nice for some hands-free time, and Baby loves the soothing sway!
xo