coat: old navy (similar) | sweater: nordstrom (similar| leggings | boots | bag
I don't know about where you live, but here in Northern California it has been raining cats and dogs for the past, what seems like, month. But really, like a few weeks? I don't know. Enough to say that we are officially no longer in a drought, wooo hoooo!!! But also, enough where I am SO TOTALLY OVER the rain. But I'm not one for complaining, so… YAY rain! (?) And also, here is a rainy day outfit from the other day.
And ALSO also, here are some more fun options for the perfect rainy day wardrobe… Some things to make the gloomy days less gloomy, and make you look forward to rainy days! Always a silver lining, right?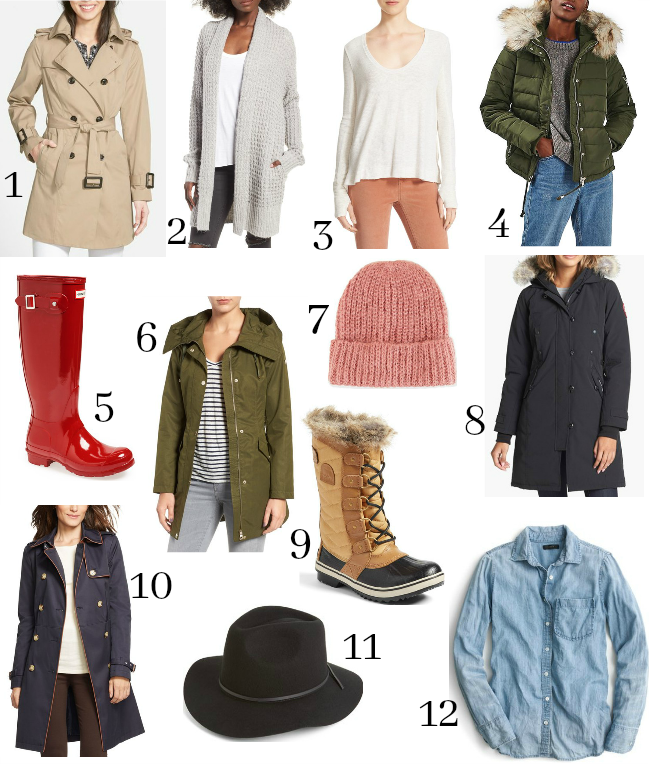 1. trench coat (classic!) | 2. waffle knit cardigan (so cozy) | 3. thermal top (great layering piece!) | 4. puffer jacket (yessss) | 5. Hunter rain boots (must haves!) | 6. utility coat (with a hood!) | 7. beanie (cute!) | 8. Canada Goose coat (to keep you extra warm) | 9. Sorel boots (own these and love 'em!) | 10. Ralph Lauren trench (super chic!) | 11. fedora (you know I love my hats!) | 12. chambray (goes with everything!)
What about you? Let's get a tally: Do you love the rain or not so much?
xo