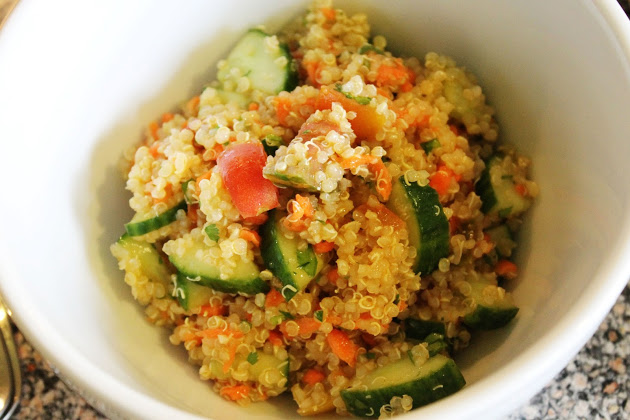 As promised, here's the delicious Quinoa Tabouleh that I made for dinner on Sunday night, whilst continuing my reign as "Katie Homemaker." This recipe turned out AMAZING. I added a few little twerks that I made in italics. Make it your own! Have fun with it! And enjoy, because oh man, this stuff is enjoyable. Added bonus: it is SUPER healthy, loaded with great natural ingredients and even Zack-the-carnivore loved it as an entree! That's saying something there. It tastes even better the next day (and the day after that…) once the spices get some time to marinate.
Quinoa Tabouleh:
2 cups water
1 cup quinoa
1 pinch salt
1/4 cup olive oil
1/2 teaspoon sea salt
1/4 cup lemon juice
3 tomatoes, diced (we used heirloom tomatoes, and they were divine, coming from a person who doesn't even like tomatoes)
1 cucumber, diced
2 carrots, grated
1 cup fresh parsley, chopped (we used about 1/2 Cup of cilantro instead)
2 Tablespoons garlic
1.In a saucepan bring water to a boil. Add quinoa and a pinch of salt. Reduce heat to low, cover and simmer for 15 minutes. Allow to cool to room temperature (I threw it in the fridge for a little while to make this process quicker!); fluff with a fork.
2.Meanwhile, in a large bowl, combine olive oil, sea salt, lemon juice, garlic, tomatoes, cucumber, carrots and parsley. Stir in cooled quinoa.
Bon appetit! :)
Do you guys like seeing what I eat? I'm thinking of adding more pictures and recipes here! What do you think?
xo