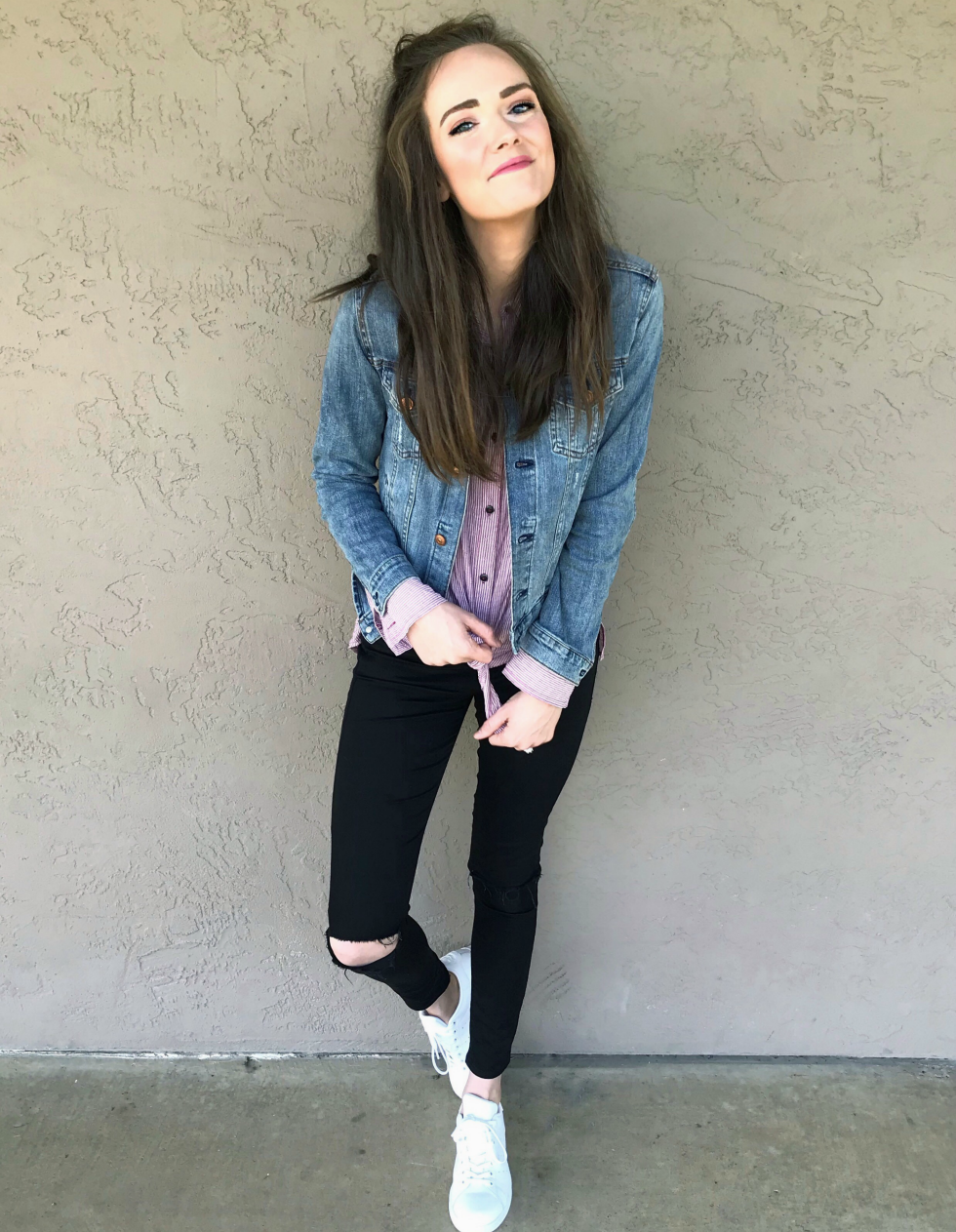 TOP | SIMILAR JACKET AND HERE | JEANS | SHOES | LIPSTICK (in "Eclair-Soft Rose)
This past weekend was a good one! It actually was SUNNY and WARM on Sunday- heaven!!! And now basically I'm ready for Spring. That's it. Doesn't take much. ;)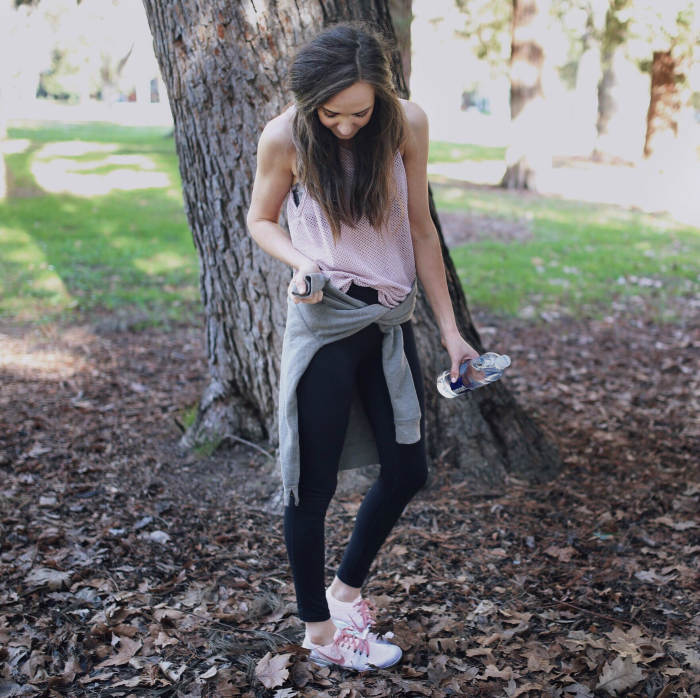 SWEATSHIRT | LEGGINGS | SHOES and HERE
Got this super cute mesh tank from my January Wantable box! I do the fitness edit, and it's like Christmas every month. SO fun! You can check it all out here and
Saturday morning was slowwwwww and sweet. I woke up to Sophie's little pitter patter of feet walking over to my side of the bed and smiling at me then quickly (and very sternly) demanding "Up, peese!" So up she went, OBVIOUSLY, and then shortly after, Sam made his way into our bed too and the cartoons somehow magically got turned on and we stayed like that, snuggled up in bed for quite some time. Goodness was that nice. I never wanted to leave. :) BUT the playground was calling, so we went.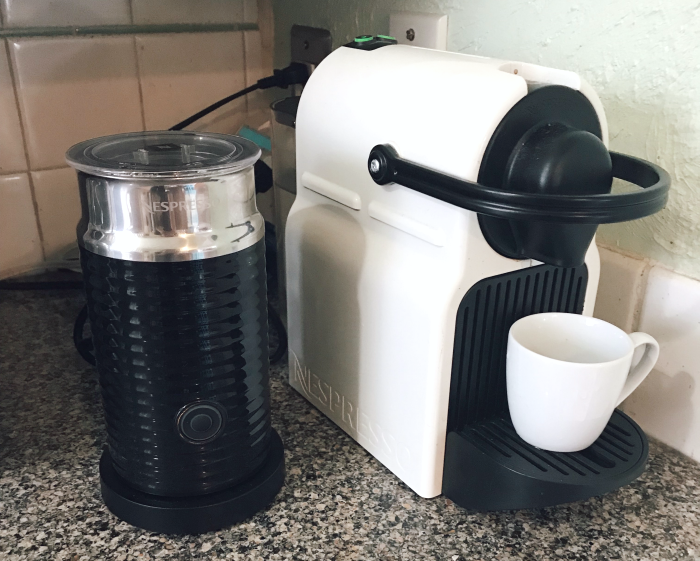 I've gotten a ton of questions about how I make my coffee, after sharing a little video of my frothy goodness on IG stories. :) SO. GUYS. How to make FANCY coffee at home… I use my beloved Nespresso! ALWAYS get the Nespresso brand pods (we tried the off brand and they're just not as good) and I usually do two shots (one if I'm not crazy tired…. so yeah, I do two shots…), I get my milk nice and frothy using THIS bad boy (a Christmas gift from my daddio- thanks Dad!) and I use Silk almond milk and it froths up nicely. :) Regular cow's milk froths up a lot better though. Add some cinnamon on top and a drizzle of simple syrup (if we have any- Zack just makes it and it's super, you guess it, simple ;) just heat equal parts water and sugar on the stove until just before boiling (DO NOT let it boil!) and then let cool and store in the fridge.
ET VOILA! Fancy coffee, homemade style. And you're in luck, because our Nespresso/ frother combo are on SALE right now! Shop them HERE!
We went to church on Sunday, and the kids were really not at all into taking pictures, but you know in true "Mom Life" fashion, I just smiled through it. Of course they had the best time and got candy after (their fave, duh) so all was right in the world. Just pausing for photos wasn't really on their list of "wants" for the day. It's fine. Really.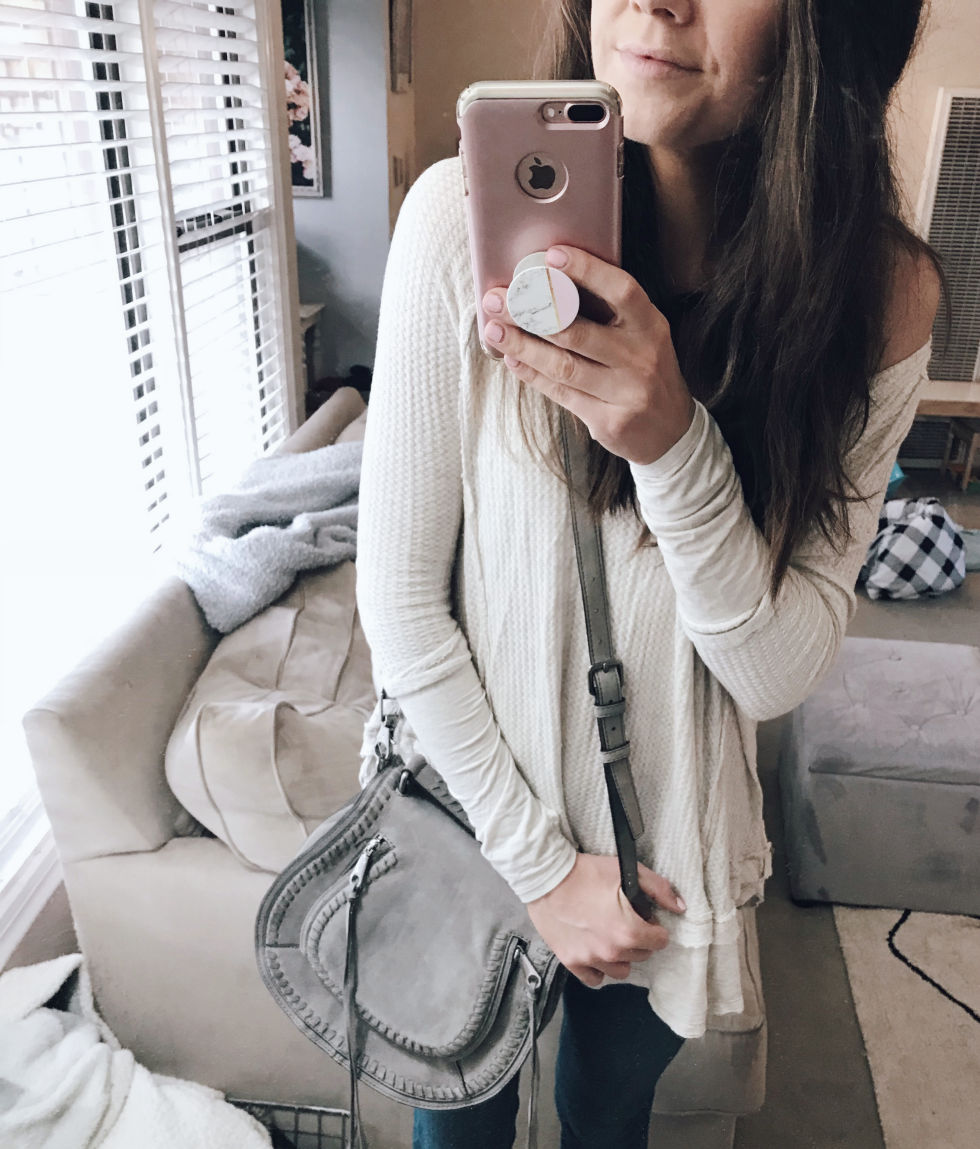 TOP | BAG
Kind of obsessed with my new bag, too. I've had my eye on it for aaaages and Zack surprised me with it. Needless to say, you'll be seeing this one a lot around these parts. ;)
I haven't talked about the Bachelor yet this season, but I HAVE SOME THOUGHTS. Oh, do I.
1. Arie is SO BORING. Tell me I'm not alone in this. I literally just find myself spacing out and scrolling through Insta while "watching" the Bachelor this season! GAH!
2. I don't really LIKE Arie. Every season it's the same thoughts about REALLY? All of these girls/guys are just CRAZY over-the-moon into this one person??! It's SO far-fetched and eye-roll-inducing, every time, but ESPECIALLY this time because honestly? He isn't much of a catch. He's just kind of awkward and goofy but not even like an endearing goofy, just.. blah. His conversations are never interesting, with any of them. I don't know. Not into him.
3. The girls are, for the most part, SO MUCH younger than him! Like he's 36. And the majority of the contestants are in their early 20s? Why couldn't they have chosen a good chunk at least that are closer to his age? It's just common sense. Now, don't call me agist- my great grandma was 20 years younger than my great grandpa (her husband). And they were madly in love. It is possible!! But in this Bachelor environment, I'm just calling B.S. I don't know. It's just dumb.
See? I told you I had thoughts.
Plus, one of my favorites already got kicked off, and now I don't know if I like any of them? I like Tia, but I know she won't "win" (but really, she's the winner if you ask me haha!) so yeah. Just sticking around for the crazy. Of which I hope there is a lot. As usual.
Also, remember when we used to do Man Quotes? If you've been a longtime reader, you'll remember. They were SO fun and hilarious! I kinda miss them. :)
Okay, ENOUGH of that. But really, if you have thoughts of your own- even just like YES GIRL I AGREE, leave them in the comments! I could talk Bachelor foreverrrrr.
Have a great day friends!!!
xo