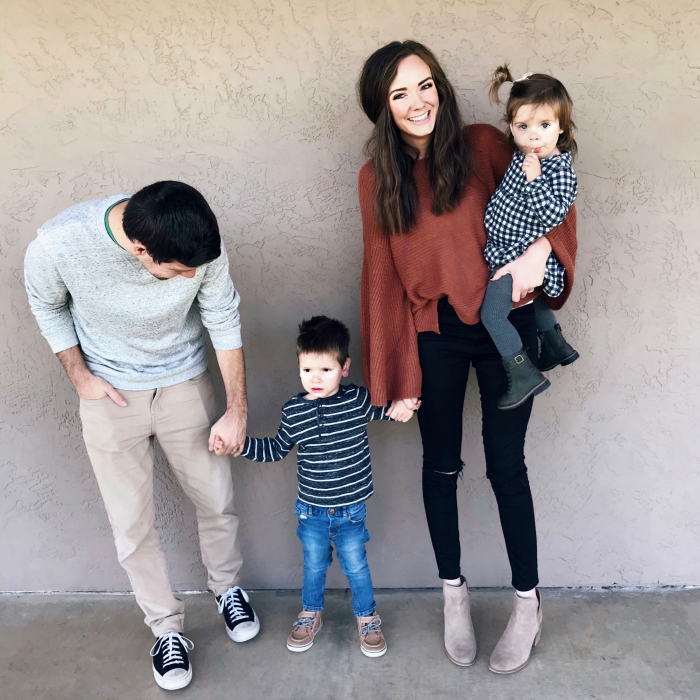 SWEATER | JEANS | BOOTIES (SIMILAR HERE) | SOPHIE'S DRESS + SIMILAR BOOTS | SAM'S SHIRT
Well, this weekend was a success! We got our Christmas tree! We actually ended up getting it at Costco, of all places, and she's a beaut. ;) We also got a garland and wreath, because we're just really festive like that. I am so excited to share our home all decorated for Christmas with you all! Watch for that post coming up later this week! In the meantime, some photos from our weekend…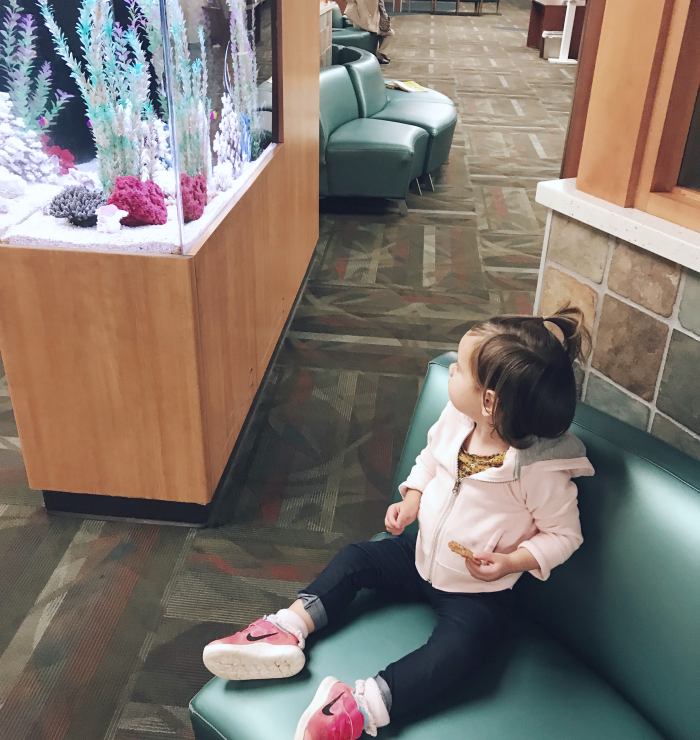 Little miss Sophie is healing so well! She had her ER follow-up appointment (read all about that scare HERE), and she was so sweet at it. They were of course running late, and Sophie just sat next to me, like a perfect little angel, eating her "boo-toos" (pretzels) and reading her book and watching the fish. Such a sweetie pie. When we walked into the room in the dr's office, she got that pouty face, like crying was coming any second, but thankfully she never cried. Such a strong girl! Her bruising on her face is nearly healed now (2 weeks later!) and I'm so grateful to God that it wasn't any worse!!!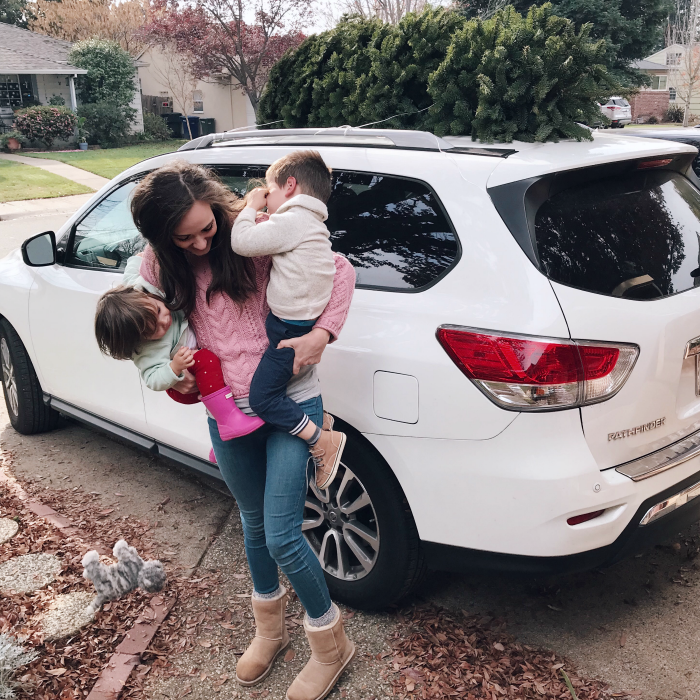 SWEATER | JEANS | BOOTS
We got our tree, and I was reminded of how awkward it is to hold both kids at the same time. Ha! I promise, no kids were dropped during this process. There was, however, a kitty drop- see it falling to the ground there?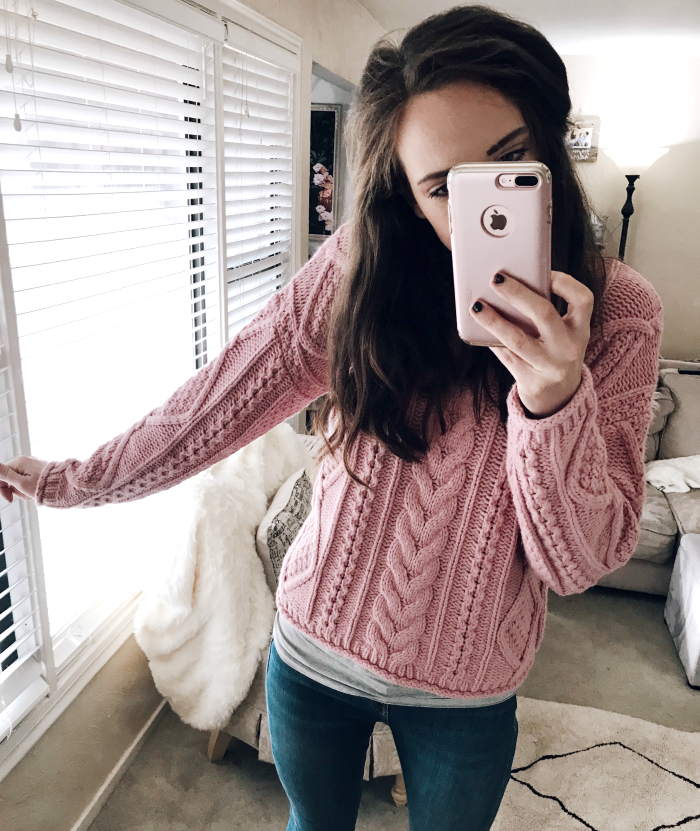 I got this super cute little sweater, perfect for cooler weather (runs true to size- I got a small)! I love how thick the knit is, and the short length is super cute with high-waisted jeans. Also, please be proud of me for adding some color to my wardrobe and getting a sweater that isn't a neutral! ;)
***AND! It's on sale right now, 20% off with code OHWHATFUN here!***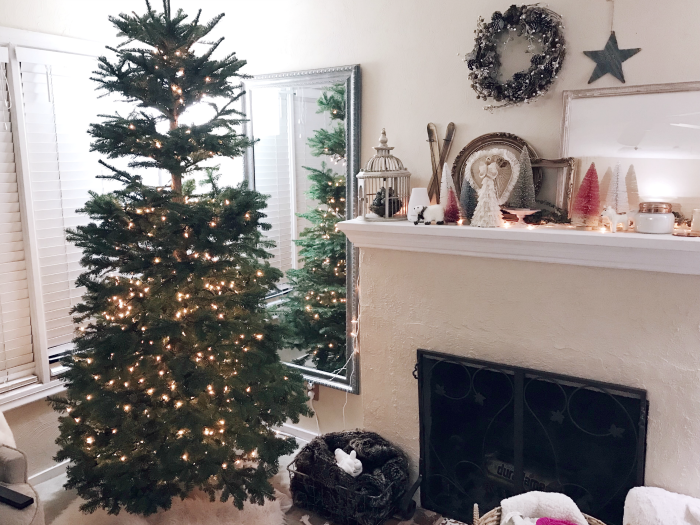 Church on Sunday and decorating the house all day! My very own Clark Griswold. ;) The icicle lights have been put on, and we're feeling all sorts of Christmasy! And the madness begins this week- a visit with Santa with our workout group on Wednesday, Sam's Christmas concert on Friday, Zack and I are going to a different concert Friday night, and a girl's shopping day on Saturday! Let the games begin!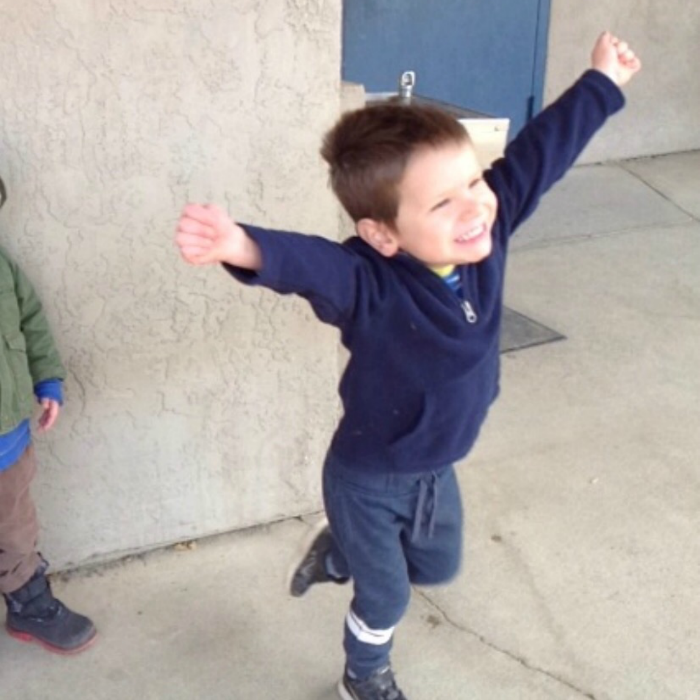 Getting pictures like this from Sam's school is just the best thing ever!!! Such a happy boy!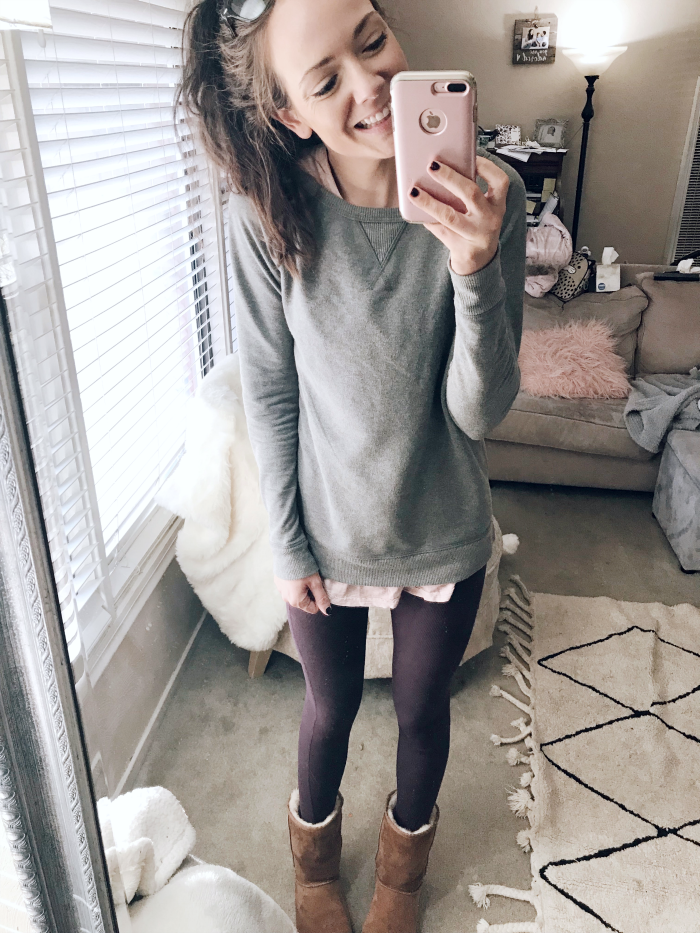 SWEATSHIRT | LEGGINGS | BOOTS
And now it's Monday! Time to get back into that weekly routine, working out every morning, park fun with Sophie, school for Sam, eating healthy, and kicking booty! Who's with me?!
xo