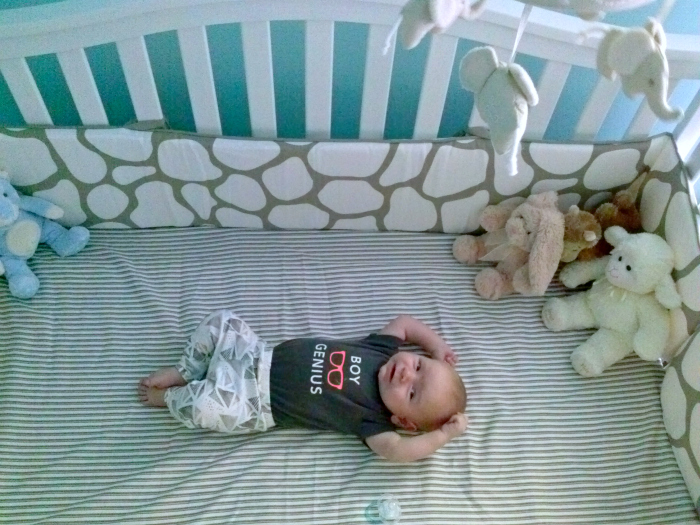 It is the longggg awaited nursery tour! I know it's taken me forever to get this up, but to be honest, it's kind of taken me forever to complete the nursery! I'm definitely not that person who had the nursery all curated and decorated and ready to go weeks before my due date. Oh, no. I'm the one who had a stack of picture frames still sitting on the side table and boxes of baby stuff in the corner on the floor weeks after baby was born. Yes. That's me. Hashtag keeping it real. So anyway. Here it is! Our nursery! The room that so far we only really spend time in when we're changing Sam- diapers and clothes. Since he sleeps in his bassinet in our room right now anyway. So yeah. If you ask me, getting the nursery "ready" for baby is nottttt something to stress out about! Hear that mamas-to-be who are reading this? It's not! Don't stress! It's bad for you, anyway. And it's bad for the baby. Tell 'em Katie told you so. ;)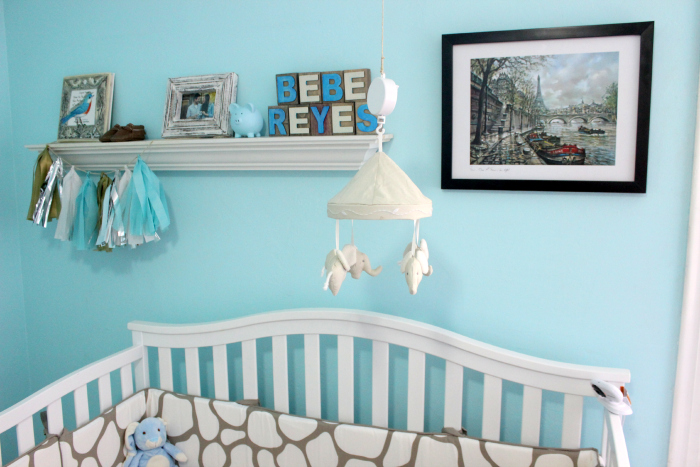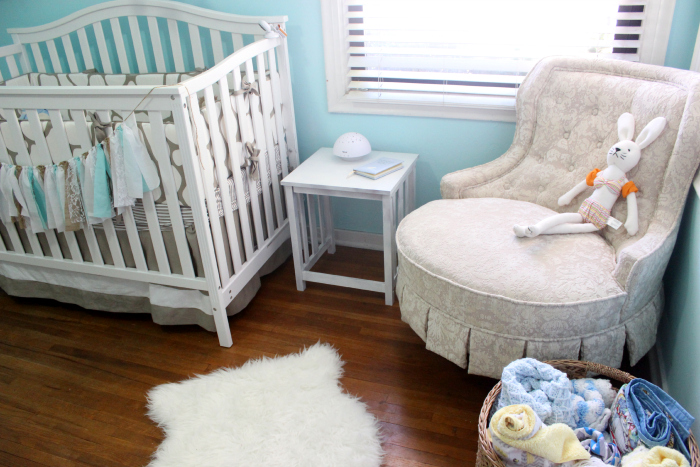 The color of the walls. I honestly do not know, and I wish I did. I really do! Because there are a few spots that could use touch-ups. And also because I've been asked a lot what the color is, and I wish I could tell you so you could get it too if you wanted it! Alas, the walls were already painted this color and we decided we liked it and so we left it. Annnnd that's that.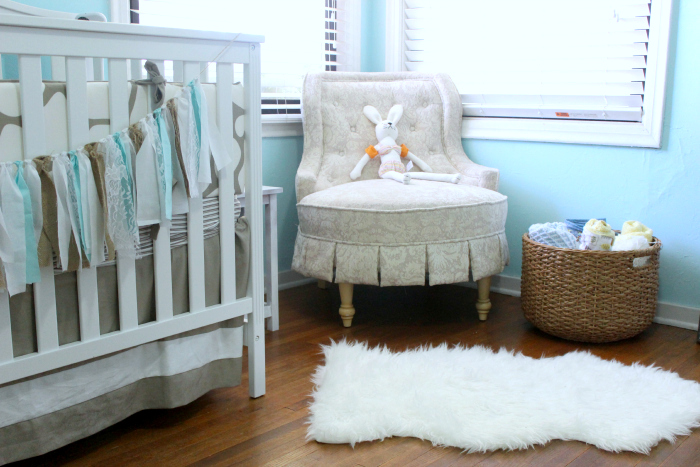 This chair. Oh man. It was my mom's and lived in my parent's room for a few years and then when I was getting pieces for the nursery, I asked my dad if I could have it and he so kindly said of course! And so I sit in it and read to my baby sometimes, and it makes me smile every time I see it. Reminds me of my mama. :) Plus, it's gorgeous and oh so chic, which I love.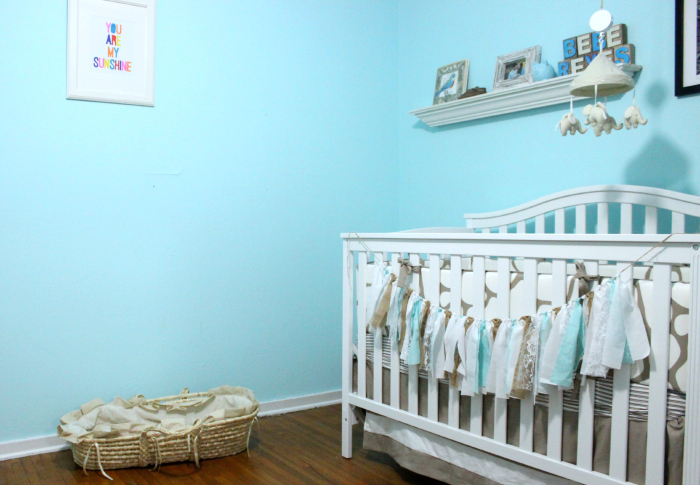 If you asked me what my "nursery theme" was, I would tell you, I don't really "do" themes. It's true. I remember people asking me what our theme for the wedding was, and I would just kind of stare blankly at that person and say, "Uhhhh… Wedding?" I mean, what does that even mean, right? Is it just me? Anyway. Our theme for baby was just that. Baby. So I chose a mostly neutral palette, especially since we were going to stick with the blue walls (which I was at first against) so everything else needed to just flow well with that. I didn't want some sort of BLUE explosion upon entering or anything! And I love how everything turned out. When I go in the nursery, I feel calm and it makes me smile, which I think is the most important thing, no?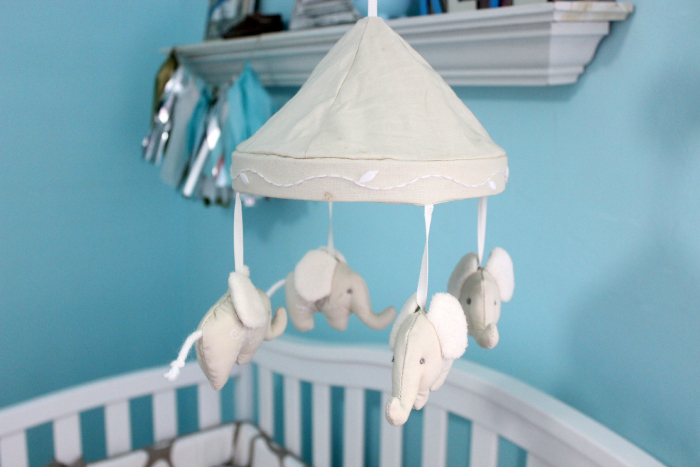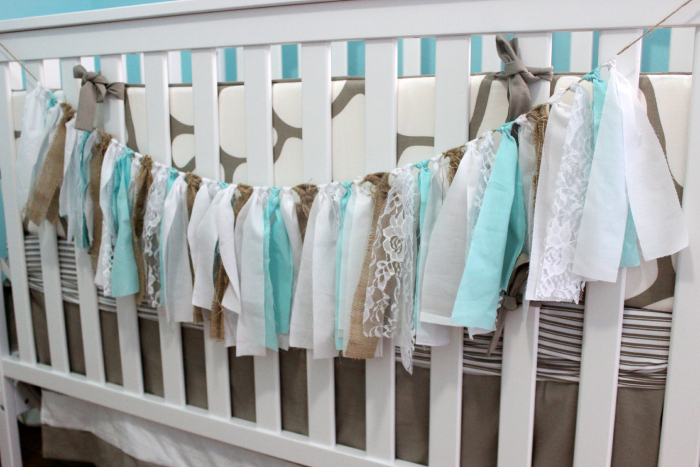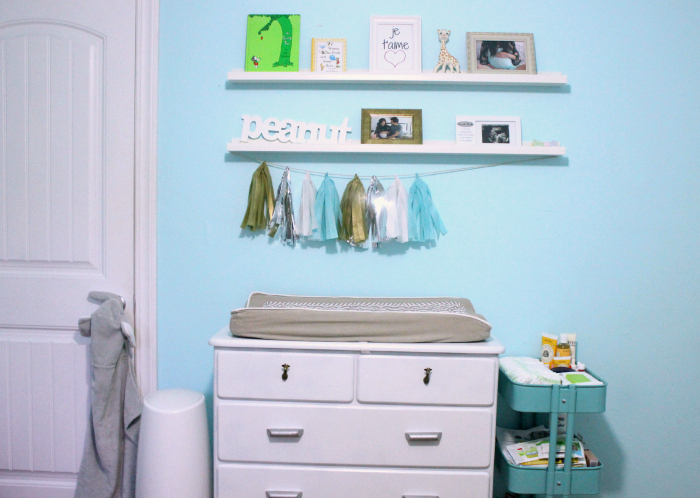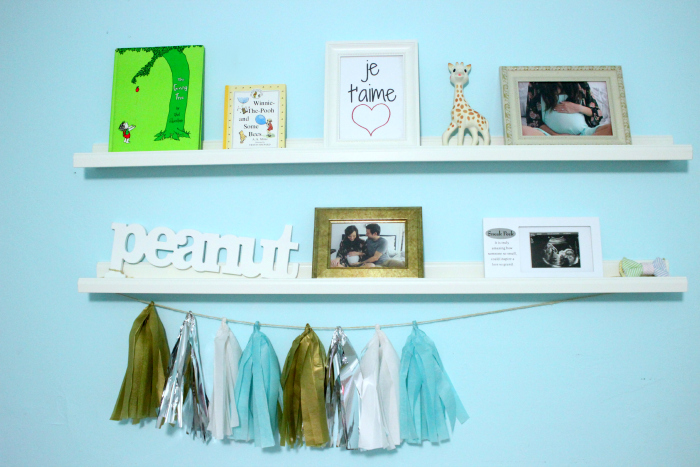 Products list:
Crib- Amazon
Mobile- Pottery Barn
Moses basket- Amazon
Crib sheets and changing pad cover- Oilo
Changing pad- Amazon
Cart- Ikea
Dresser- Naturwood (from my aunt)
Picture shelves- Ikea
Shelf- handmade from a friend
Garland- c/o With Love, Kenzie Ann (this was a custom order and I'm so in love with it! Use code WITHLOVE10 for 10% off a purchase of $20 or more)
Basket- Target
Rug- Ikea
You Are My Sunshine print- DIY (tutorial coming soon!)
Paris picture- Montmartre
Bathing bunny- Anthropologie
Projector- Duux
Diaper Genie- Amazon
Elephant bath towel- Pottery Barn
There you have it! I hope you enjoyed this peek into our nursery. I sure do love it! The wall with my "sunshine" print will be expanded on and eventually I'll make it a gallery wall. I'm pretty excited about it. I'm also excited to spend more time in there with Sam Sam. :)
xo
Read More on Katie Did What