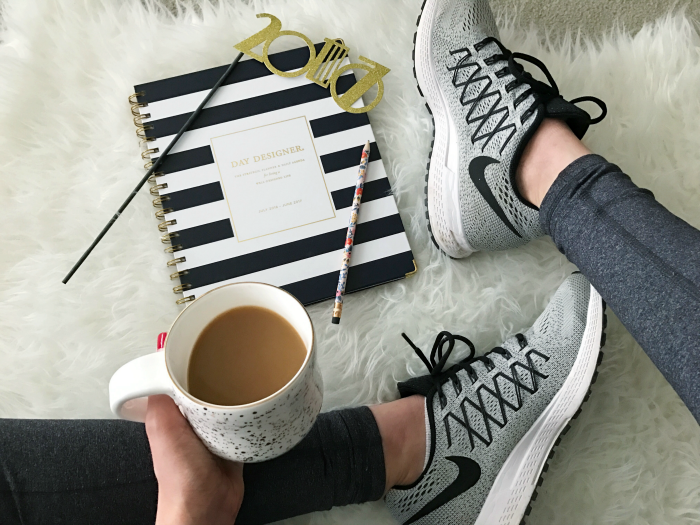 similar shoes | planner | pencil | mug
You always hear how important it is to set goals, and more specifically, to write down those goals. Something about having them compiled somewhere, where you can go back to them when you need to, makes them more likely to be completed? I'm not sure, but I'm going with it.
I've honestly never been one for writing down specific goals, which is weird, because I'm a writer. I write down essays, stories, little tidbits, my thoughts, my feelings, my to do lists, everything, it all gets written down. I've got notebooks full of randomness. And yet, goals have always been something I kind of shy away from? Maybe it's the enormity of them, the scariness of the unknown, I'm not sure. But this year, I've decided to write down my goals- big and small- in an attempt to keep myself accountable and maybe, just maybe, complete them. :)
PERSONAL || Be present. This is much easier said than done, but honestly in the past few months, it's something that has been a very high priority, and one that I can happily say I have already improved on so much. Being present, especially with my husband and my kids, is an ongoing goal, and one that is at the top of my priorities. Putting away my phone, enjoying the present moment instead of thinking about documenting it, saving work time for certain slots throughout the day, instead of trying to mix work and play (VERY difficult as a lifestyle blogger!). It's a work in progress, but again, one that I'm already seeing a lot of improvement in. So yay to being more present in the new year, and every year after! :)
WORK || That means this here blog! We have a few fun ideas for the new year, one of those being to focus more on creating videos!! I am so excited about this! I have had this Youtube account for a while, and it's been sort of neglected (okay, a lot neglected) this past year, but that's all about to change very soon! Be sure to follow me on Youtube so you can see what we're doing!! And if you have any ideas for videos, I'm all ears!
HEALTH || I just started the Tone It Up challenge, and it's the first time in a long time where I can actually put myself 100% into the challenge, since I'm not breastfeeding or pregnant! YAY! See what it's all about here if you want to joing me, too! So fun! And I'm really excited to see some progress! So, my goal is to stick with this challenge and put my all in it! I mean, as much as possible, while still being there for my people. ;)
SPIRITUAL || Spend some time with God every day. It's really easy for me to get so caught up in the busyness of the day-to-day, and realize by the end of that day that I didn't talk to God or spend time in His word at ALL, and that is something I want to change! I know it's all about prioritizing, and I just need to be mindful to put God first. Because I've found that when I do that? So many wonderful things come from it. Tangible, sure, but also the more important things: inner calmness, less anxiety and a general sense of happiness. And that is hard to beat, my friends!!
There you have it! Some of my goals, small and big. I'm so excited for this fresh start that a new year brings! Let's all kick some serious butt, okay?! Best. Year. Ever. I'm proclaiming that right now!!!
What are some of your goals?
xo