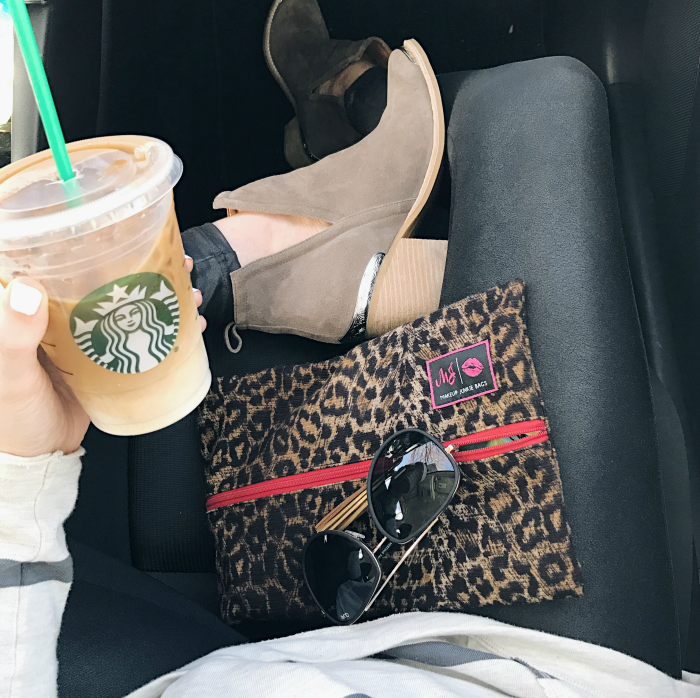 boots | leggings | top | sunglasses | bag
So guys. I had one of those days yesterday where I literally FORGOT to eat a real meal all day, until dinner rolled around and I realized, "HUH. I haven't really actually EATEN today." Somehow, with two little ones, this hasn't happened to me in a long time! So really, I think that's a mom win for me! Ha! ;) Buuuut it happened yesterday. I was so preoccupied with getting my babies ready and running errands and playing at the playground and picking Sam up from school and making all of THEIR meals and naptime and play time, I just plain forgot to feed MYSELF. Amazing stuff, I know.
And the most shocking part (lol, is this shocking at all? Doubtful, it's kind of a flagship of motherhood), is that I WASN'T EVEN HANGRY ALL DAY LONG. Who knows why, but hey! We were having fun! And it's not like I didn't eat ANYTHING. I had my trusty snacks that got me through.
Which brings me to today's post. I want to share my favorite snacks with you!
|| DRINKS ||
FIRST THINGS FIRST: COFFEE is a clear favorite. I'm not happy if I don't get my coffee fix for the day. And nobody wants an unhappy Mama, amiright?! ;) My Starbucks order: used to always be a nonfat vanilla latte, but I recently discovered the Iced Almond Milk Cinnamon Macchiato, which is now my obsession. I'm so excited they finally carry almond milk! Yessss!
I pretty much never drink soda. Like, ever (besides the occasional craving for an ice cold coke, which does happen every so often- but give me the real stuff, none of that fake sugar, thankyouverymuch). I just don't really like it- not enough to waste calories on it, anyway.
Side note: This is also my philosophy on bad desserts: If you're not really enjoying it, don't eat it! I'd much rather spend my dessert calories on something I'm actually enjoying, than waste it on some mediocre Hostess cupcake or something like that. What's the saying? Life's too short for bad chocolate…? AMEN. /side note
Anyway. So, I pretty much drink water 95% of the time. And if I'm craving something flavored or a bit more "exciting" (haha), I love La Croix and plain sparkling water.
|| HOMEMADE SNACKS ||
Apples and almond butter (soooooo goooood)
Nuts (almonds, walnuts, cashews, mmmm mmmmm)
Homemade trail mix (dried cranberries, coconut shavings and walnuts is my fave mix)
|| PRE-MADE GOODNESS ||
Larabars (Love Coconut Chocolate Chip and Chocolate Chip Cookie Dough. 15% off right now!)
Apple chips (my kids love these too!)
Pop Chips (another favorite of both kids also!)
Yogurt! I love SO Delicious Coconut milk yogurt, Silk almond milk yogurt and Greek yogurt.
|| COSTCO STAPLES ||
(we love costco)
I linked some of these to Amazon so you can see what they look like. Hopefully you can find them at your Costco!
Late July chips (with homemade guac, mmmmm)
Aussie Bites
Snapea Crisps
Kale salad
Almond butter
Dried mangoes
Dark chocolate covered mangoes (OMGGGGGGGG HEAVEN)
Teriyaki beef jerky
Boom Chicka Pop popcorn (OBSESSED)
Mary's Gone Crackers (so good with some Laughing Cow cheese or dipped in hummus!)
|| DESSERT ||
Just gimme some good ole' plain dark chocolate. Darrrrkk dark chocolate. YUM. I like the simple Trader Joe's bars (in the red wrapper!) and also this brand is LEGIT.
What are some of your favorite snacks to get you through the day?
xo