Who's ready to celebrate alllll the sweet mamas in your life?! Mother's Day is May 4 (you're welcome for the reminder lol) so now is the time to grab something special for the moms! I put together a little Mother's Day Gift Guide with some of my very favorites!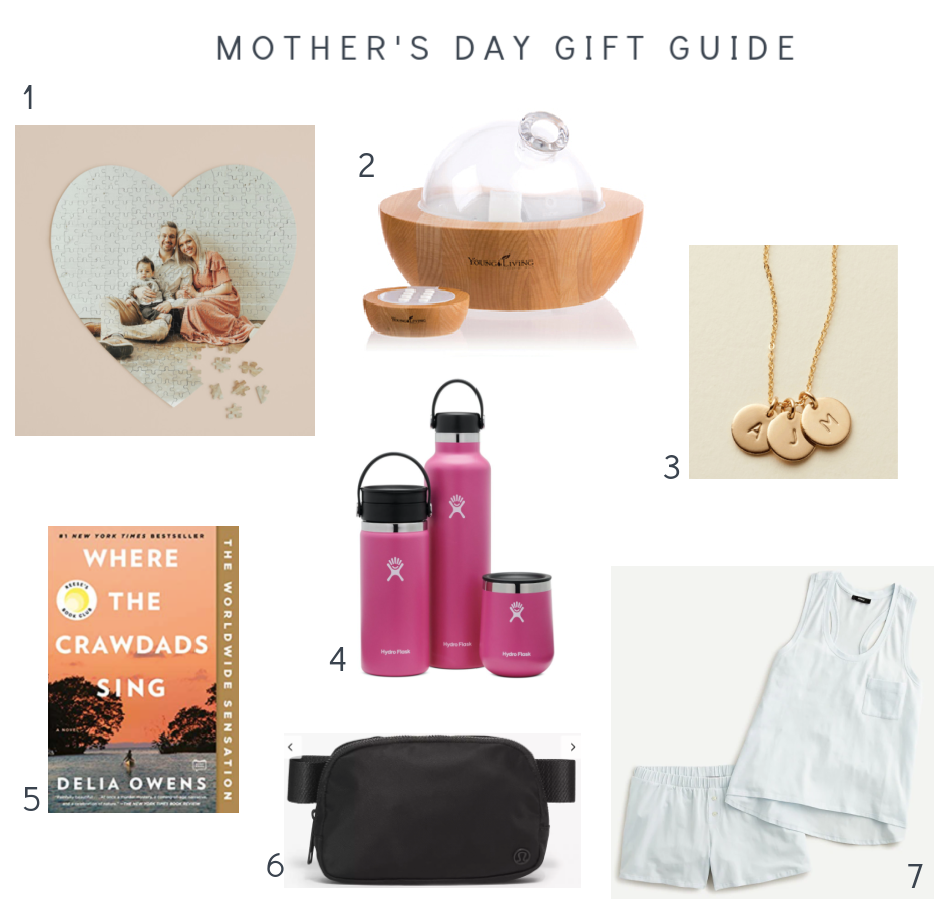 1. PERSONALIZED PUZZLE – Love a good personalized gift. You know who else does? Grandmas. ;) A puzzle from Minted with her grandbabies on it?! ARE YOU KIDDING ME! This is gift giving gold right here, my friends.
2. ESSENTIAL OIL DIFFUSER – I cannot live without my oils going every day. Our house seriously smells amazing all the time! This would be such a great gift for someone else, or for yourself! And right now, when you grab this kit that I linked here, you'll get the diffuser + 12 oils for only $265 (the diffuser itself retails for $317)! Such a great deal!
3. MADE BY MARY – My favorite necklaces that I wear nearly every day. Beautiful pieces, great quality and you can personalize them!
4. HYDRO FLASK – Give her a nice water bottle, something she probably wouldn't buy herself, but secretly really wants. Hydro Flask is the best in the game, too! They've got some fun bundles just for Mother's Day, too! Free Shipping with MOMKNOWSBEST at checkout.
5. A GOOD BOOK – I've gotten really into reading this year (finally!). I've always loved reading, but kind of stopped when I had babies. Well, I'm baaaaack and the library has been my BFF lol. Linked my favorite reads this year here!
6. FANNY PACK – If you've been around here recently, you know just how much I love the fanny pack life. Hands-free, holds the necessities. It's the ultimate in Mom Life, you guys. Y'all need it.
7. CUTE PJS – I live in my cozy jams. I'm assuming most mothers do this, as well. Yes? These are adorable and come in a few colors! And they're on sale!
xo
Read More on Katie Did What