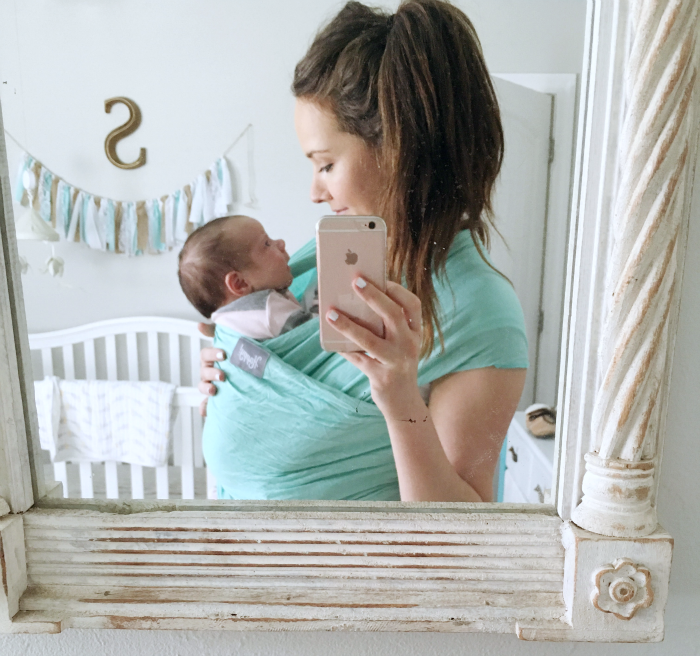 So… I survived my first day alone with the babies! It went surprisingly smooth, too. Wearing Sophie in the baby wrap was a HUGE sanity saver (it's this one, and I love it!), since she was only wanting to be held. She even fell asleep in it, which was a major bonus!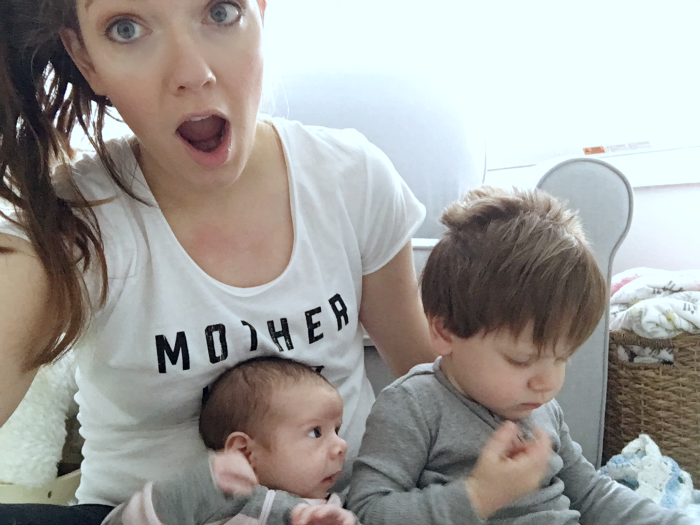 Now, don't get me wrong, there were a few moments of, "OMG this is insanity" but much less than I was expecting? So, yay for that! Sam got in an awesome nap and Sophie and I got outside and enjoyed the beautiful day (it felt like Spring!) and I didn't have any sort of meltdowns! Sure, both kids had their moments, but they didn't last long. It was a success! I'm feeling good about it. Boom.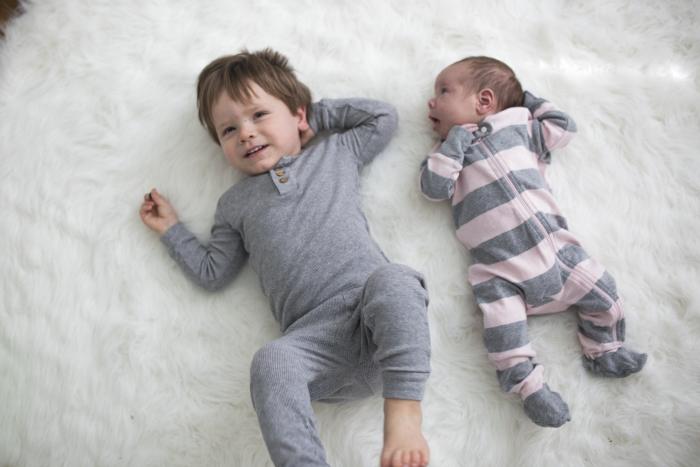 Sam's pajamas and Sophie's pajamas: c/o burt's bees baby
Let's talk about these adorable matching jammies that Burt's Bees sent us for a sec, too. My kids are in matching jammies!! Ummm this is the good stuff right here, guys. And Burt's Bees Baby definitely makes my favorite jammies for little ones. They are soooo soft, 100% organic, great quality and- duh- adorable. Sam has three pairs of these little long john style ones. I'm kind of obsessed if you couldn't tell. ;)
And little bit of our personal experience with two under two, at 21 months apart. That picture perfect meeting I had envisioned in my mind? Where Sam was so excited to see his baby, and gave her kisses and hugs and is obsessed with her?
Yeah. Didn't happen. Not even.
We're three weeks in and he's still pretty much indifferent most of the time. It's not that he's jealous, really. Although sometimes I can tell he wants our attention and if we're giving it to Sophie he will let out a scream. That's fun. ;) But mostly, he just totally doesn't even care about her and ignores her. Which was a hard pill to swallow for me. Especially seeing other people with their toddlers totally loving on their newborns. Yeah. It stung a bit.
But I know their relationship in time will grow and I'm praying they will be so close, their entire lives. Because a sibling is such a blessing and a gift, and I hope they always believe that about each other.
When he does give her attention, we have to always remind him to be "gentle" with her. And sometimes he even gives her kisses, which is the cutest thing in the world.
But yeah. I guess I'm sharing this in hopes that if you are in a similar situation and find yourself frustrated sometimes by what you see all over social media or online, about these "perfect" toddler/baby/sibling relationships captured in a photograph? Just know you aren't alone. Toddlers are just that: toddlers. They are crazy and wild and unpredictable and totally have a mind of their own. And that's okay!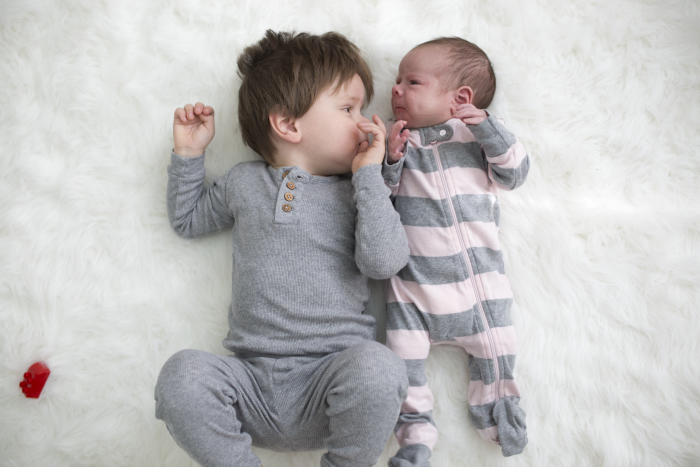 I still savor these precious moments I can capture in a photograph. Because, yes, it's rare, but it doesn't make it any less genuine and beautiful.
xo