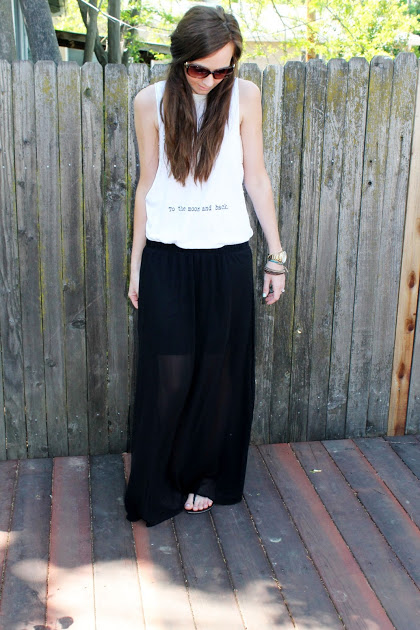 top: brandy melville (cropped version 
here
)
sunglasses: firmoo (
here
)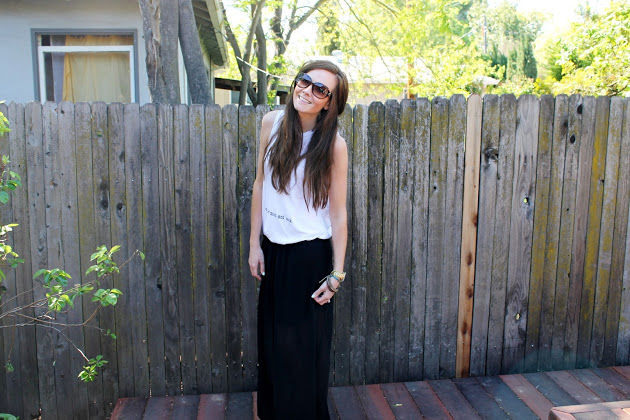 I have kind of already declared this my go-to summer outfit. It's breezy and flows so nicely, it's cool and comfortable and just edgy enough. It's basically perfection, in my book. So. Be prepared to see a lot of this one, folks!
This weekend was a fun one. Zack and I watched a Lifetime movie on Friday night (yes, you read that right) which was a riot, as expected. I mean, for serious, if you want to have a fun night, watch a really bad/cheesy/hilarious/awesome Lifetime movie with your man. A guaranteed laugh-until-you-cry time is to be had by all. We ate a lot of kettle corn and red vines (my fave) and had an awesome married-night-in. I have to say, I think I prefer those kind of nights to crazy party nights out now. Am I old? I can't help that I just really like this guy I married! ;)
What else, what else. Today was my BFF's little girl Lucy's 3rd birthday party! Insane to think she's already 3! So that was a fun morning spent with little ones, doing arts and crafts and eating fruit basket cake (the best!) and enjoying the amazing day. It felt like summer, and that made me all smiles!
Now Zack and I are about to make a delicious Sunday dinner. Something with chicken in it. Seriously, we are terrible at this whole "meal planning" thing, but hey. At least we have chicken thawed? I think that's a huge step in the right direction. Neither of us were Boy Scouts, so the whole "be prepared" thing doesn't come as easy to us.
How was your weekend?
Any other Lifetime movie "fans"??
I need ideas: share your favorite chicken dishes, please! :)
Read More on Katie Did What