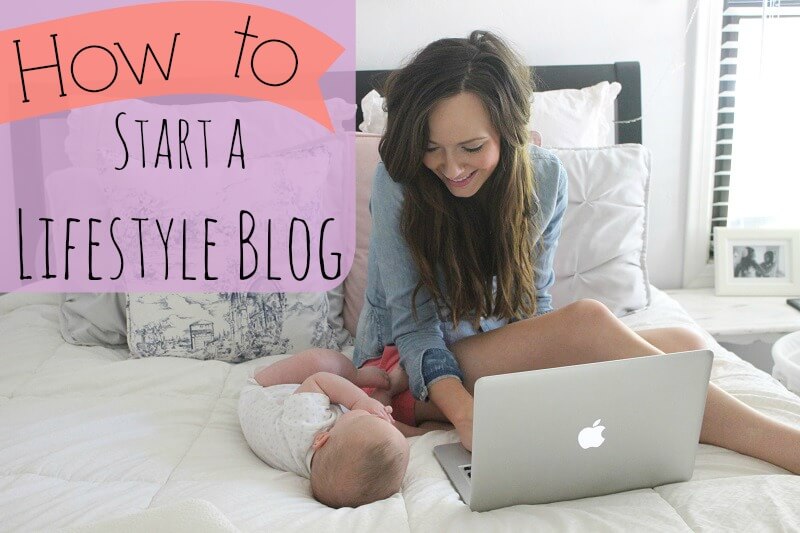 Last updated: November 13th, 2017
Blogging began as a hobby and has transformed into so much more than that for me. That's the biggest reason that I want to show others how to start a lifestyle blog. It has opened so many doors and presented many opportunities that wouldn't have been there without this blog of mine. Blogging has allowed me to do what I love and to stay at home with my babies (see: 85 Ways to Make Money Blogging). It has allowed me to create my own schedule and express myself in ways I never knew was possible before.
This step-by-step tutorial will show you how to launch your own blog.
Update: in order to provide you additional support once you start your blog, my husband and I have created a free course teaching you the ins and outs of WordPress from placing a custom header on your blog to plugin use and widget management. It's everything you need to avoid those speed bumps that everyone hits when just starting out! You can get the course 100% free by clicking right here.
I also created this one-page PDF printable with an 8-week launch checklist. If you do everything on this checklist, you'll be well on your way to your first $1,000 month!
Before We Begin: Why start a lifestyle blog?
There are so many great reasons to start a blog today! Let's talk about the obvious one first – money. Yes, you can earn money blogging. I just had my first $20k month (not typical) and things are only getting better! The best part is that because I make a living from my blog, I am able to stay home with my babies and work from here!
I've been able to live a life I only dreamt about when I was waiting tables at a restaurant 5 years ago.
The best part is that now, I am able to wake up every day and do exactly what I want to do!
The nice thing about blogging is that you don't have to make money to love it. The connections and sense of community that the blogging world offers is amazing. As a matter of fact, I blogged for many months before making any money at all. Don't let anyone try and tell you blogging is an easy, get right quick thing. It takes a LOT of work, but I still believe it is one of the BEST businesses a stay-at-home-mom, student (or anyone!) can start because of the LOW startup cost and unlimited potential.
My recommendation is to get into it because it's something you enjoy doing. Making money is totally fine and is something you should think about from day one, but that shouldn't be your #1 motivation.
Print this pdf checklist to help make sure you complete all of the steps!
Step One: choose your blog topic
What are you interested in?
Blogging about what interests you is very important. If you like the topic, and are interested in what you're writing about, your readers will pick up on that. You'll also enjoy doing it more and that is especially important if you're going to stick with it.
Even if you're blogging as a business, it should still be fun and something that you enjoy.
What are you good at?
If you have a particular skill that you think should be shared with the world, a blog is the perfect place to do it! Do you excel in the kitchen? Start a food blog! Are your friends always asking you for fashion advice? Perhaps fashion blogging is the way to go.
If you can offer tips and generally help people out, they will flock to your blog.
Step Two: choose the proper platform
WordPress all the way
I won't even discuss other options because I am so passionate about WordPress as a blogging platform. Here are a few reasons why WordPress is the best platform for blogging:
Great for beginners
Tons of free themes available
Easily customizable, even if you have no coding knowledge
There are tons of free plugins that make just about everything easier
WordPress is the most commonly used platform, and therefore there are tons of resources out there providing help, should you get stuck
Why not a free platform?
There are many reasons why you should avoid using a free platform for your blog. Among them are:
Some free platforms put their own ads on your site
Most free platforms restrict your ability to put ads on your site or make any money at all
There is virtually no support available and even something as simple as a design change warrants a cost (thus becoming not free)
You will have an ugly URL, such as www.yourblog.blogspot.com
Most importantly, you don't own your blog when it's on a free platform – it's literally like building your house on land that you don't own
Let me address that last point again. If your blog is on a free platform, you do not own the blog, or the URL. This means (and it has happened before) that your blog could be shut down at the drop of a hat, for any reason they see fit. Some blogs have been shut down because the blogger was working with a company that the platform owners don't like. You don't want to put your blog in someone else's hands just to save five bucks a month.
Step Three: snag your URL or domain name
Note: using this tutorial, you'll finish steps 3 and 4 together.
Ok, now that you've got your blog topic and are ready to set up your WordPress blog, it's time to get a domain name. This will be your website's address, or what goes here: www.YOURSITE.com.
Tips on choosing a domain name:
Make it as short as you can. The shorter it is, the easier it is for people to remember and type.
Make sure it conveys your blog's message. While trying to keep it short, be sure to include something about yourself or your blog's message in the URL.
Don't steal. It's best not to copy someone else's idea when it comes to your blog. I also don't recommend using brand names in your URL.
Note: this tutorial contains several screenshots to walk you through the setup process. All screenshots have a light-pink border.
Step Four: Get hosting
It's time to click right here to head over to SiteGround to get your domain and hosting.
I am a SiteGround affiliate and get a commission when you use my links to save an extra 60% off your plan. I could be an affiliate for any company, but I choose SiteGround due to their speed, security and awesome 24/7 live chat or phone customer support. Their one-click WordPress install is perfect for people who are starting new blogs.
What's great about SiteGround is that there are inexpensive plans to suit different needs. As you grow your blog, you can simply upgrade your plan as your traffic, income and hosting needs are increasing!
The Start Up plan is great for beginners, but you might want to consider jumping right in at the Grow Bog plan. It's just $5.95 per month and allows you to have multiple websites, improves your site's speed and gives you customer service priority. All of that stuff might be worth the extra $2/month for you.
Choose a plan and you'll be at this screen: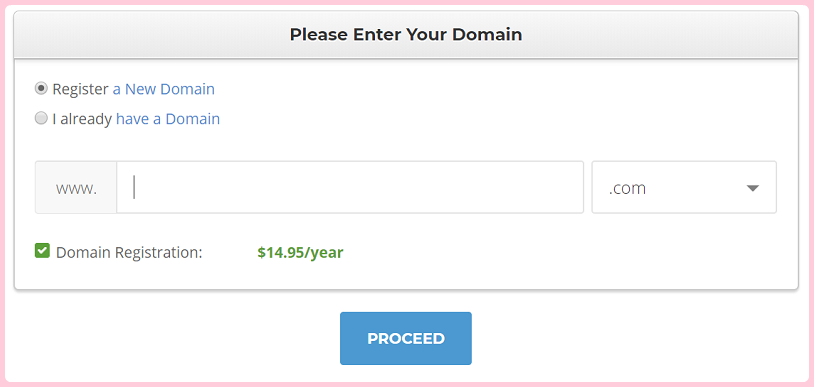 Note: if at any point during this process you get stuck, feel free to contact me (info at the bottom of post) or jump on the phone and call SiteGround at 1-800-828-9231 or click the "live chat" button in the top right portion of their page and they'll be happy to help you out.
Here, you'll enter the domain name aka your blog's web address. The first couple you might already be taken. Don't get discouraged! There are still great, unclaimed domain names out there!
Once you find an available domain, you will see that it is available and it will be automatically added to your cart.
The next screen is full of important stuff, so let's tackle it step-by-step.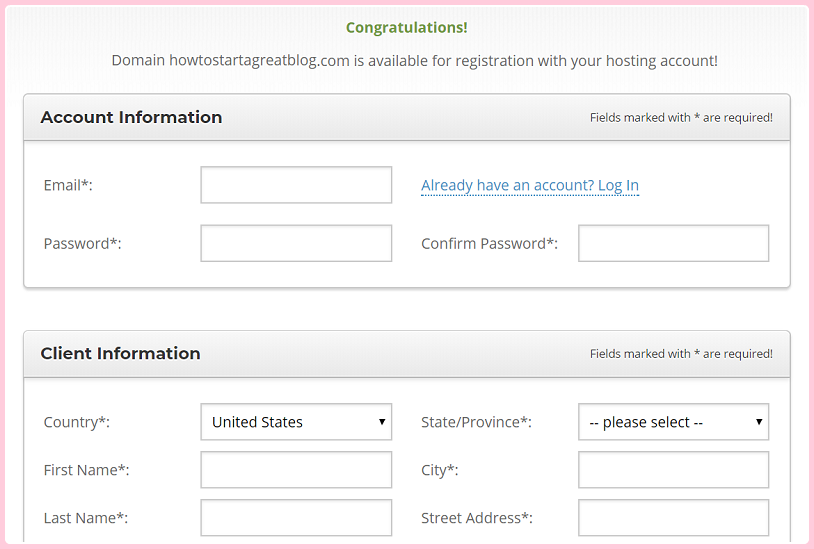 In the first section, you'll simply use your email and a password to create a user account with SiteGround.
Next, you'll enter basic contact information about yourself. After that, you'll securely enter your billing information.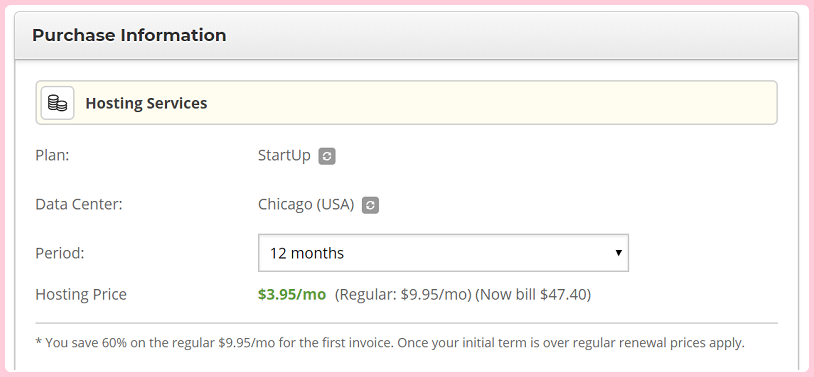 Then, confirm your hosting plan and length of signup. Sign up for at least one year to get the 60% discount.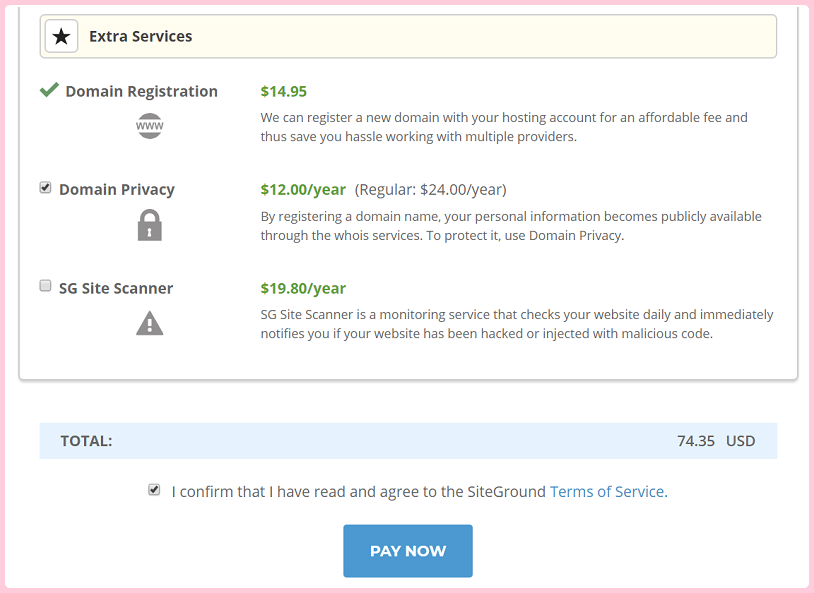 After that, you'll be at the extras section. You obviously need the domain (unless you had one before starting this process) and you definitely want domain privacy protection. This prevents your personal information (name, address, phone) from being searched. Instead, SiteGround's information will pop up when people search for your domain's contact info.
You don't need the 3rd option, but at just $20/year, it's necessarily a bad option. Your likelihood of needing this is very, very slim.
Once you've gotten everything just right, click the PAY NOW button and you'll be good to go!
You should receive an email that looks similar to the one below: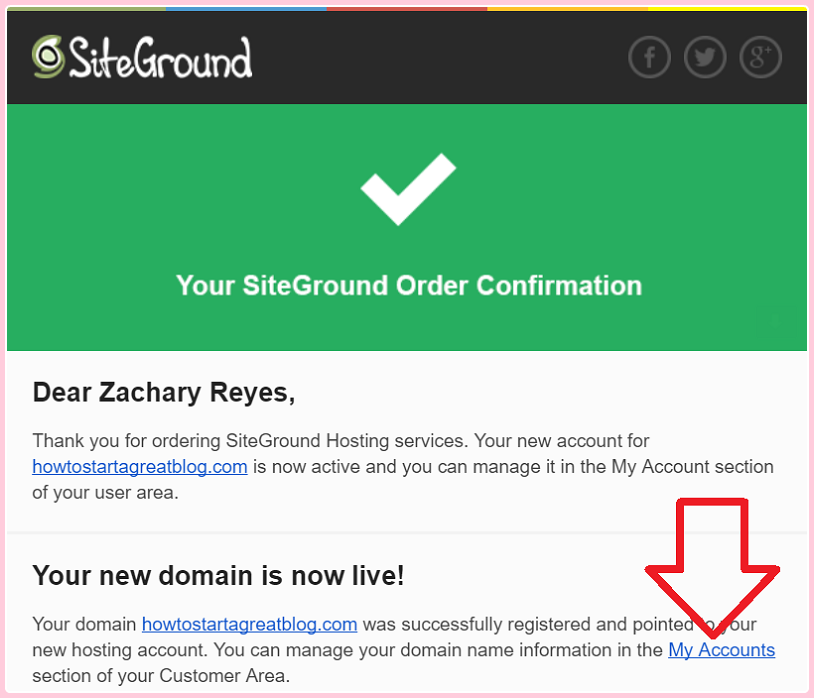 Click on the My Accounts link to get to your account. The first time you access your SiteGround account, you'll be greeted with a popup that looks like this: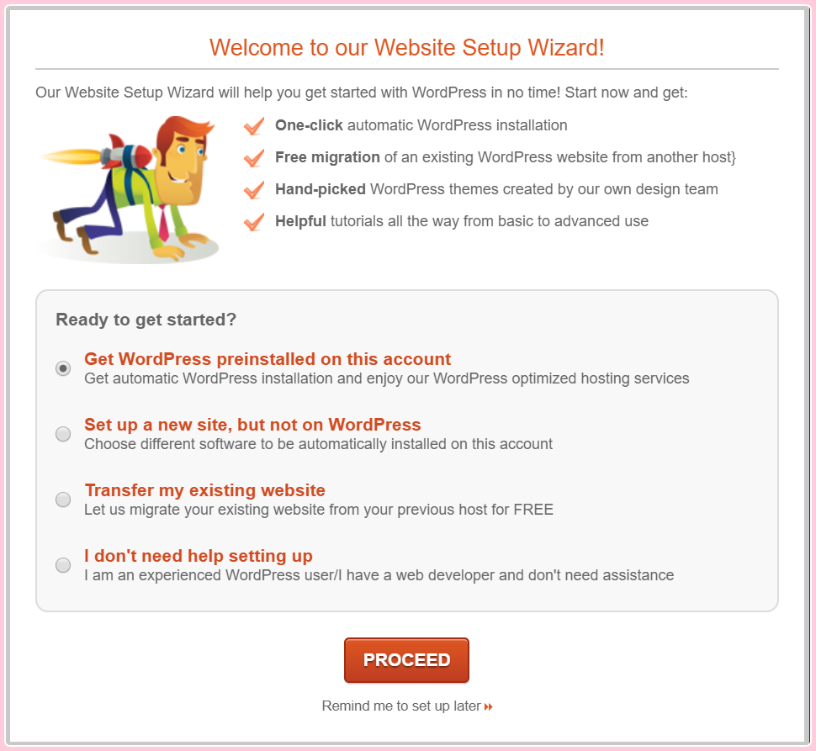 Select the first option and proceed. You'll then see this screen: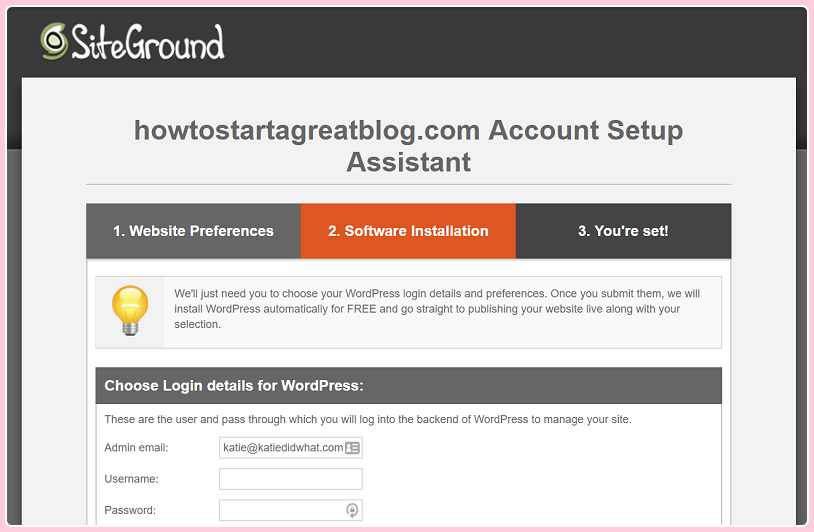 Here, you'll enter your WordPress login information and create a password.
You'll also be able to choose a free WordPress theme among many that SiteGround has developed just for their own customers!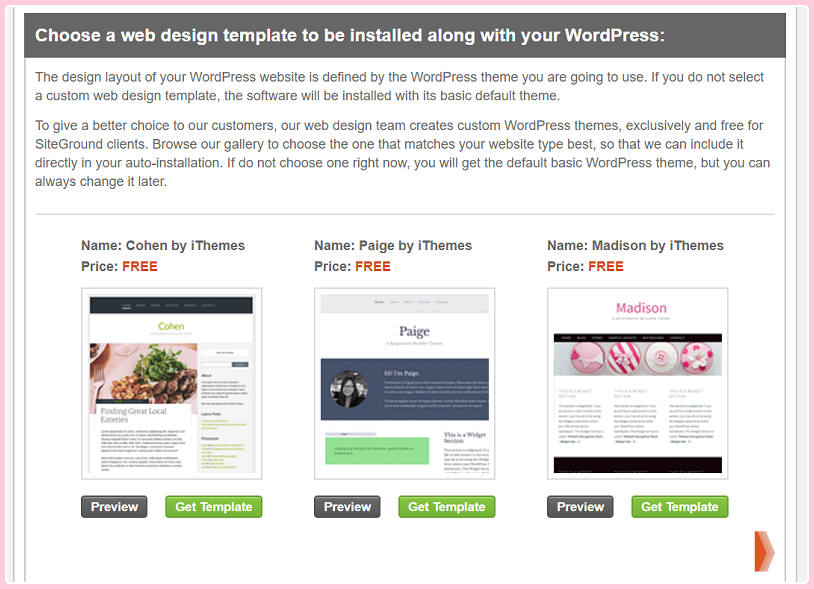 Having these free themes available is a very nice option, but we still recommend using a premium Genesis theme. Read more about why toward the bottom of this page.
Once you've got your theme chose and you click proceed, WordPress will install. This may take a minute. Then, you'll see this screen: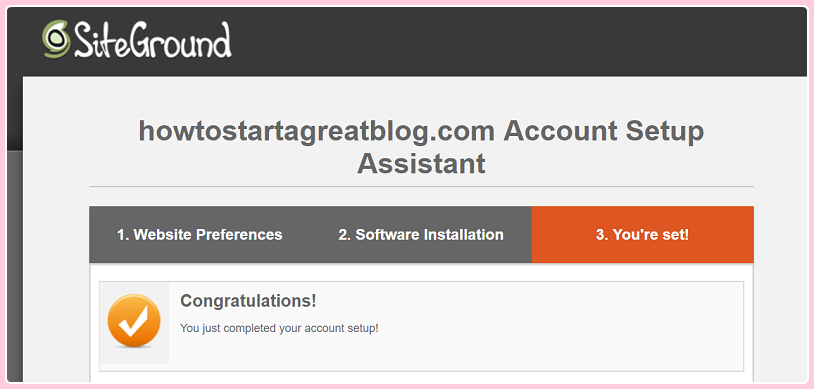 That's it! Aaaaaaand that is how to start a lifestyle blog that is self-hosted on WordPress. Congratulations, you have a new WordPress blog!
Your essential WordPress info including your username, password and login URL will be show on this screen: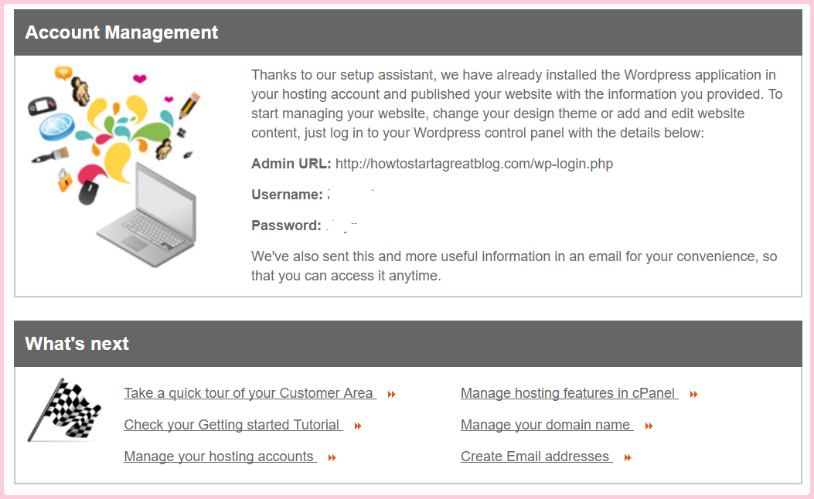 You don't need to do anything in the "What's Next" area. It's now time to get to your WordPress dashboard!
At this point, I highly recommend signing up for my free course including 8 videos that will cover in detail how to do many basic things with your new WordPress blog including: install a new header, create your first post, basic customizations and much more!
Whew! We made it! Was it easy? Do you have questions? Leave a comment below, email me [email protected] or catch me on Twitter @RealZackReyes. I'm happy to walk you through this process!
Step Five: find a theme that you like
Even if you chose a free SiteGround theme, it's a good idea to explore all of your options. In your WordPress dashboard, hold your mouse over "Appearance" and click "Themes" to browse the hundreds of free WordPress themes available.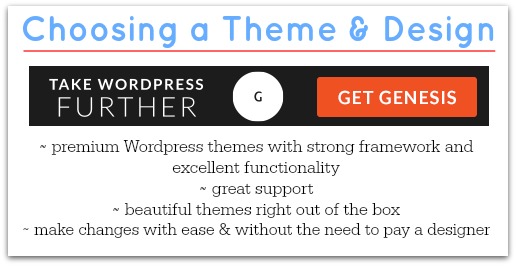 While there are free WordPress themes available, I recommend jumping right in with a premium theme. Most often, premium themes are more functional, user friendly and SEO friendly. I recommend a Genesis theme because of the functionality, moderate price and ease of use. All of our sites (including katiedidwhat.com) run on Genesis.
***Please note: you will need a Genesis theme, not just the Genesis Framework. When you get to the page linked here, the very first "Theme" you see is the Genesis Framework. Don't buy that separately. As you browse the themes, you'll notice that they are all priced to include the framework anyway. Choose one of the 60 themes. My favorites are: Foodie Pro, Glam Pro, Simply Pro and Modern Studio Pro. Any of those themes make for a great blog design right out of the box.
There have been countless times where I've made a change here and a tweak there myself as opposed to paying a developer $50 to do it. Genesis makes changes easy for our blogs and that's important to us.
Depending on how comfortable you are with HTML and CSS code, you will be able to customize your site on your own. If your knowledge is limited, a Genesis theme will look and perform better than any other right out of the box. If you don't want to touch the design at all, just do a Google search for a "WordPress blog designer" and choose someone who looks legit.
Step Six: publish your first post
When you're ready to post, hover over the "Posts" option and a new dropdown menu will appear. Click New Post and you're off and running!
To delete the original post that they put there, click all posts and you'll see an option to trash that "Hello World" post.
Visit MoreFromYourBlog.com for tips on gaining traffic, increasing your social media following, making money from your blog and much, much more.
———————————————————————————
Tips for Blogging Success
-Write about what you love. What are you passionate about? What makes you excited and really makes you you? If you write about things that you truly love, chances are your writing will be better and others will love reading it!
-Be consistent. Whether you're blogging once a day or once a week, consistency is key!
-Be ethical. Disclose properly for products and payments received in return for posts, and also don't plagiarize or steal ideas and images.
-Make your blog beautiful! Spend time (or money) making the small design details of your blog perfect for you!
-Be active on social media. Don't automate all of your accounts. Rather, be present on each platform that you're trying to build. People like you for you and your personality should sine through!
-Take pride in the pictures that you put on your blog. This is all yours- own it!
-Steer clear of any blog drama! It is not worth your time. If you don't have anything nice to say, just don't say anything at all!
-Most importantly: HAVE FUN! If you're not enjoying what you are doing, you are more likely to give up. Plus, it will come through in your content, and others will be able to tell that you aren't enjoying it, too.
To give you an idea of lifestyle blog content, some of my recent posts are about my daughter turning one, what I did on a recent weekend and a list of things that make me happy. You see, lifestyle blogging truly can simply be all about you and your life! Document it all on a blog and see where it takes you!
Step 6: Do You REALLY Want to Get Serious About Blogging?
If you want to really start with a serious thought about making money, build your email list from day ONE! We use Aweber for a couple of our blogs and love it. You can create an email series that automatically sends emails to new subscribers in time intervals that you set.
A good idea is to set Aweber up to send your new subscribers a piece of your best content every week or two after signing up. Meaning- every 7-14 days, they get an email with some of your best (previous) blog posts. This is great for traffic and for helping them to get to know your writing. You can also email your entire list when you have new posts/annoucnements/products to promote.
They have a month free trial option, so there's nothing to lose for trying it out!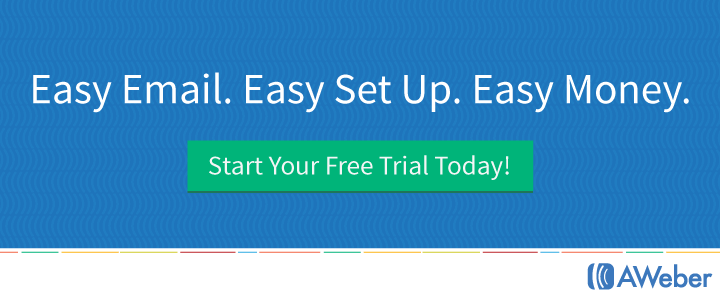 Now go on with your blog self! ;)
Did you have any questions on how to start a lifestyle blog? Comment below and I'll try and answer!
xo