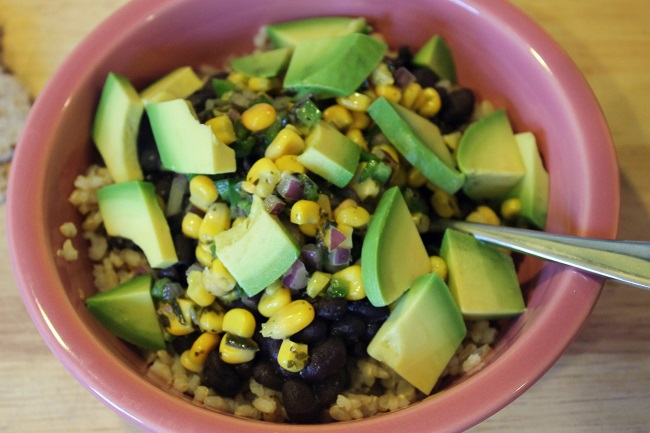 This is one of my go-to meals, and I make some version of it at least once a week. It's just a really easy, simple, delicious, and healthy option that we fall back on whenever we fail to plan (which, to be honest, is often). Living in California, we have an abundance of delicious avocados (good thing, because they are my favourite food in the world and make every single thing better. Literally. Everything.) and also eat Mexican food on the regular. Here's the recipe, which I feel somewhat silly calling it that, since it's literally the easiest thing in the world.
Homemade Burrito Bowl Ingredients:
brown rice
black beans
corn
1/2 cup diced purple onion
1-2 jalapenos
lime juice
lemon juice
cilantro
avocado
optional: plain greek yogurt (identical to sour cream, but healthier!), tomatoes, romaine lettuce
Process:
Cook the brown rice in a rice cooker (1 cup rice to 2 cups water) and cook the black beans and corn separately on the stove. This meal tastes great with either cold or hot corn, so use whichever you prefer. Toss the corn, onion, jalapeno, lime juice, lemon juice and cilantro in a bowl together. Then create your bowl however you like! I layer the bottom with brown rice, then add black beans, the corn salsa mixture, and sliced avocado. Add hot sauce on top (I love Cholula) and romaine lettuce and whatever other toppings you'd like, and voila! Delicious homemade burrito bowl. This is also great with a hot crisp tortilla (I like multigrain!) or some tortilla chips on the side. Store leftovers in the fridge, and it's even better the next day once all of the flavors have mingled. Yum.
What's your go-to dinner recipe?
xo