First off, I wanted to say thank you to everyone who commented on yesterday's post, both here and on Instagram. It will always be a hard day, but all of the love and sweet words I received was so much appreciated and made it that much easier. So thank you, from the bottom of my heart. I read every comment and you all made me smile so much.
To lighten the mood, I picked my best and worst dressed picks from last night's Grammys, and of course Man Quotes are up after that!
B E S T D R E S S E D: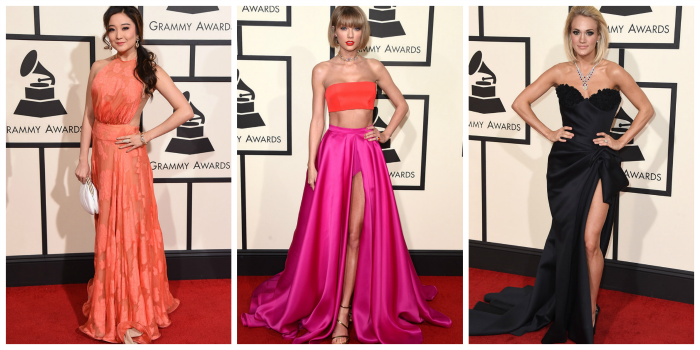 K, this coral lace dress is probably my very favorite. OBSESSED. I would wear this, every day. And of course, Taylor can do no wrong, ever. And neither can Carrie.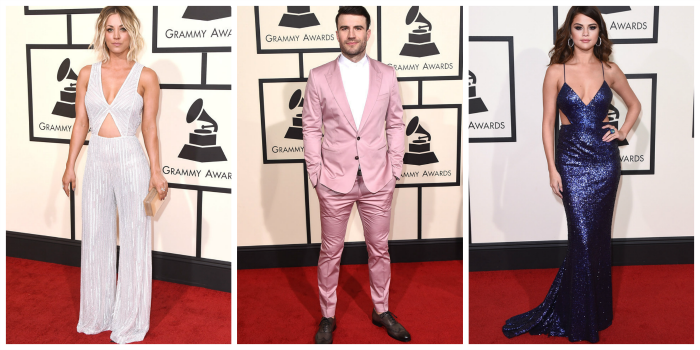 I love Kaley's white jumpsuit- it's chic and fun at the same time, and unique, all good things for the Grammys. Hi, a man in a pink suit. SWOON. And Selena is killing it.
W O R S T D R E S S E D: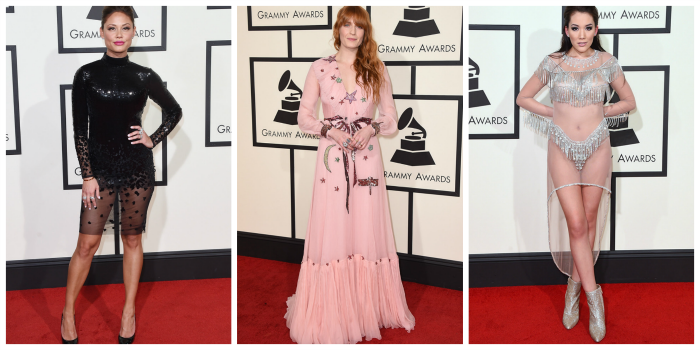 NO. NO. NO.
And now it's time for Man Quotes from this week! I watch The Bachelor with my hubby and write down our commentary! YAY!
Zack: He's driving around his hometown waving out the car window!
Katie: Who is he, Miss America?
Katie: Just taking a nap on Wrigley Field.
JoJo: "I need to feel safe."
Zack: You don't feel safe when he has 5 other girlfriends?!
Katie: Where did all of these kids come from?? Did they rent some kids? He has to prove to her that he's good around kids, since she has kids.
Katie: McDonald's for a date? REALLY?
Zack: This whole date is a commercial.
Katie: This whole dynamic between the remaining women, sitting around sharing their dates, is just SO STRANGE. Like, I don't want to know how great your date was, you are literally DATING MY BOYFRIEND.
Zack: I guess that's why you're not on The Bachelor.
Katie: ….And also, I'm married to you.
Ben: "I think Emily just became her whole individual self."
Zack: Well, that usually happens when you pull an identical twin out of the occasion.
Caila: "Emily is a wide-eyed puppy. She has so much to learn still."
Zack: She's literally one year younger than you. Get off your high horse. How much have you learned from 23 to 24? How to be pretentious?
Emily: "Talking to people can be a challenge for me."
Zack: Girl, I understand. I hate talking to people.
*Emily stumbling over her words while talking to Ben's mom*
Katie: Yeah, she was right. She's really not good at talking. At least she's aware of it.
Ben's dad: "She's a very nice young girl. Very attractive."
Zack: His dad's all, "You bringing all six of them by?"
Katie: Even if your aspirations are to become an NFL cheerleader, you should probably pick anything else to say to your boyfriend's mom.
Emily: "Where are we going? Don't take me home."
Zack: Well, this is about to get really awkward.
Ben: "I just don't see you being my wife."
Zack: Ouch. He cuts right to the bone!
Ben to Chris Harrison: "I don't know what I'm going to do."
Zack: Time for Chris Harrison to work his magic. Relationship therapist activated!
Becca: "It's just so frustrating that I keep putting myself in this position."
Zack: Well, it's because you keep coming on The Bachelor.
Did you watch the Grammys? Who was your best/worst dressed?
xo