This post sponsored by Nordstrom. All opinions are 100% my own.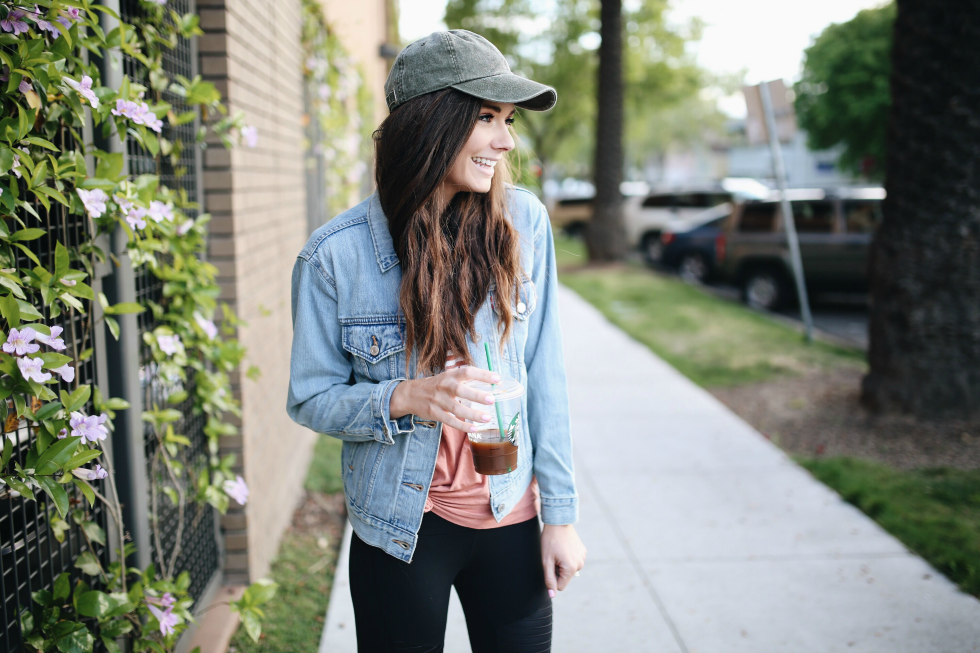 Mom truth: I basically live in my workout clothes, 90% of the time. So it's important to me that they are versatile and easily taken from the gym to the street. Because mom life doesn't really allow for much down time, and I'm lucky to get a shower at night, let alone change my outfit halfway through the day. ;) Today I'm sharing some of my favorite athleisure looks with Nordstrom, and showing how by just switching out a few simple items, you can take your look from fitness to errands. And all the busy boss babes said, "Yaaaass!"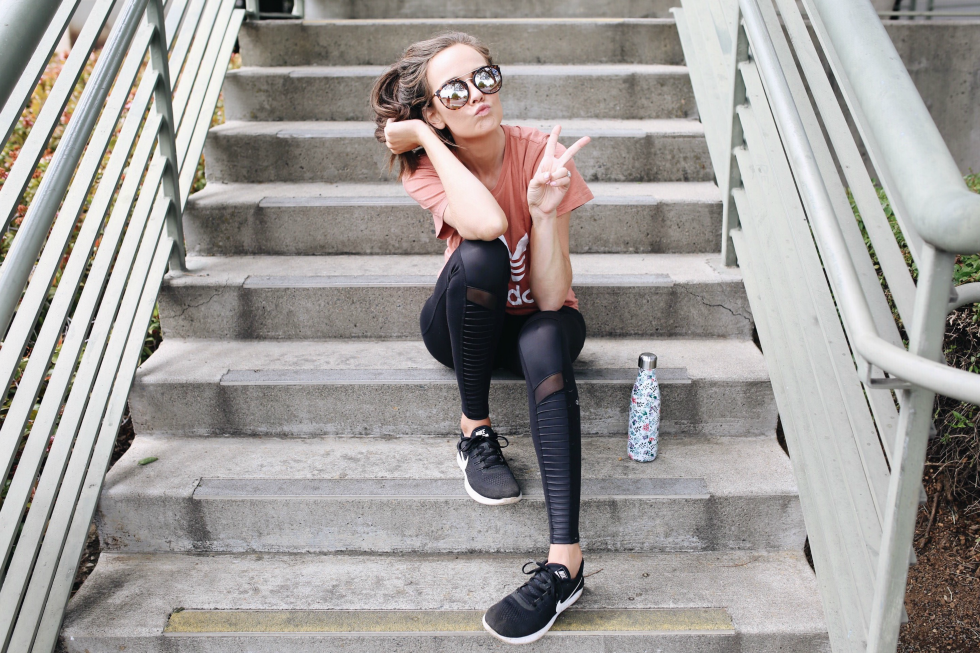 First off, I have to talk about my love for Nordstrom. It's no secret, I am always sharing pieces from here, because it's my favorite one-stop destination for any occasion! And, hi, free shipping and free returns and the greatest customer service around! Can't be beat! ;) I think it's safe to say my closet is composed of roughly 95% Nordstrom items. #truth. It's also safe to say that I LIVE in leggings (mom life, and also I work out every day and work from home, so why would I change out of said leggings…?) So let's get on to the outfits, from working out to everyday wear. And of course you can find every piece at Nordstrom!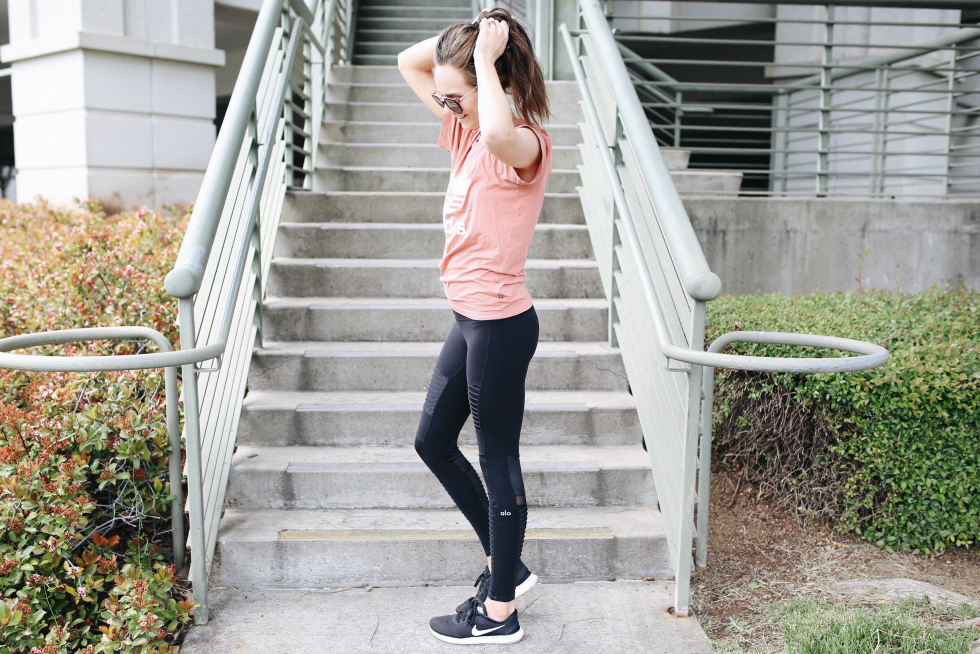 TEE | LEGGINGS (on SALE!) | SHOES | SUNGLASSES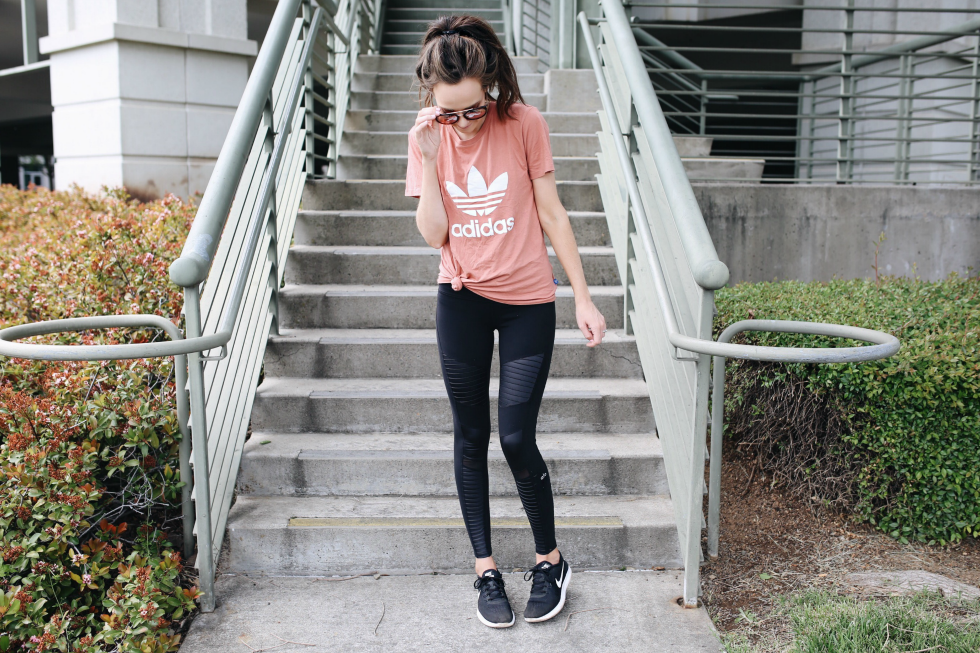 First off, I'm obsessed with the moto legging trend, and THESE are the best I've found! Paired with a cute Adidas tee, knotted for some more style points, and my go-to Nikes, I'm ready for a good morning run.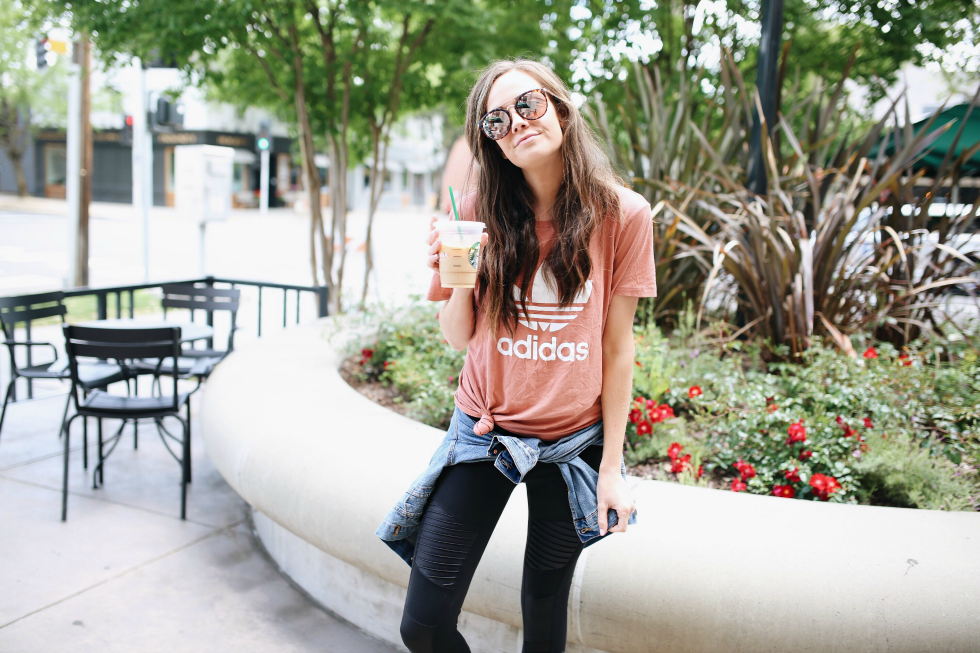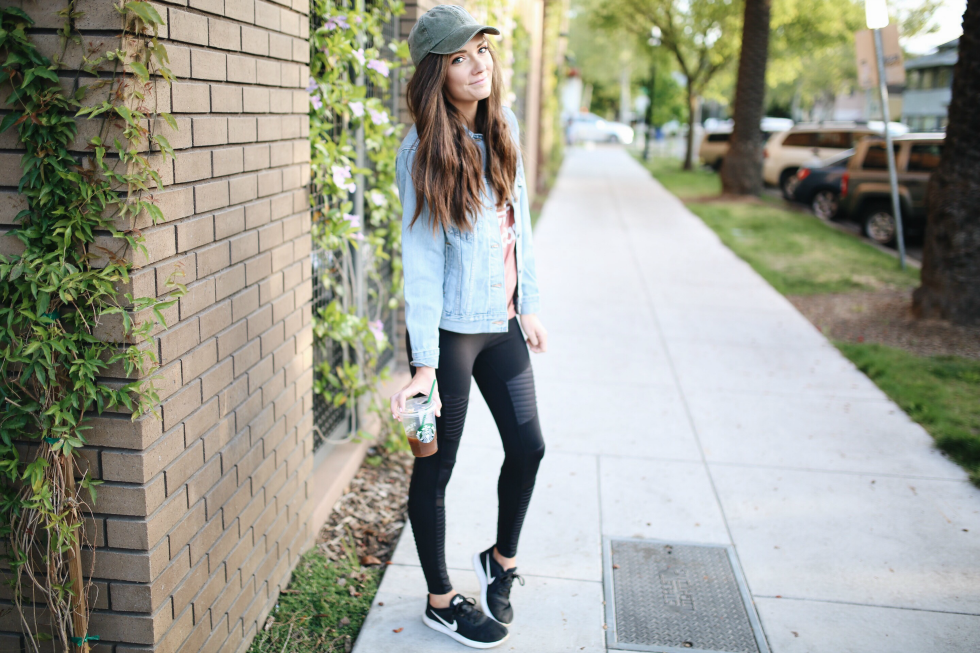 DENIM JACKET | BASEBALL CAP | TEE | LEGGINGS | SHOES | SUNGLASSES
Then, throw on a cute denim jacket and a baseball hat, and you're ready for running errands, including the most important step: COFFEE. All of the coffee.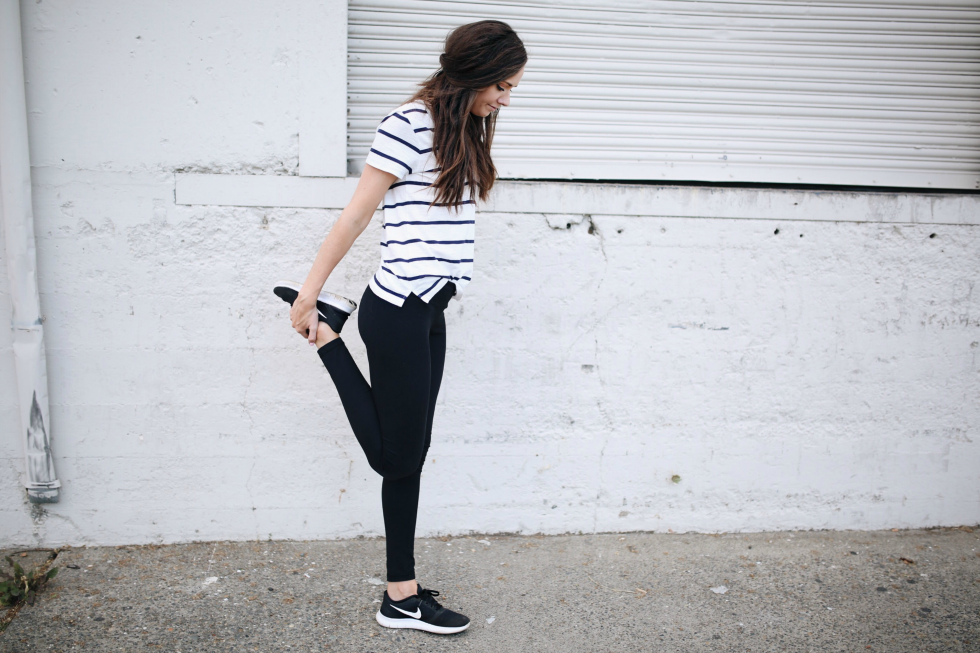 TEE (size up) | LEGGINGS (true to size) | SHOES (size up one)
For my second look, it's no surprise that I'm wearing my favorite of all time, Zella live in leggings. They are literally my most worn item in my wardrobe. I'm borderline obsessed with them. And they are easily taken from workout to streetwear! The best part. I can run in them and then go straight to running errands and grabbing coffee with girlfriends, and no one has to know. ;) And really, since I start every day with a workout, and I have my little toddler sidekick with me, we are pretty much go-go-go from morning until lunchtime (and then the coveted NAPTIME!), so I need to have clothes that are versatile and easily transformed from workout to errands. This is one such look that works beautifully to transition from the gym to running errands!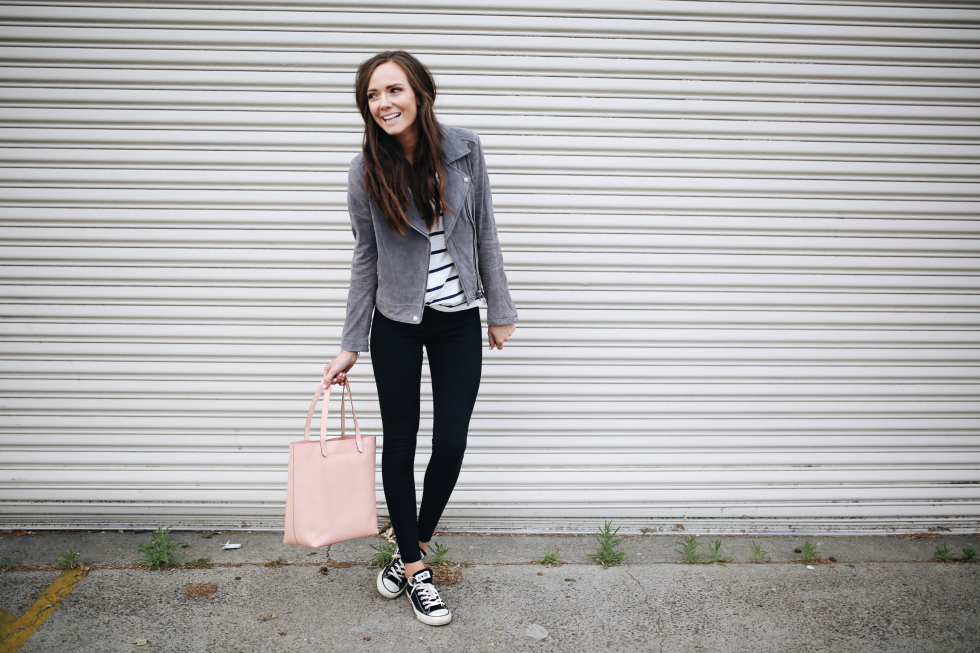 SUEDE JACKET | TOTE BAG | SHOES | TEE (size up) | LEGGINGS (true to size)
How cute is this striped tee?! I just throw my favorite suede jacket over it to bring it up a notch. Instant "going out" look. Switch out the shoes to some trusty converse (because we're not trying to be too fancy, I mean we are still wearing leggings after all) and you're good to go.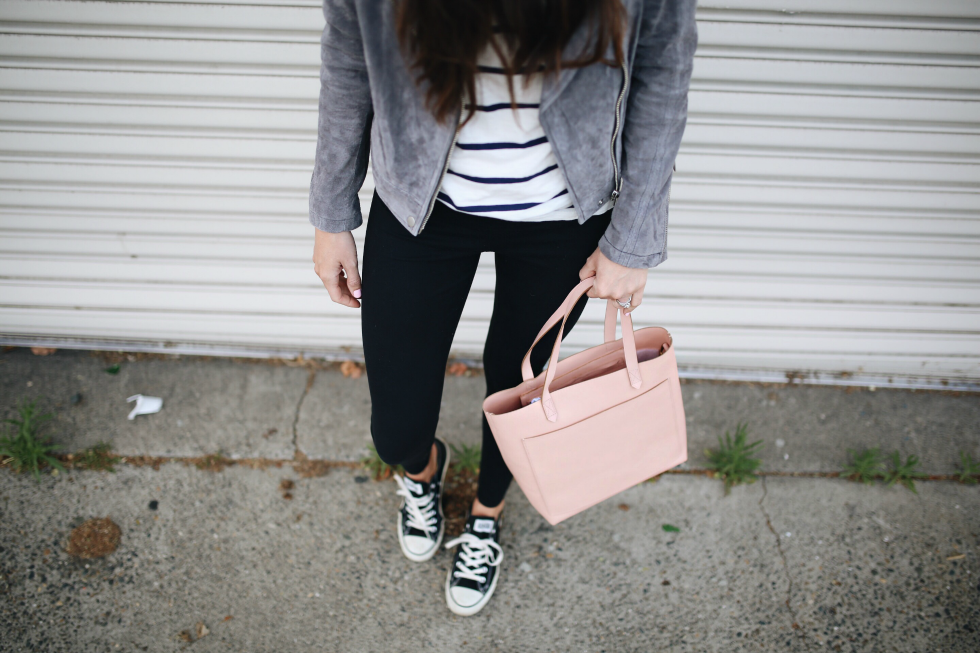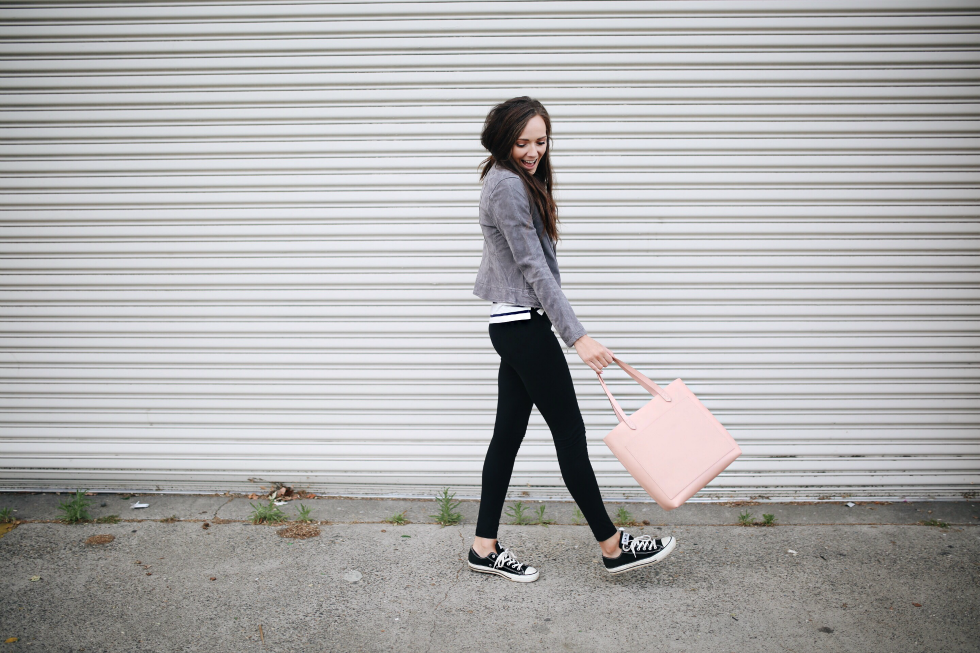 What's your go-to, everyday style? Are you more of a dresser-upper, or are you athleisure all the way, or somewhere in between?
xo