Okay, somehow, SOMEHOW, tomorrow is the first day of FALL. AUTUMN. Whatever you want to call it. It's tomorrow!!! Can you believe it? I can't. I swear, summer just began. But hey, I ain't mad about it. Bring on the season of leggings and sweaters and scarves and PSL's (yesssss) and pumpkins and boots, oh my! I am ready. Plus, it's Sophie's first autumn, and how sweet is that? I love firsts. :) With all this being said, I thought it'd be fun to ring in the new season with some of the trends I am loving!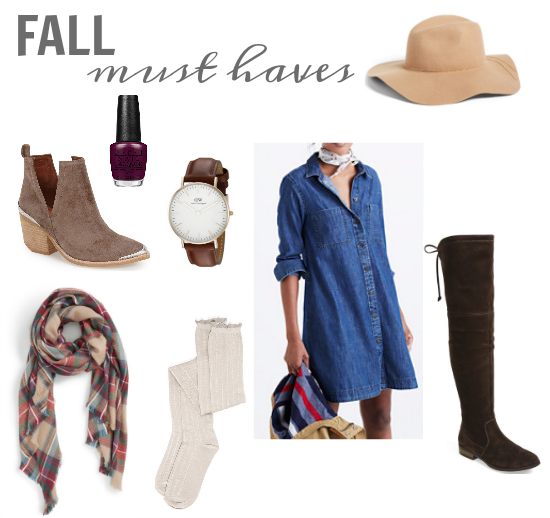 Ankle Boots | Nail Polish | Watch | Dress | Hat | Scarf | Socks | Over the Knee Boots
Ankle boots. As stated in this post, they're an obsession. I love them paired with cuffed jeans or leggings or cute little boot socks. Oh, endless possibilities!
Blanket scarves. I mean, you can wear it as a scarf a million different ways, and when you get really cold, just wrap the whole dang thing around you and BOOM. Blanket! Wearable blanket! GENIUS.
Knee-high socks. Love 'em, love 'em, love 'em. Gimme allll of the knee-highs! Cozy and cute!
Over-the-knee boots. Yes, more boots. Boots are important in the fall, I think. Don't you think so too? OTK's are super on trend this season, too. I'm going to have to snag a pair myself…
Floppy hats. If you know me, you know I love my hats. Floppy, wide-brimmed hats are best. You must own a camel, a black and a grey, for good measure. And to make sure you have a hat for every outfit! Duh. #nomorebadhairdays
Leather watch. Classic. Goes with everything. Minimal. Done.
Dark nails. I love deep plums and dark greys and almost-blacks for fall. A nice switch from the whites and pale pinks of summer!
Denim dress. Cute with flats, with boots, with an olive jacket over it or a hat on top. It's the perfect neutral base for all of your fall accessorizing!
What do you have your eye on for fall?
xo