Can you believe it's spring and Easter is just a week away?! We celebrate to remember God's love for us, the ultimate price of dying on the cross to cover all of OUR sins- it brings me to my knees to just try to even fathom that kind of love. But He did it. For me, for you, for all of us. This is the true reason for Easter, not the bunnies or egg hunts or baskets of goodies… But let's be honest, those are all fun, too. :) So, I wanted to share some ideas for Easter baskets, all from Prime shipping so they'll get to you in plenty of time for all of your festivities on Sunday!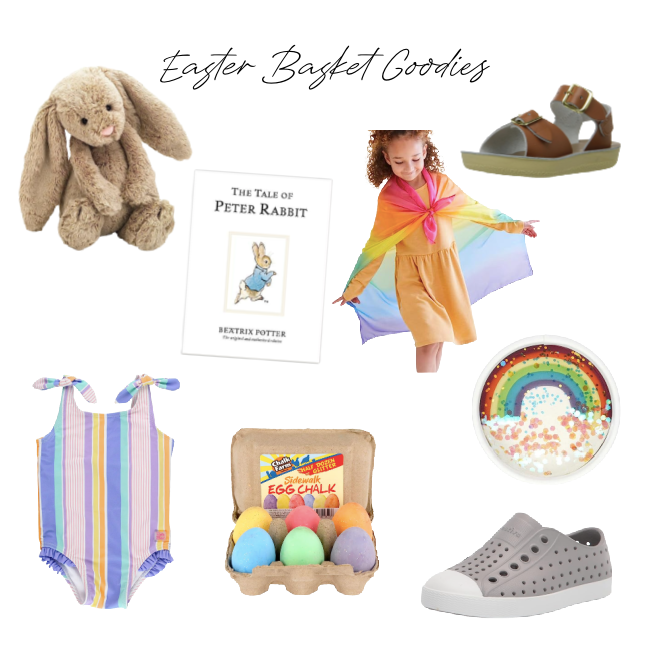 Sarahs Silks– We have 3 of these and the kids play with them all the time! The possibilities are endless, they are not only beautiful and 100% silk (yay!) but amazing for the most imaginative play! And Sam (my sensory-seeker) loves them simply for how they feel, and will have the best time sensory-wise with them. :)
Land of Dough– This is our favorite non-toxic play dough, that is also beautiful and comes in the prettiest container! Linked to Amazon here and Target here! Love this number set, too!
Bunny– We love this brand. The stuffies are just sooooo soft and cuddly! Also love our Slumberkins dolls!
Swimsuit– Sophie just got this one, it is darling! They have lots of great options, for boys and girls!
Saltwater Sandals– Our favorite summer sandals!
Natives– Another favorite summer shoe. Easy to slip on and off independently!
Sidewalk chalk– A spring/summer must have! And love the egg shapes, too- so fun!
Clean candy– no dyes, no nasty chemicals, the only candy we get for our kiddos! Fill your eggs with the good stuff for your hunt! More egg filler ideas are cheddar bunnies, fruit or non-edibles like little stickers or tattoos!
You know I wouldn't leave out books!! These are our favorite springtime books:
Peter Rabbit, The Runaway Bunny, The Velveteen Rabbit (we read this recently and I cried! It's so good!), Tale of the Three Trees (one of the trees made the cross- such a sweet story and also a tear jerker, but important!), and Miss Rumphius
Happy Easter, friends!!
xo
Read More on Katie Did What