YAY. I did it. I hand-addressed all of my invitations, with the calligraphy that I taught myself!! All by myself! (Cue "Mommy wow, I'm a big kid now!" music.) GO ME!!!
Now we just need to print out our directions cards, and assemble all 80 invitations, and then stamp them and mail them! Alllllmost there! (You'd best believe, I'm getting' help from the fiancé for this last part.)
So as a reward for doing such a great job, I am going to paint my nails the pretty little colour "Fiji" by Essie (as seen on Emily, from the Bachelor, as identified HERE, thanks to the Possessionista!!) before work. I'm hoping to soak up some of Emily Maynard's Mother Teresa qualities, which always prove to be very much needed in my line of work (i.e. working with the public, serving them food.)
And hopefully I will be able to refrain from doing anything crazy with my nails no more than .05 seconds after painting them, thus completely ruining them and having to re-touch them over, and over, and over again… I swear, this ALWAYS happens to me! I am a complete nail polish fail.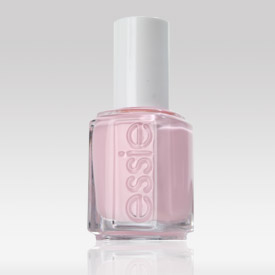 I'm not the only one, am I? I just can't help it. My ADD tendencies get the better of me…