You see, my boyfriend has these two cats. Now, before I met Zack, I was NOT a cat person. I have never had a cat, and I have never had the desire to have a cat. I was actually, quite honestly, a little scared of them (their retractable claws, the constant shedding of hair, you get the picture). Maybe it's that whole being afraid of what you dont' understand, but I was a borderline cat-hater (gasp! I know!) But then I met Zack, and what's more, I met his two cats. And it was all over. It's been 1 1/2 years and they have entirely and completely won me over.
I introduce to you, the Fatty (a.k.a. the Black One, Fattycums, Assface– which I refuse to call him–, the Fat One, etc.) This little guy is always doing something entertaining, and the other day I walked into the bedroom only to be greeted by: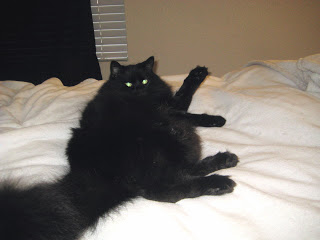 He's waving! I died. Now how could I possibly not like cats!?
Read More on Katie Did What