This post is sponsored by Everywhere Agency on behalf of OshKosh B'gosh; however, all thoughts and opinions expressed are my own.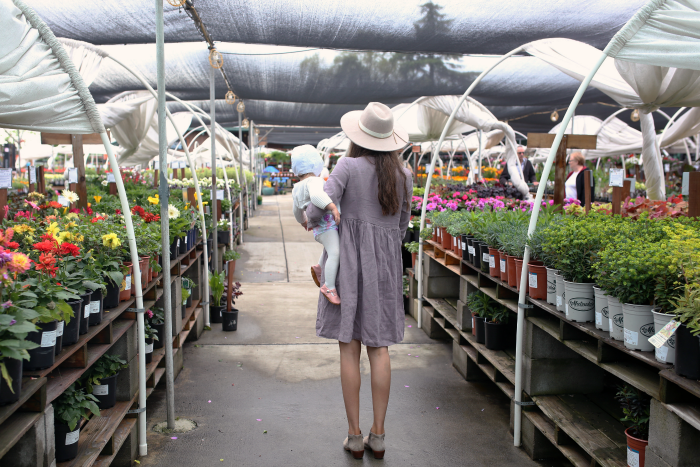 Let me tell you something about this little girl of mine: She LOVES flowers. Every time we pass any sort of flower (or if she sees anything that even remotely resembles a flower), she points to it and says, very matter-of-factly and quite intensely, "RO-RO" and will look you square in the eye until you follow her point and acknowledge that you do indeed also see the "ro-ro" (er… flower). It is the cutest thing, guys. Because of this, I refer to her often as my little flower girl, and this is why we decided to spend one afternoon last week at the local nursery, letting Sophie run free amongst the flowers. Sam was at school, so this was a special Mama/Daddy/Sophie date, and I have to say, she had the time of her life!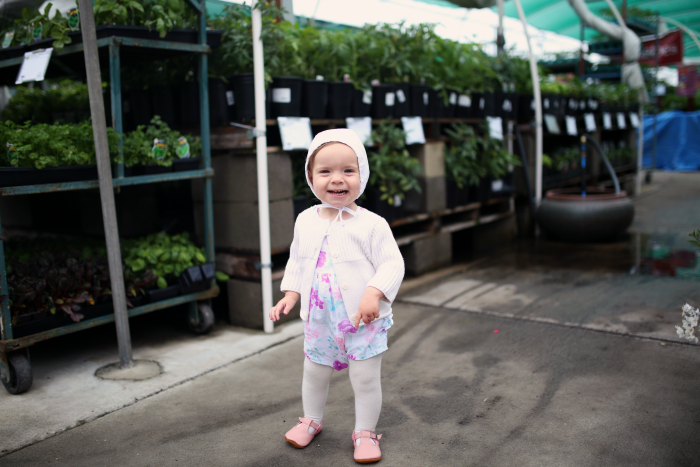 I don't think there's anything cuter than her joy of simply being able to walk all around, pointing out flowers every which way and smiling at the employees. One grew especially fond of her, and brought her her very own little daisy. Which she held onto the rest of the time and even brought home with her. This girl wins over hearts wherever she goes. I think this might be a recurring theme of her life. ;)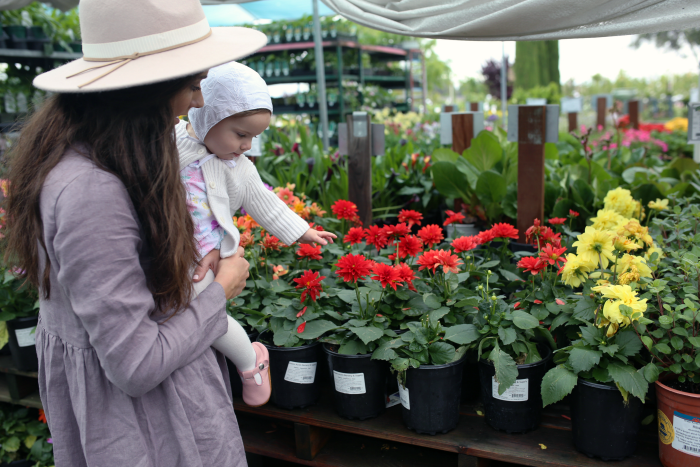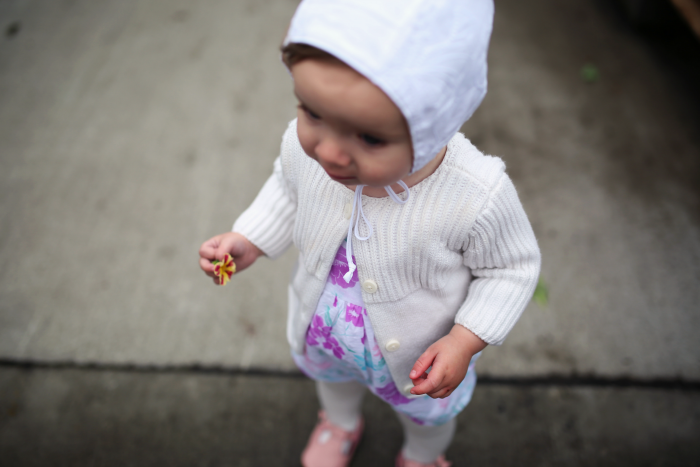 Now, in choosing her outfit for a trip to the nursery, naturally I needed something with flowers on it! Thankfully I had just stocked up on the cuuutest spring rompers from OshKosh B'gosh, and this particular one was begging to be worn. It was a cooler day, so I threw on some tights and a sweater for good measure! Oh, Spring! Warm and sunny one day, rainy and cool the next.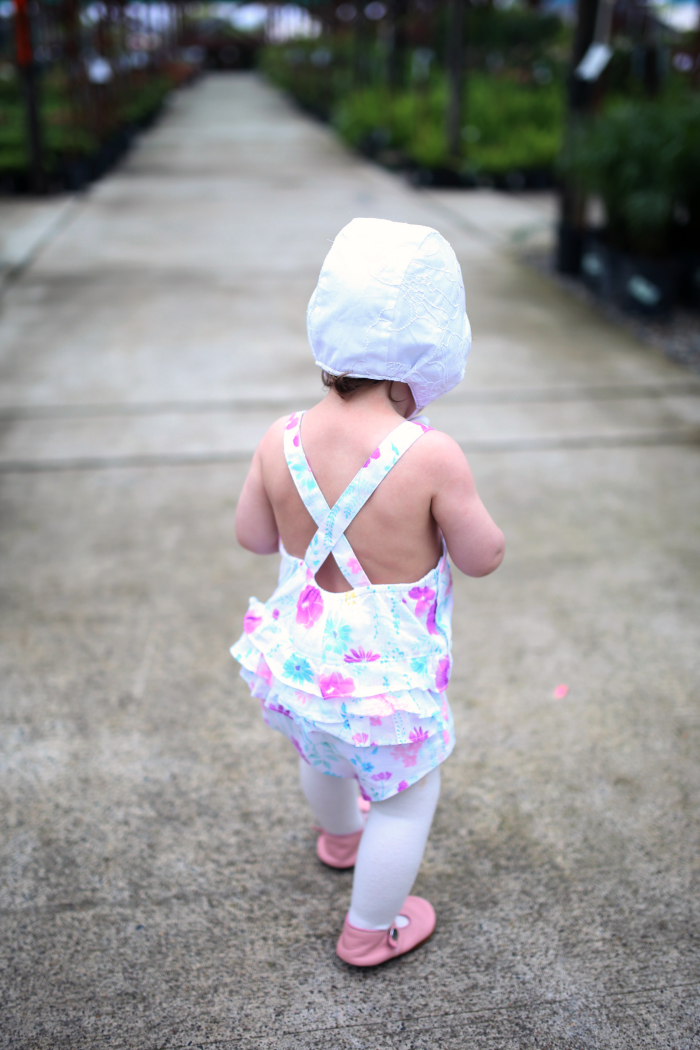 But seriously, how cute is this little romper?! It's got ruffles on the butt. I DIE. She will be living in this all through summer! I love that OshKosh has cute clothes that are on trend and adorable but also made for play, so I don't have to worry about her running around and being a kid! There are so many cute clothes right now, just perfect for Easter! Be sure to use code OKBG3270 for 25% off $40+!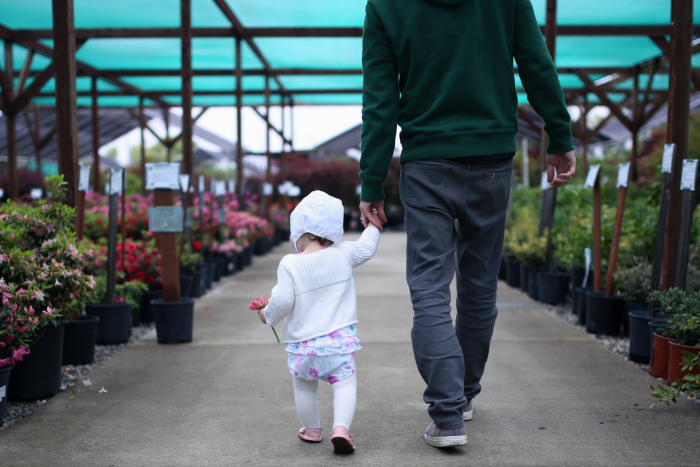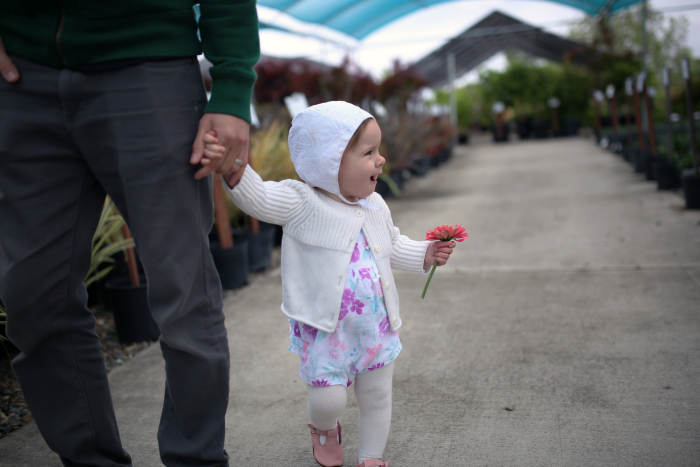 She ended the morning holding her daddy's hand and walking down the aisles. She literally held his hand for like 10 minutes. I'm pretty sure he was in heaven. I know I was, just watching them. That daddy/daughter bond is a strong one.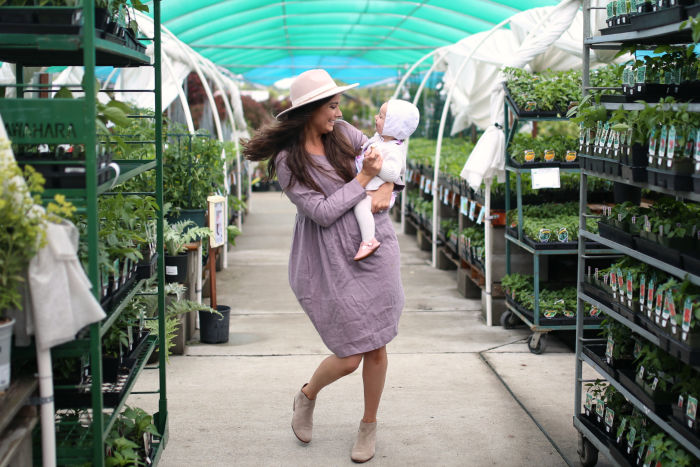 Oh, my baby girl. I hope you always find the beauty all around you.
AND NOW FOR A FUN GIVEAWAY!
One reader will win a $50 OshKosh gift card!
TO ENTER: Leave a comment with a favorite place you and your kids love to explore! :)
Good luck! Winner will be announced 4/14.
xo