This post is sponsored by Blue Diamond Almonds. Ditch the chips and grab some Game Changing Flavors this football season! Enter for a chance to win the Ultimate Football Party Prize Pack, get great savings and ideas for delicious snack hacks at GameChangingFlavors.com.
Whoa, look at this! It's a Saturday, and here I am! It's just because this time of year is so crazy, and I have few things from life lately that I need to share with you…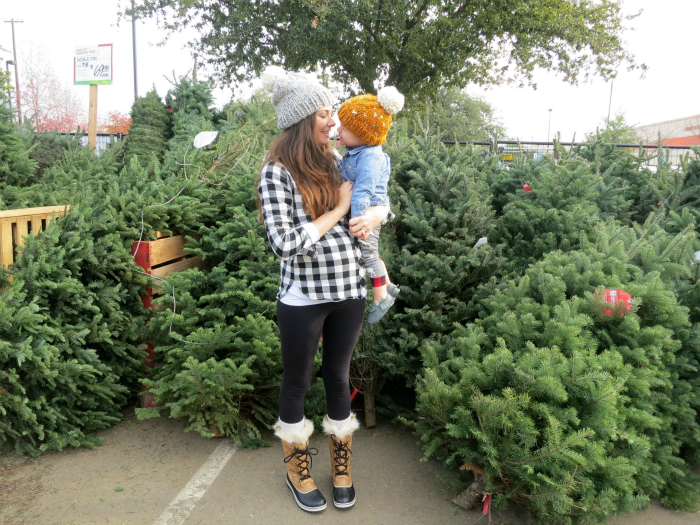 hats // similar top // leggings // boots // Sam's leggings
I posted this photo to Instagram and got quite a lot of questions about my boots, so I wanted to link them here for anyone looking for some awesomely cute, warm and comfortable boots for winter! They're made for snow, so I think that means a little day trip to the snow is in order (since it never ever snows where we live)! Sam has never seen snow, either, so I think this year is the perfect time to introduce him. It's gonna be cute, guys. Also, notice we're in a Christmas tree lot! I'll be sharing our home completely decked out for Christmas on Monday, so come back for that! It makes me so happy!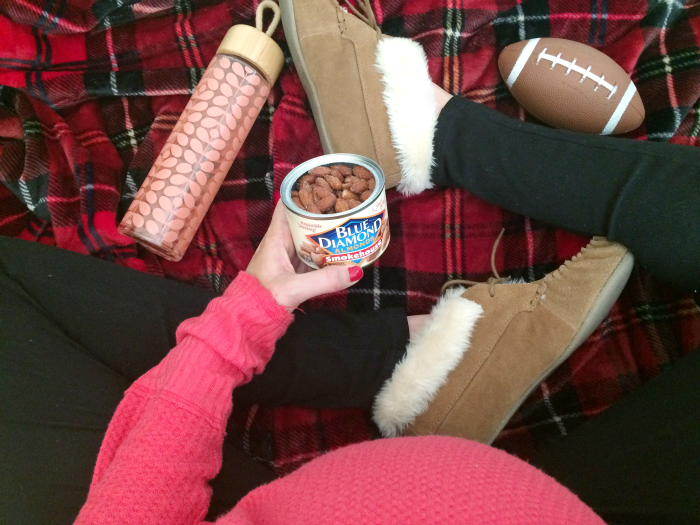 Next topic: football. Because I don't know about you, but in our house, it seems like it's on ALL. OF. THE. TIME. And let's just say, it's not my favorite sport. Never has been. I used to be in marching band in high school, so we always played at every home game, so I was kind of forced to go to football games, but I never actually paid attention. You know- when I wasn't playing songs, my back was pretty much permanently turned toward the game, ha! ;) But that's high school, isn't it? Socializing is kind of the name of the game. ANYWAY. Fast forward to now, and my husband, who is a huuuuge fan of the game. It's actually grown on me a bit. And like, I understand it more now, which I think really helps in enjoying any sport, really. If you have somewhat of a clue as to what is going on, well, obviously it makes you more inclined to pay attention.
Or something.
So yeah, football. It's always on, like, allll day Sunday. And then Monday night. And then Thursdy night. (Why must it be on so often, though? I mean, really??) And eating is kind of my favorite sport, so I like to make it an enjoyable experience and put out some snacks during the games. My go-to, always, every single week, is Blue Diamond almonds. They have so many delicious flavors, they're a great healthy alternative to your normal "game day snacks"- you know, chips and dip, fried everything, frozen whatever… Yeah. Almonds are where it's at. And the smokehouse flavor is SO GOOD. Plus, if we do end up polishing off an entire can, we don't feel as bad as doing the same with some potato chips, you know? Because, almonds! They're actually good for you! :)
And we all know eating is the best part of any sport, right? Right.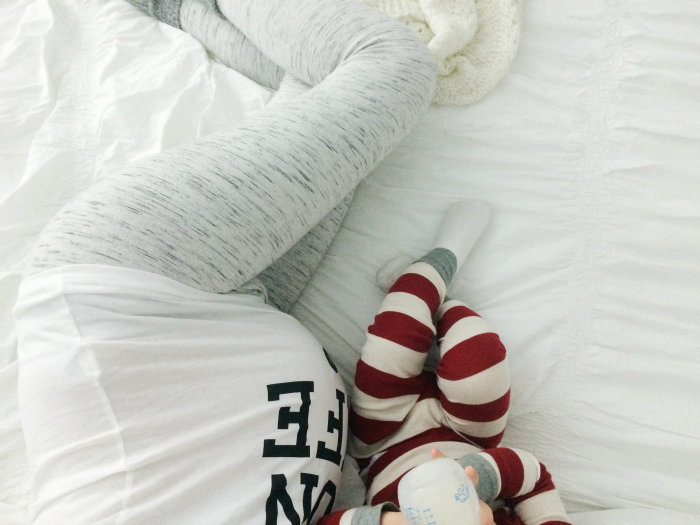 my leggings: kohls // Sam's cute pj's: burts bees
Sam is finally nearly over this awful cold he's had. It is SO SAD to see him so unhappy. :( But it does mean more cuddles, so I guess that has been a silver lining.
I hope you're having a great weekend! See you on Monday with a little festive home tour! :)
xo