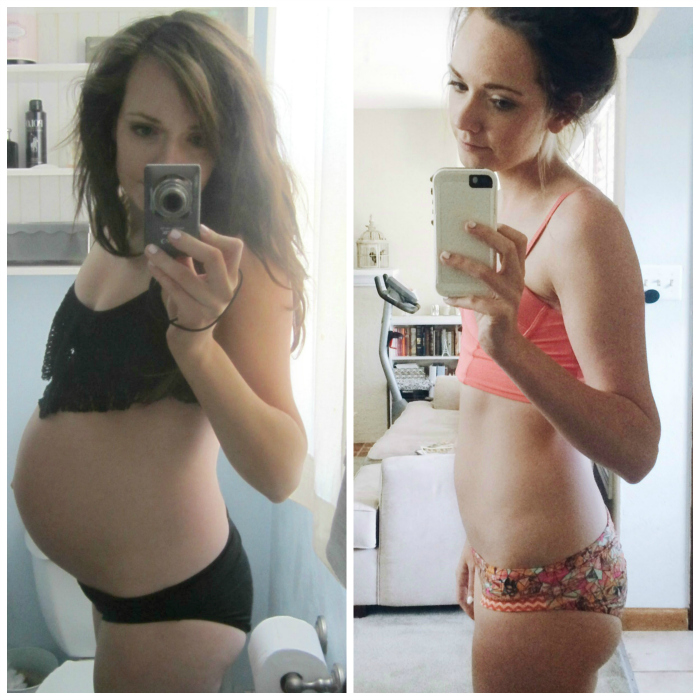 If I've said it once, I've said it a million times: Living a healthy and active lifestyle is something that is so important to me. With the start of the Tone It Up Bikini Series, and the fact that I'm done nursing my baby and officially have my body completely back to myself, this is the perfect time to really focus on me. I am so excited to put my all into this challenge, and be able to work out each day and plan delicious and healthy meals and to just make time for me in the week! And it's so fun, because I don't just have to wait for nap time to do so anymore, as I have the best little workout buddy ever! ;)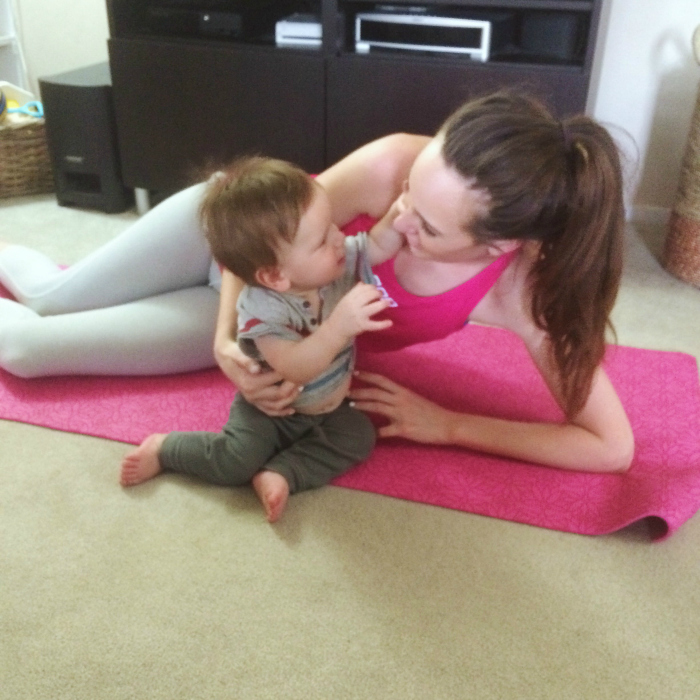 I mean, look at him! It's so cute, every time I roll out my yoga mat, he goes right to it! And when I'm doing my workouts, he loves to just hang out near me and watch or roll around on the ground with me. My own little yoga baby!
And whenever I go to roll my mat up, he comes over and is like, "No, mama. More yoga!" ;)
So when I got pregnant, I continued to work out, but I made sure to listen to my body. If I wasn't feeling well one day, that was fine! I was growing a human being, after all! I let myself rest, I ate whatever I wanted (which, thankfully, my main cravings were apples and cereal, so that wasn't too bad) and I was good to my body. I think that's the most important thing while pregnant: To exercise when you can, because it's clearly good for both mama and baby, but also to rest when you need to.
Once I had Sam, and was breastfeeding, it was a whole new ball game. Cutting back on calories was impossible at that time, because I needed to eat MORE calories in order to keep my supply up (and I was happy to do so!) and I also was eating more fatty foods in order to get my baby to gain weight. So that was definitely an adjustment. I had to learn to really be okay with eating a lot more than normal. Now, when Sam weaned himself, when he was around 10 months, I noticed I had to work harder to get in the shape that I want to be in. Breastfeeding really does burn a lot of calories! But with hard work and determination, I'm right where I want to be!
As far as nutrition goes, I would say I eat a pretty good balance of food. I fuel my body with nourishing food that I know will make me feel good, but I also am all about the "treat yo'self" life! I love to eat dessert, and think it's so important to NEVER deprive yourself! You want that donut? Eat the donut! Just don't eat a donut every single day. ;) Balance and moderation is key. One way I make sure to make the right choices the majority of the time, is to prepare. You know what they say: If you fail to plan, you plan to fail. Well, I don't like to fail, so I make sure to put time aside each week to prep some food and healthy, quick and easy snacks.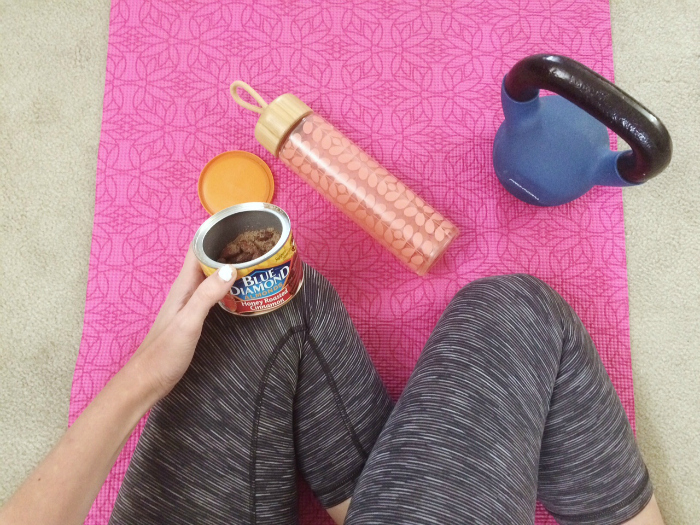 I always make a big batch of quinoa to store in the fridge so I can munch on it for lunch or as a side for dinner. Bonus: Sam loves it, too! I also ALWAYS have almonds on hand. The easiest, most delicious healthy snack!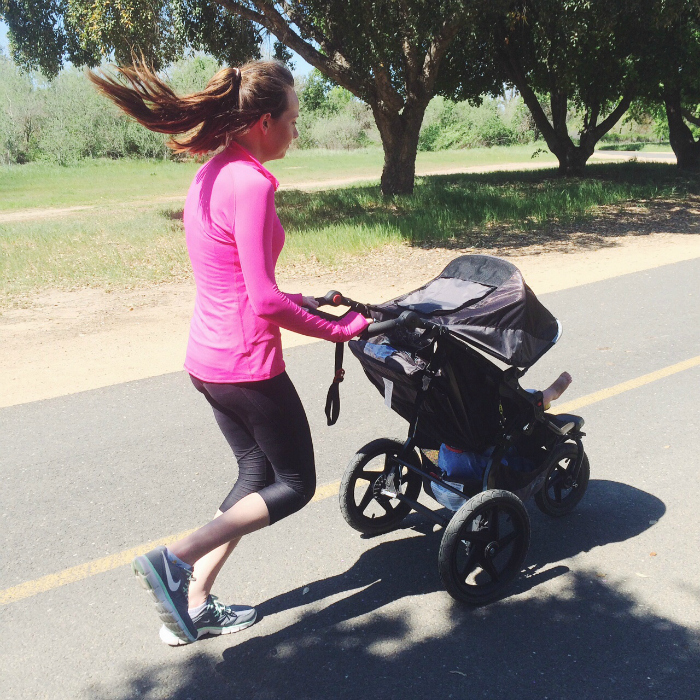 One of my favorite new things that we've done since having Sam is RUNNING! Ahhh I am so addicted to it now! I did the Couch to 5K (I know, you're sick of me talking about it by now!) and after running our 5k, I literally felt like I could do anything! It was an awesome feeling! Now we make sure to run about 3 times a week, and I do my Tone It Up workouts (strength training, HIIT- my absolute favorite, abs, yoga and full body toning) every day. Mixed with eating right, I have literally never felt better! It's nice that Sam now eats what we're eating, too. That also makes it easy to make healthy decisions- because we want him to eat healthy, duh! Only makes sense.
I am so proud of myself for living out this healthy lifestyle! I've already noticed it just makes me feel better, from the inside out, to make healthy decisions and treat my body right. I'm not 100% back to pre-baby body (and who knows, probably never will be!) but I'm working on toning up and getting stronger. Those are my main goals right now. My 20 pound baby definitely helps with the strength part!
Phew. There you go. If you made it through that, bless you. ;)
xo