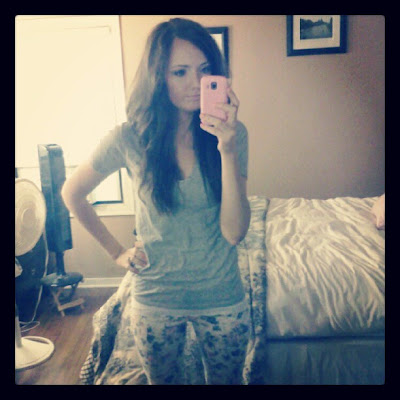 hi, lovelies!  do you like my pants?  they have definitely grown to be my absolute favourites.  you know the ones, that you really wish you could wear literally every single day, because i mean really, what better pants are there than floral pants, right?  right.  i think we should all get floral pants and start some sort of revolution.  it'd be a very happy and peaceful and beautiful revolution, with lots of little flowers sprinkled throughout.  okay.  just an idea.  anyway.
so i did something funky to my lower back.  no clue what i did, or how it happened, but here i am, walking like i'm 80 years old and popping ibuprofen like it's going out of style.  i think it's a muscle thing, and who knows why this happened, but i've found that doing yoga really, REALLY helps.  my body's probably mad at me for working out so much but not stretching enough?  i don't know.  that's my self-diagnosis.  i'll let you know how that goes.  last night, our cat (his name's batman) decided to join me while i was putting myself into crazy positions on the living room floor.  he really likes when people are on the floor.  that whole being on his level thing.  i get it, batman.  i get it.  i believe this is his "child's pose."  he got it wrong, but that's ok, i won't fault him.  he's still working on his form.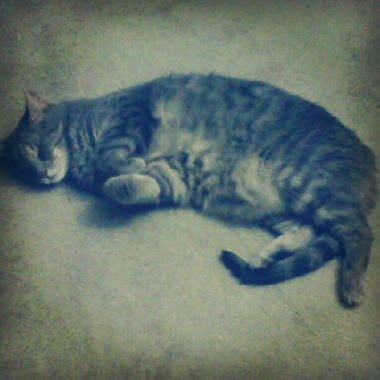 after the yoga (which really is helping in making me feel soooo much better!) i continued my health-kick and made the BEST green smoothie in existence.  seriously.  it was so creamy and vanilla-y and delicious.  try it!
2 cups spinach (raw)
1 cup unsweetened vanilla almond milk
1 frozen banana
1/2 cup vanilla greek yogurt (or whatever flavor, vanilla is my favourite and thus all i ever buy)
1 tbsp peanut butter
a couple ice cubes
yes, this baby is chock full of protein and iron and it is sooooo good!  and sooooooo green!  like my green straw?  yes, i save the starbucks straws to re-use.  don't judge.  they're really nice straws.  and i'm kind of a straw connoisseur.  (and, yes, i had to google that to spell it correctly.  and yes, i was a french major in college.)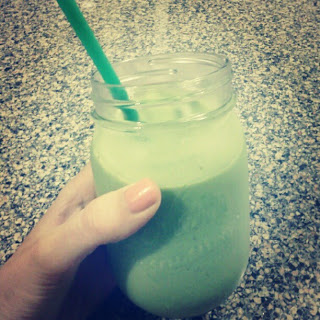 we got the hunger games from red box tonight!  so that is is our plan for the evening, that and a big bag of red vines, because zack loves me and knows that i love red vines, and picked them up right after we got the movie.  ain't he the best?!
what are your plans for tonight??
follow me on instagram!  @katie_did_what
twitter: @katiedid_what
xo