Well, Ollie is 4 in a couple of days (howwww?!?!) and I thought it'd be fun to share what he's getting for his birthday. Some from us and some from family! I love creating an Amazon list that I add to whenever something comes up- an idea I have for him or something he really would love to have. Then when anyone asks for ideas, I just send them the list! Easy peasy and everyone wins! :)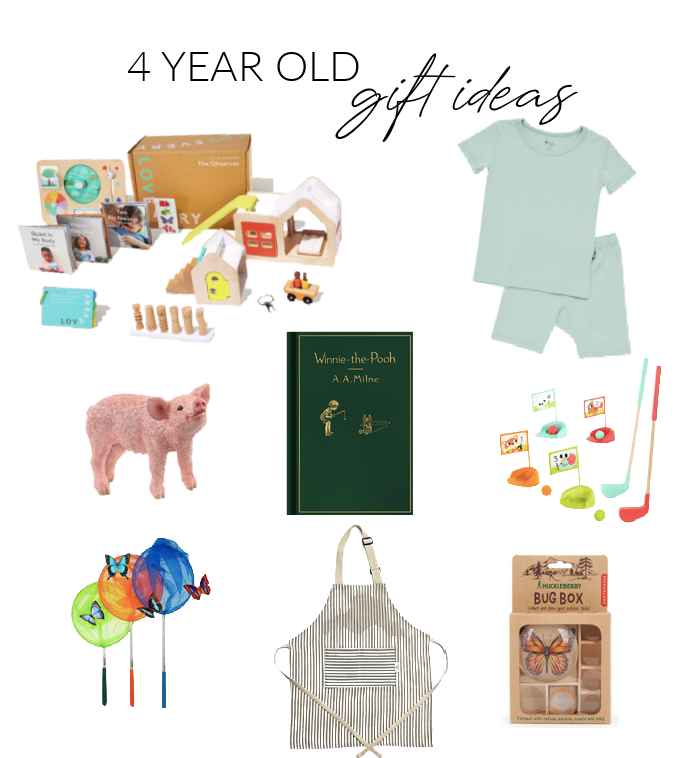 Lovevery kits || Winnie-the-Pooh gift edition || Pajamas || Pig || Golf set || Butterfly nets || Apron (2-pack) || Bug box
One thing I do for all kids, is split up a Lovevery kit and separate the gifts- for Sam's birthday he got a whole kit but each gift was individually wrapped! My favorite birthday hack! They have the best gifts that are developmentally thoughtful, great for ALL ages, and quality wood pieces that last for truly timeless playtime!
RELATED: GIFT GUIDE FOR TODDLERS
As for Ollie's gifts…
These pajamas are his favorite (he calls them his "soft pajamas") so I had to get him the short version for summer!
We are HUGE Winnie-the-Pooh fans here (only the original, though, by AA Milne and illustrated by Ernest Shepard) and he's been devouring the books!! So when I saw this gorgeous gift edition, I knew he needed it for his collection. It will be one of those books he keeps to pass down to his children. :)
RELATED: GIFT GUIDE FOR KIDS
We just finished Charlotte's Web as a family, and he loved Wilbur so much, I knew he needed this little piggy. We love this brand for animals!!
Some summer fun with this wooden golf set, and more helping in the kitchen with his very own apron!
We love our nature walks, so obviously he needs his own butterfly net and bug box!
More 4 year old gift ideas here:
RELATED: https://www.katiedidwhat.com/gift-ideas-for-5-year-old-girls/
xo