29 weeks! 77 days to go! He moves around allll of the time, even waking me up throughout the night from his bumpin' and grindin' in my tummy. It's practice for when he's here with us and waking us up throughout the night all over again, right?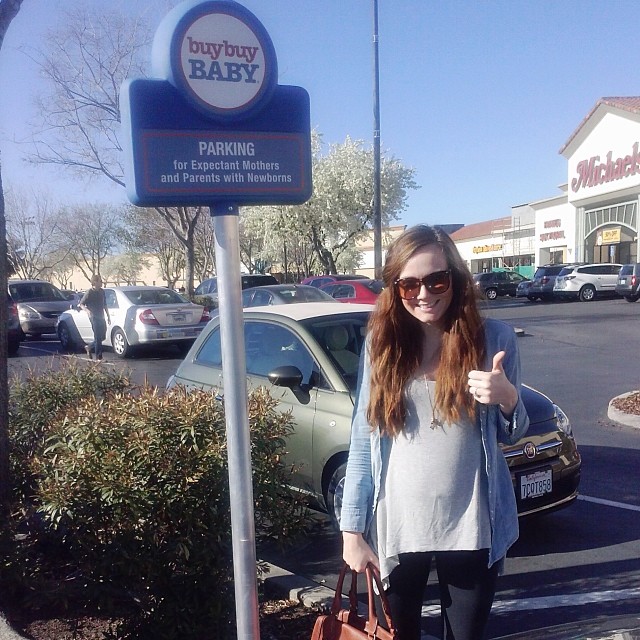 Since we found out I'm pregnant, we have been joking about getting to use the "Expectant Mother Parking" often. Of course, we had yet to ever actually see any expectant mother parking, go figure. WELL. This week, that all changed, my friends. We were at Buy Buy Baby (yes- again) and sure enough we saw the elusive parking spots, and obviously we had to take advantage. I mean, how could we not. And it was awesome. And we took a picture, because that's what we do.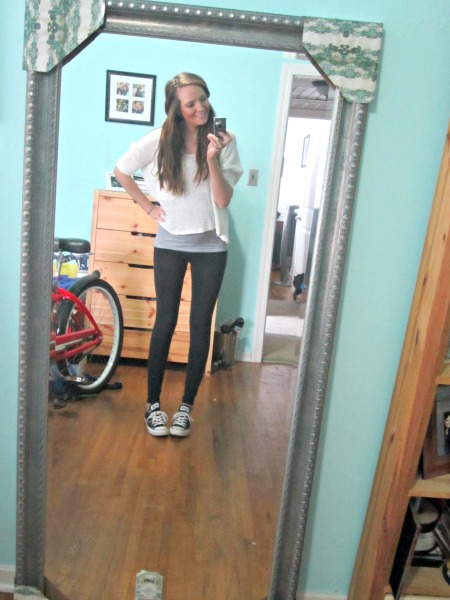 Yes, that is a bicycle. Don't ask.
I found a leaning mirror for the nursery! At my beloved Home Goods. Gosh, I love that store. If I could buy the entire store, I absolutely would. They just get me. Anyway, I am SO HAPPY with the mirror, as I have been searching for a veryyyy long time for the perfect one, but have usually been disappointed by either the frame not being right or the size not being right or of course it being way too expensive. Well. Home Goods delivered. Ain't she a beauty?! It's even bigger than it looks in this picture, and I LOVE it. More pictures to follow, don't you worry. When the nursery is more complete and doesn't have a bicycle amongst other things in it. Ahem.
More pregnant-related things this week:
– Still have no name.
– I get emotional at everything, including that Budweiser commercial during the Super Bowl with the puppy and the horses (but who didn't, right?!)
– I'm back to waking up at least three times a night for the bathroom, so yay (not)
– Annnnd nesting is in full effect. Like, all systems go.
– Also, our cats are acting more baby-ish than ever, which is kind of humorous but also kind of sad because they have noooo idea how much their lives are about to change. I still baby them nonetheless. Good practice, no? ;)
xo
Read More on Katie Did What