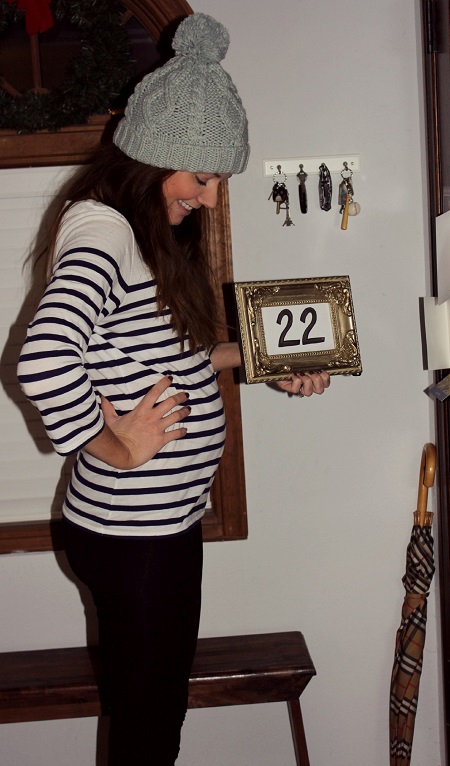 Ohhhh, yeah. There's a baby in there.
At my doctor's appointment last week, she prescribed a milkshake. So, hey. Best prescription ever, if you ask me.
The coolest thing ever that has emerged this past week is feeling Baby Boy kicking!! Oh, I love it and am convinced this is something that will never get old. I love lying there in the morning (when he's most active) and feeling his little kicks. The coolest thing is that Zack can feel him too. Oh, it's the best. I could lie there all day, really. Makes for a less productive morning, but eh. This is more important than anything else. It's true.
I'm la-la-loving my Gap maternity leggings and don't really ever want to take them off. So, there's that.
Now that the Christmas season is upon us and we've already gone to a few holiday parties with lots more partying to come, I'm not gonna lie- I am missing being able to have a cocktail or two. Just keepin' it real. At least there's hot chocolate with copious amounts of marshmallows and/or whipped cream to keep me/Baby happy.
My brother Jeremy gets in town on Tuesdayyyy and we're going to pick him up from the airport and I am SO excited to see him!!! :D There are many Jeopardy showdowns in our near future. It's kind of our favourite thing to do when we get together. #nerds
I seriously can't believe how close Christmas is. Like, what? How did this happen? December is flying by and I kind of wish it'd slow down a little, but c'est la vie.
Zack is officially on Christmas Break, so that's exciting. I hope he won't get sick of my incessant want to cuddle/ watch Christmas movies/ make fires/ sing carols/ drive around looking at lights/ try to get him to guess what I got him. I can be kind of annoying sometimes. Thankfully he puts up with me. I mean, he really has no choice. I'm housing his child and all. ;)
Do you have any family coming to town?
Are you traveling this holiday season?
What's your favourite kind of milkshake? I'm taking ideas. ;)
xo