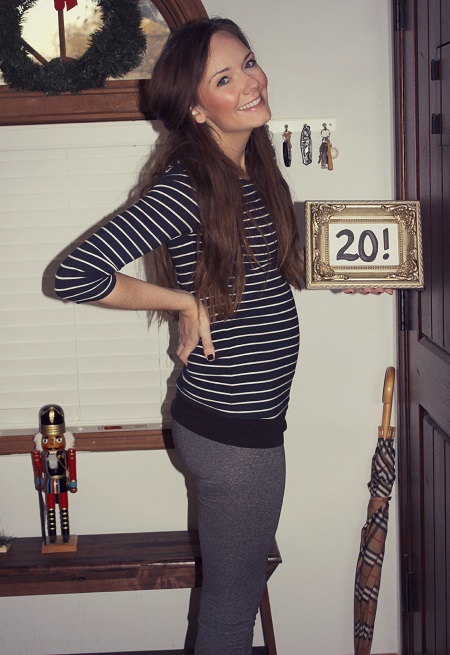 Annnnd we're halfway through! Just like that! I have been so blessed so far in this pregnancy, as I haven't experienced too many "negative" side effects. As far as how I'm feeling, the answer is "great!" This past week in particular was great because, Thanksgiving. And all of that food. Baby (and Mama) were very very happy campers! I just ate my last leftover turkey sandwich yesterday, and that was kind of a sad moment. But you know. These things are bound to happen. ;)
We have our 20 week ultrasound today!!! I am so excited to see Baby moving all around and to see all of the little details of the internal organs and whatnot. My aunt's a nurse, and she let me know what to expect. Basically, the important thing is that all of the organs are where they are supposed to be. You know, like 4 chambers of the heart and stomach inside the body. Yes, apparently the stomach can be outside of the body?! Yikes. So prayers are welcome! This is the ultrasound where they will know the sex of the baby, but we won't be finding out today. We'll have the tech write it in an envelope and we'll be surprised on saturday with the rest of our loved ones at our Gender Reveal party! Eek! I'm so excited, I can't stand it. Party Planning Katie (that's the official title) is in full effect.
This weekend my little cousin turned 21. So. That was weird. He's only 5 years younger than me, but still. He'll always be my little cousin. This weekend my brother-in-law also had a birthday (but 32, not 21- whatever, 32's the new 21?) and we had an amazing dinner of rosemary roasted vegetables and garlic chicken and French bread and cookie cake for dessert and holy cow. It was seriously delicious. And! I felt the baby kick for the first time!!! So. That was a sweet little end to the weekend. :)
Any bets on one of us peeking in that envelope? It'll be hard not to, but I think we both have pretty good self-restraint. Wish us luck.
xo
p.s. You know what todayyy is! Cyber Monday! I love me a good deal (as you all should know by now) and thus have gathered a few of my very favourite sales (I'm talking, REAL awesome deals here, folks) that you won't want to miss! :)
KOHL'S– 20% off your entire order with code CYBERSAVE + Free Shipping no minimum! (I just got these leggings in the black aztec print and loooove them!)
FOREVER 21– 50% off sale items, all boots and bags + Free Shipping no minimum!
NORDSTROM– Lots of Cyber Monday deals + Free Shipping no minimum!
6PM– 20% off everything with code 6PMC1202132042 + Free Shipping no minimum!
AMAZON– Deals of the Day, changing throughout the day. There's some good ones to be found here!
AMAZON SHOES AND BAG SALE– 30% off $100 or more purchase of shoes and handbags with code CMSHOE30
ASOS– 30% off your entire order with code GIMMEMORE
MODCLOTH– 20% off everything with code ROBOPUG
I'll be adding to this list as I find more great steals :) Are you shopping today??