So… Easter is coming up! I mean, it's actually late this year- not until April 16th, but in the world of online shopping (and also motherhood lol), you can never be too early or too prepared, amiright?! Easter is probably one of my favorite holidays to plan outfits for, it's just such a pretty time of year, and everything is blooming and it's sunny (or rainy! which is pretty too!), and there's floral everything and pastels and oh it's just the loveliest. SO. With that said, I've rounded up some pretties to give you some Easter dress inspiration, in case you're stumped as to what to wear!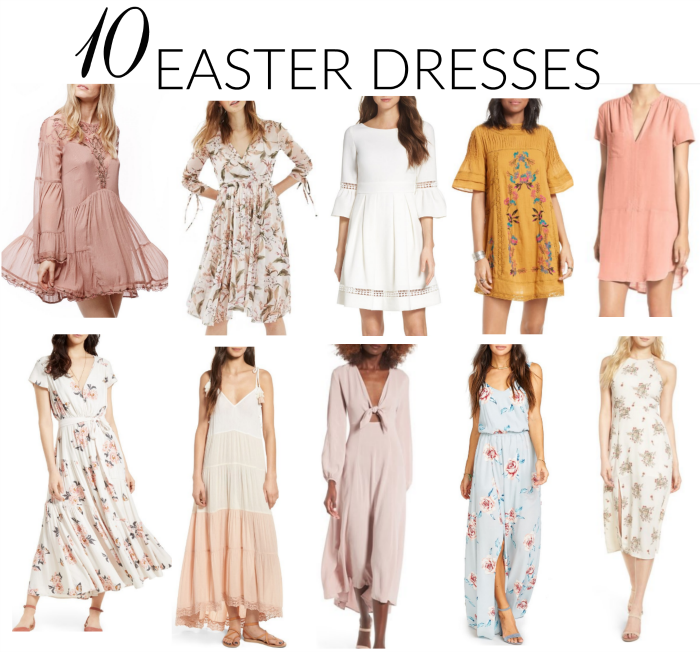 Blush Minidress || Love the color and the pretty detailing on top!
Floral Wrap Dress || This is soooo cute and would be perfect with a bump, too!
Bell Sleeve Dress || The sleeves on this are EVERYTHING. Love love love!
Victorian Mini || This Free People dress has been around a while, and this mustard color is calling my name… Gorgeous!
Shift Dress || Love how easy this is to wear- so cute and effortless.
Floral Maxi Dress || Such a pretty floral maxi!
Ruffle Tiered Maxi || Looove the pretty ruffled tiers and the relaxed fit of this dress! Also, the colorblocking is amazing.
Front Tie Maxi || The prettiest! Loving that tie front!
Blue Maxi || What can I say: I'm a sucker for a good floral maxi. This one delivers, and also comes in a million colors!
Floral Midi Dress || Loving the midi length of this one! Super cute and great for church. :)
xo