After placing a bunch of orders on Amazon last night, I was inspired to write this post.
Ahhh, Amazon. I'm seriously addicted to that site. I mean, they have pretty much anything and everything you could ever want, right? It's ridiculous. AND Amazone Prime just takes it one notch up by giving you (almost) anything you could want, with free 2-day shipping. Yassssss. I have discussed before how much I dislike paying for shipping, but let me state it again: I. Hate. Paying. For. Shipping. It just doesn't make any sense to me. I wouldn't have to pay if I bought in store! Just give me the free shipping! I'm purchasing from you, after all!!
Okay, enough about shipping. Rant over.
Back to Amazon. I love it. A lot. And another thing I love about Amazon is this little thing called Subscribe & Save. You can select how often you receive the item (every month, two months, etc) and you save 5% on everything that you "subscribe" to and 15% on everything if you have at least five subscriptions per month. You can cancel subscriptions at any time with just a few clicks, too! I mean, if you're in the mood to save some money and make life super easy, this is right up your alley. We even pair it with our Prime and Family memberships to save even more! Yayyyyy for saving moolah!
Okay, so today I thought it'd be fun and hopefully helpful for some to share what it is that we subscribe to on Amazon. Things that we regularly need and don't want to hassel with each month. To know that we will be getting a regular shipment each month or two, well that relieves a looooot of stress!
One thing I should mention is that we do not get our diapers and wipes from Amazon, but it is an option (and a super awesome one at that, for all you mamas out there!). We subscribe to Parasol and absolutely love them. Seriously my favorite diapers and wipes that we've used (and we've used them all, basically). If you want to try out Parasol, use code KATIEDID2016 for 20% off your order! So yes. Just a side note. Diapers will not be included in this post. :)
Alright, let's get into it then, shall we? The top 10 Amazon subscriptions that make my life a heckuva lot easier: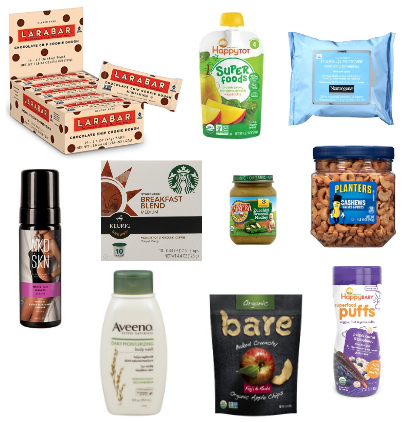 1. Larabars. These are one of my FAVORITE snacks. They are delicous and healthy- just read the ingredients! All real food, high five! I literally am obsessed- and yes, chocolate chip cookie dough is the best flavor, just sayin'. ;) I never like to be without my Larabars, so the subscription is perfect.
2. Food packets. For the babies, of course. We love Happy Family as they're full of good stuff for out little ones! All natural and packed with fruit and veggies and all the good stuff they need. We love taking these on the go for quick and easy meals! Another bonus is if Sam is going through one of his food strikes, he is sure to always gobble these up!
3. Neutrogena Makeup Remover Wipes. I use these each night to take off my makeup. Seriously they are the best!
4. Baby Food. We love Earth's Best organic food for little miss Sophie! For when we didn't have time to cook veggies, these are serious lifesavers!
5. K Cups. I drink coffee every day- it's a part of my morning ritual. I don't know what I would do without my beloved Keurig machine! Naturally, we can never be out of K cups. This makes that possible. :)
6. Cashews. We are kind of obsessed with these. Really, any nut is one of our favorite things to snack on- almonds, walnuts, cashews, we ain't picky. Just gotta have SOMETHING in our house at all times!
7. Puffs. Sophie looooves to snack on these! I love that they're full of vitamins and are organic.
8. Apple Chips. Another snack that we absolutely love and are sensible and healthy! :) Sam loves them, too!
9. Self Tanner. I have a few that I rotate between- St. Tropez is a favorite but I always get it from Ulta or Sephora. The ones I get from Amazon are Nkd Skn and Fake Bake. All of these I have found to be easy to apply, non-streaky, smell good and not orange! I apply with a tanning mit and am good to go!
10. Aveeno Body Wash. My faaaavorite body wash. Perfect consistency, smells amazing and feels luxurious. Love love love!
What are some things you get on Amazon? Anything I should check out and possibly add to my subscriptions?
xo
Read More on Katie Did What