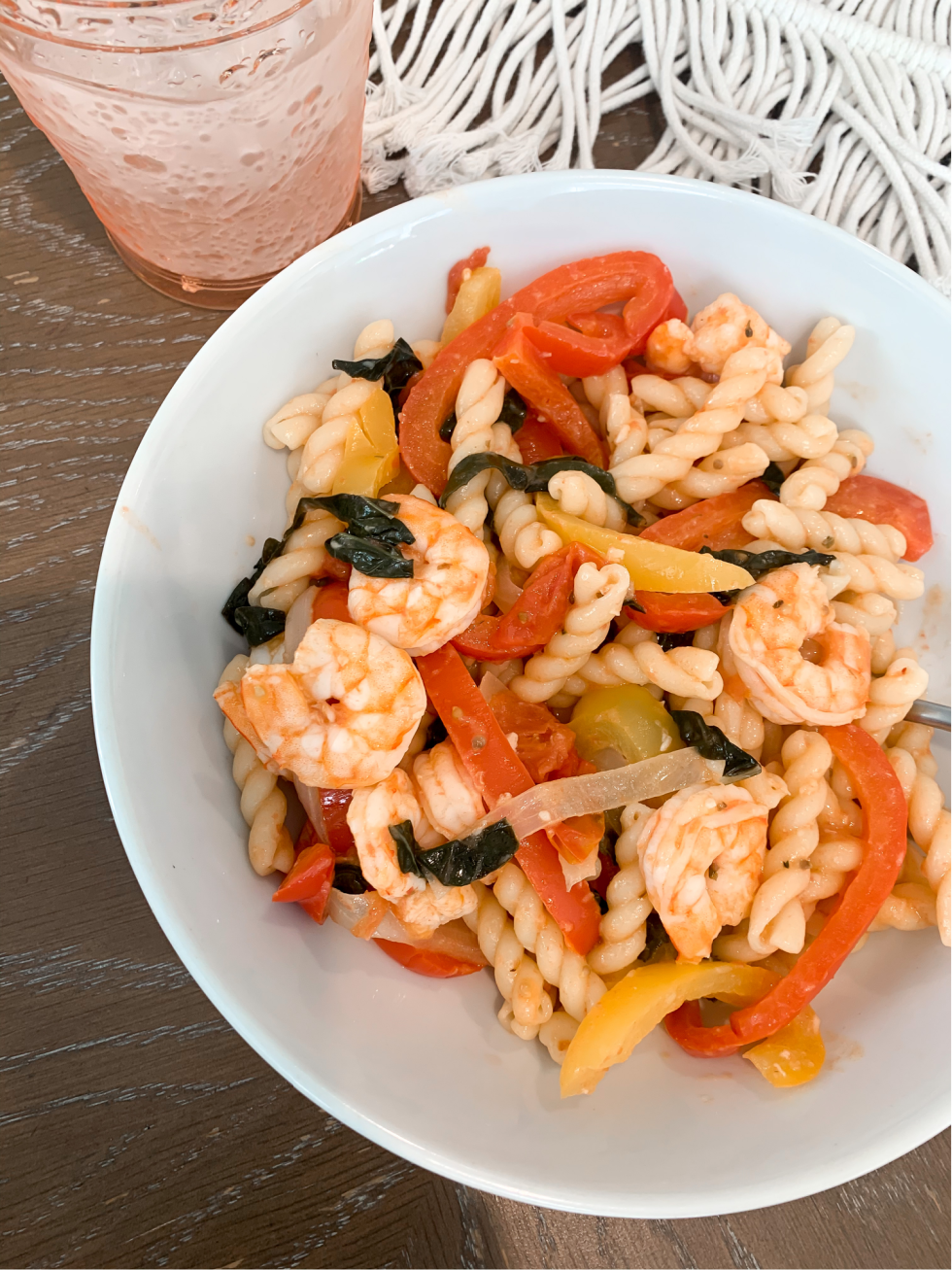 I am terribly blessed to be married to a man that can COOK. He is absolutely the chef in our house. It's a running joke that we'd be eating mac and cheese,peanut butter sandwiches and salads (I do make a mean salad) if it were up to me. ;) Thank goodness we have Zack! Literally, my mind is always blown by how he can just start whipping something delicious and gourmet from thin air! He never follows a recipe, but I asked him to help me write this one down to share with you guys, because it is GOOD, you guys. So so good. Fresh and light and perfect for a summer dinner! Let us know if you try it yourself! I wanna see those pictures, too!
SUMMER PASTA RECIPE
INGREDIENTS:
Box of your favorite pasta (we like penne, rotini, etc- not spaghetti)
1/2 onion, sliced.
1 bell pepper, sliced.
Salt + Pepper
1 tsp dried oregano
1 tsp dried basil
2 cloves garlic, crushed.
3 or 4 leaves of dinosaur kale, cut into short strips.
Olive oil
25 cherry or grape tomatoes, sliced.
White wine for sauce (Sherry, Chardonnay or Pinot Grigio)
Maldon Salt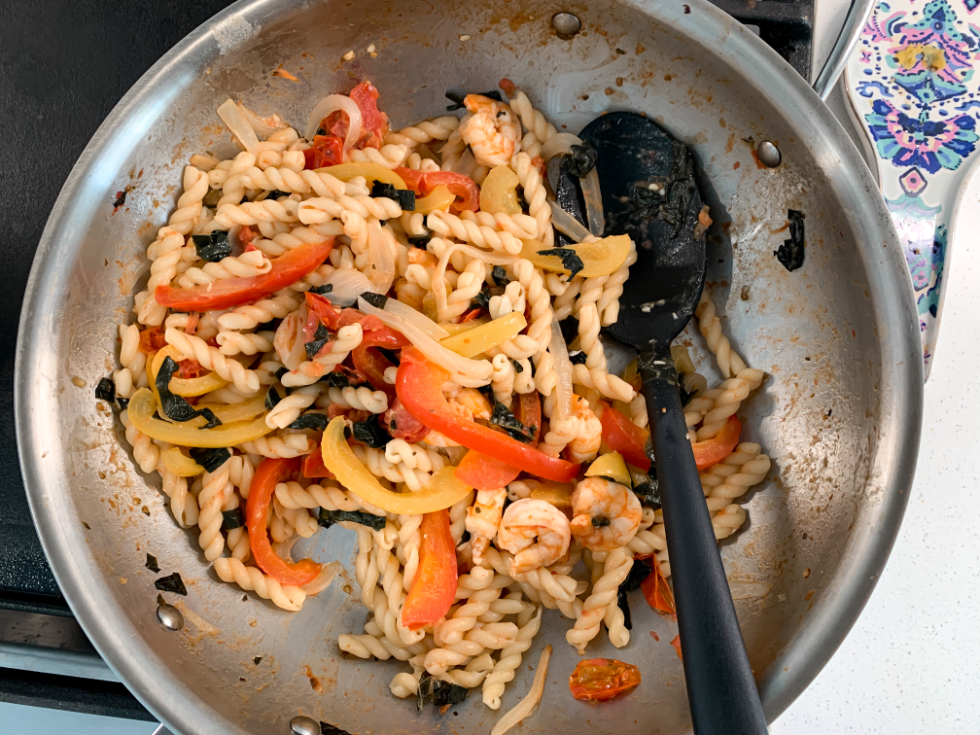 SHOP OUR KITCHEN FAVORITES:

RECIPE:
1. Boil your favorite pasta. We prefer non-spaghetti type for this (penne, rotini, etc). Follow package instructions. Reserve a cup of pasta water.
2. While pasta is boiling, slice half an onion and a bell pepper.
3. Crush garlic and cut kale into short strips.
4. Sauté the peppers and onions over medium heat in 3 Tablespoons olive oil for 2 minutes. Season with salt and pepper. Add the garlic and sauté 2 more minutes. Season with 1 tsp dried oregano and 1 tsp dried basil. It seems like a lot of olive oil, but it's going to be part of your sauce.
5. After 3 minutes, add the kale and sliced cherry or grape tomatoes (approx. 25). Turn heat up to medium/high and cook 3 more minutes or until almost all of the liquid is gone.
6. Add 1/3 cup of white wine (we've used Sherry, Chardonnay and Pinot Grigio and they've all worked great) and shrimp (3/4 of a pound). Cook until shrimp is cooked through and liquid is reduced by half.
7. Drain the pasta and reserve about a cup of liquid. Turn off your skillet and add the drained pasta to your veggies. Start with about half of your pasta and work up until you get a ratio that you like. The sauce will be light. If you need a little more liquid, add pasta water a Tbsp or two at a time. Stir it all together and wait a minute or two, stir again and do this a couple more times. Each time you stir again, the sauce will being to adhere to the pasta. It's ready to eat anytime!
8. Finish with a sprinkling of Maldon salt- game changer! Get down with your bad self, Salt Bae! ;)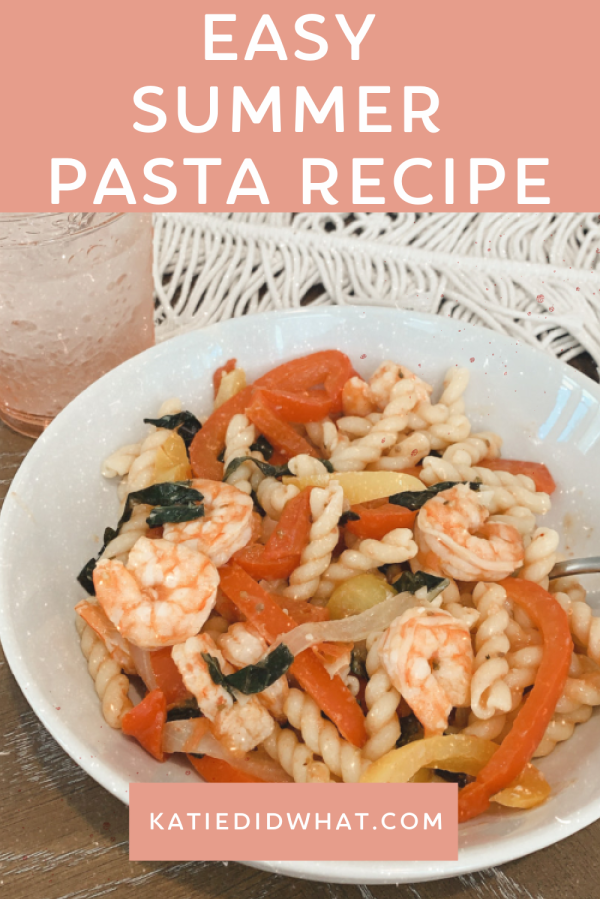 Buon Appetito! Let us know if you try this for yourself!
xo
Read More on Katie Did What