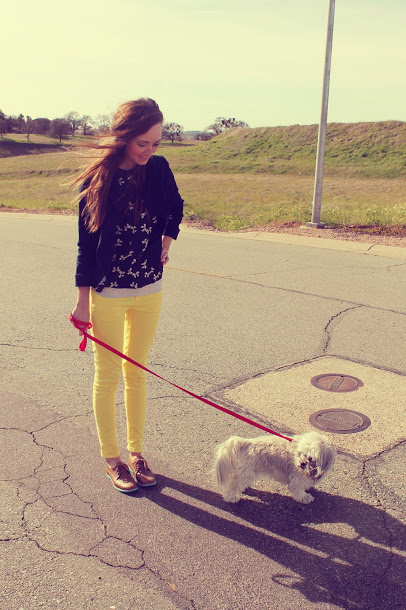 jacket: j. crew
top: forever 21
pants: forever 21 (similar
here
)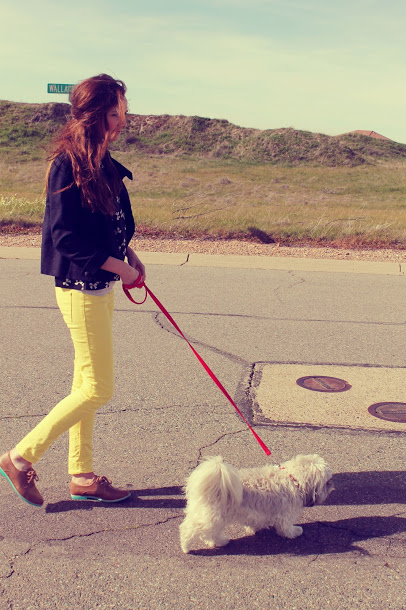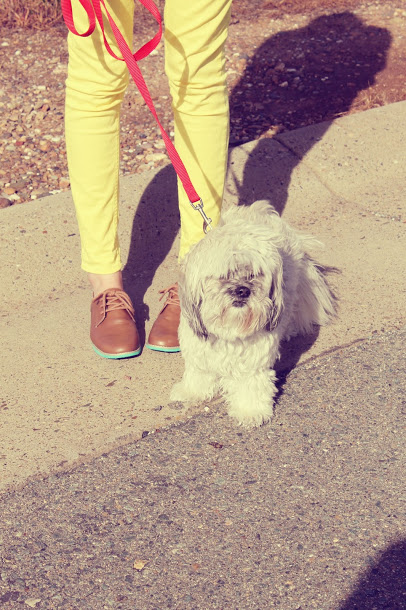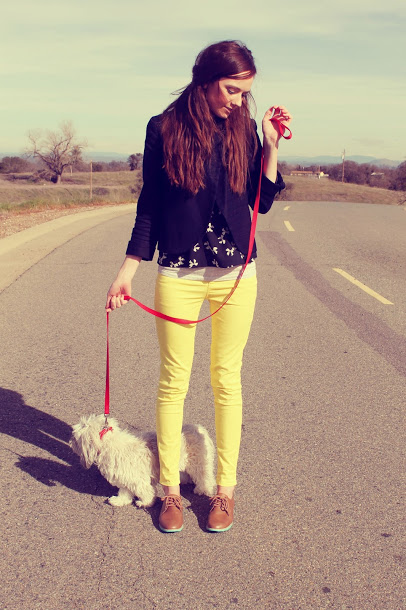 There's just something about yellow pants, you know?  Even on the overcast-iest of days, throw on some bright yellow pants, and the world seems a bit cheerier.  That's just the logic behind yellow pants, you see. They kind of make everything better. You know what else makes everything better? Watching The Bachelor with my hubby and my dad. And yes, of course, that happened again last night. Here are a few highlights of the man commentary, with more to come later this week! Oh boy, the excitement, let me tell ya.
Zack, when AshLee is raving about Sean in his swimsuit: Whoa. Calm down.
Zack, on Tierra's glare: Ooh. The death stare. That was awesome.
Me, on AshLee: Her abandonement issues are why she got fake boobs, too, right?
They're swimming in the water, and Sean is holding on to some sort of flotation device.
Me: What?! He can't swim?
Zack: She's on her own, but he's all 'Hey, I'm the bachelor.'
Dad: This whole thing is awkward.
Leslie (on Tierra): "I hate that bitch."
Zack: She's not her favorite.
AshLee (whispering): "Where are we going?"
Zack (whispering): Why is she whispering?
Sean: "Today's been fun, sexy, amazing…"
Me: But mostly sexy.
Zack (as Sean): Sexy because of me, because I was there. Because I'm alive.
Dad: These ladies have a sordid past.
Sean (reacting to AshLee's news that she got married at 17): "I thought you were going to tell me something terrible."
Zack: Aww, Sean. America's sweetheart.
AshLee, yelling: "I love St. Croix!"
Zack: Holy crap. Psycho.
AshLee: "I love Sean!"
Zack (as Sean): …Thank you!
Tierra: "He bought me the best things!"
Zack: ABC bought you the best things!
Leslie (calling out the names of the girls for the group date): "..Catherine!"
Zack: Catherine, welcome to the Bachelor!
Zack: Aw, you're falling in love with me? Well, I'm gonna talk about our day.
Zack: Good luck having ANY female friends with Tierra, Sean!
– And are you ready for the best line in the history of The Bachelor?!-
Tierra: I CAN'T CONTROL MY EYEBROW!
Zack: She's got a tricky eyebrow. You can't hold that against her!
More quotes from last night's Bachelor coming up! There were just too many good ones, I need to spread them out. ;)
xo
Read More on Katie Did What