Hi guys! Happy Friday! Just hanging out with Audrey…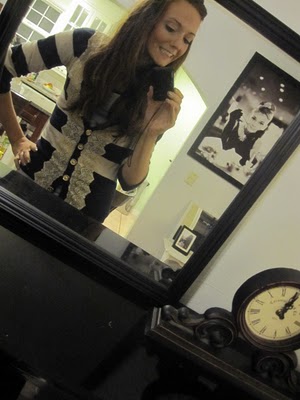 Okay, okay, on to the point of this post… So I have been back and forth for quite some time about what shoes to wear for my wedding. It almost seems silly to me to wear anything terribly nice or expensive or whatever, simply because I keep asking myself, "Self, is anybody even going to SEE my shoes?" I mean, my dress will be covering them the entire time, anyway. But. I want to look and feel pretty. Everywhere. And that includes my feet. So. Back to square one.
I ordered some shoes I totally fell for from Topshop. Since there are no Topshops anywhere NEAR where I live (I believe outside of the UK, the closest Topshop brick-and-mortar is, what, NYC? That's like 3,000 + miles away.) So. I ordered online. Shoes. Online. Always a little nerve-racking, non? And they are just lovely, really. But now that I've got them, sitting neatly on the top shelf of my closet, I'm not absolutely sure I loooove them. At least, not enough to be THE ONES I wear for my wedding. Plus, they are a taaaad bit tight, and I want my shoes to be comfortable. The only crying I want done at my wedding are happy tears, thankyouverymuch.
Here are the Topshop shoes: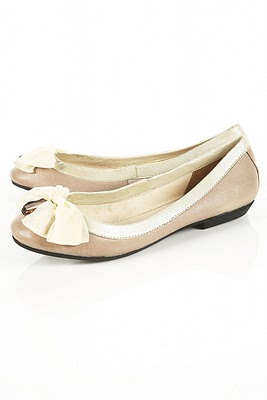 Cute, right?
But now I'm not sure that they're perfect. And they need to be perfect.
So the search continues…
Something I've noticed, is that I find myself drawn to shoes that literally look like they belong on a 6 year old girl, wearing a pink tutu. Seriously. I guess I'll always be a ballerina at heart… le sigh…
So my question becomes, is it okay to wear juvenile shoes to my wedding? Or will it look too ridiculous? I don't want to look too childish. I want my wedding to be classy and gorgeous and grown-up. But then again, who's actually going to SEE my shoes?! And again, I am a pretty young bride. I'm 23, not 32. Big difference, in the world of weddings. And my dress is, as my mom calls it, a "Cinderella dress." And I chose that one on purpose. Because I AM young, and I CAN pull it off.
Ergh. I'm not even a shoe person. You know those people who are "shoe people." Collect loads of pretty heels and etc. Well, that's not me. I like shoes, don't get me wrong, I'm just not… obsessed with them. I'd rather buy clothes. But that's just me.
Another factor, is that my wedding shoes must be ballet flats, seeing as I am already tall enough (5'8"-ish) and Zachary isn't too much taller than me. So. No towering platforms or anything. Plus, I want to be comfortable. And I love shoes with bows on them. (See what I mean about the 6 year old girl thing?)
I found some really pretty ones from J. Crew. They're true ballerina style, with the ankle ties and everything. But I think they might be a liiiiitle too plain:

But they are so gorgeous. And I adore the blush pink colour. Très ballerina.
And then. I found, the CUTEST shoes I have ever laid eyes on. I love them. They are so MOI. Flats? Check! Pretty blush colour? Check! BOWS? DOUBLE CHECK!! omg. But. My question to you is: Are they TOO little girl? TOO cute? Too not-classy-enough-for-my-wedding? I don't know I don't know. I feel ridiculous. Please, tell me what you think! I need all the help I can get. (I am a sponge right now for any and all things wedding.)
Here they are: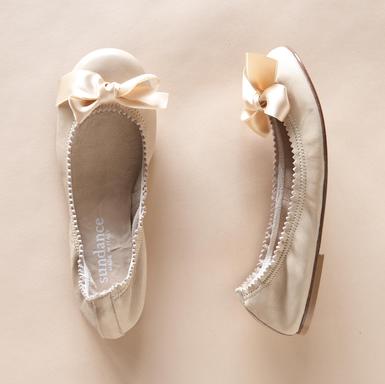 See what I mean? ADORABLE! But, too kindergarten?
Ugh. Help. Please?
Read More on Katie Did What