Just a little collection of cute things with Valentine's Day theme, beeeecause, I'm a sucker for all things pink and with hearts all over them, whatcanisay. ;) So you could consider this a "gift guide" if you're looking to shop for a friend/sister/mama/wife/significant other (and girls, you could totally send this to your men!)… But really, it's more of a "wish list" since I would not be mad with every single thing on here.
Can I get an amen?!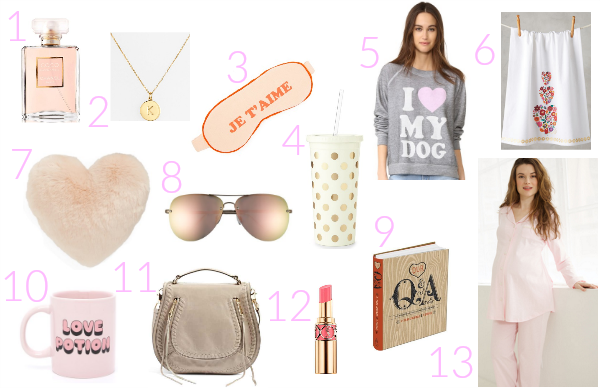 1. coco chanel perfume (one of my very favorites!) | 2. Kate Spade initial necklace | 3. sleep mask (oui, c'est vrai!) | 4. Kate Spade tumbler | 5. Wildfox sweatshirt (if I had a dog, I would so get this… there needs to be a cat version lol) | 6. dish towel (love the hearts!) | 7. faux fur heart pillow | 8. aviators (super cute!!) | 9. Q&A a day for couples (we got this for Christmas- so fun!) | 10. "love potion" mug | 11. Rebecca Minkoff bag (ob-sessed.) | 12. lipstick (lots of pretty colors to choose from!) | 13. Belabumbum pajamas (I have these in black and love them- great for non-maternity too! And get 20% off site wide with the code VDay2017)
What's on your V-Day list? Any fun plans??
xo