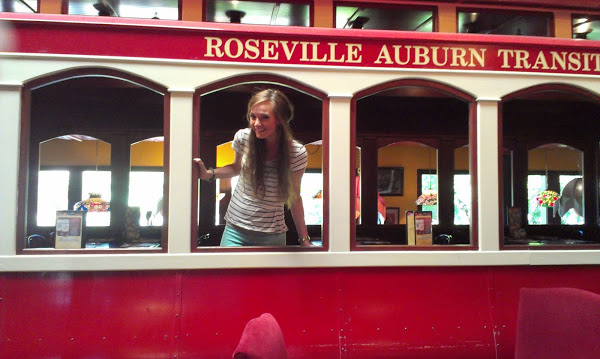 Oh, hi! Yes, this would be me on a train, in a restaurant. I have an awfuly fun story to tell about this. Actually, okay, so I guess I really don't. It's just that yesterday, we met up with a friend from work (we used to work at the Old Spaghetti Factory, I'm sure some of you have heard of it) and hung out for a while, while the husband and said friend were on a very top-secret sort of mission involving basketball cards that are worth more than I thought basketball cards could be worth. And this mission actually ended in a card that was counterfeit and a magnifying glass chillin' in my purse all day. Yeah, don't ask questions, I didn't. Just know that trading cards are fickle things, and my husband is a saint, and also Michael Jordan is a very coveted man, let me tell you. In card form, anyway. I'm not sure about the actual man himself. Never met him. Anyway, I enjoyed playing on the trolley during said mission, because I am super mature and that is what I do. And then Zack took a picture. Because that is what he does.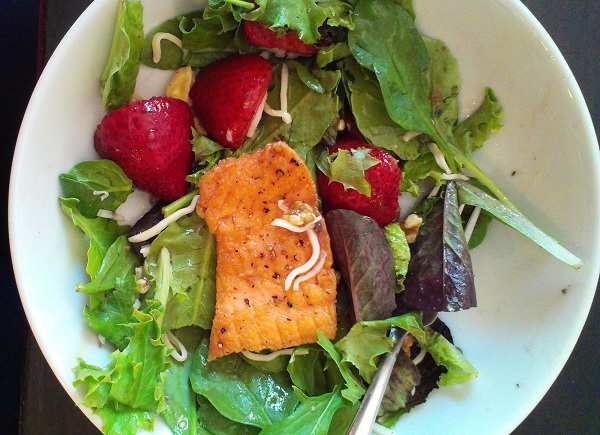 You guys. This salad was just something I threw together yesterday for lunch, and h-o-l-y cow. It was amazinggg. I just took some leftover salmon from the night before and threw it on top of some spring mix with strawberries, walnuts, mozzarella cheese and raspberry walnut vinaigrette. YUMS.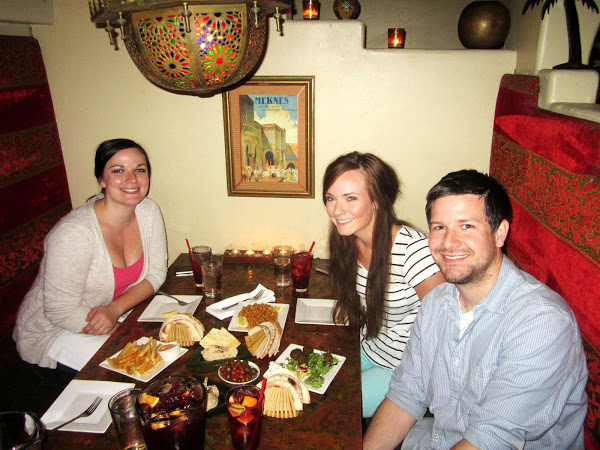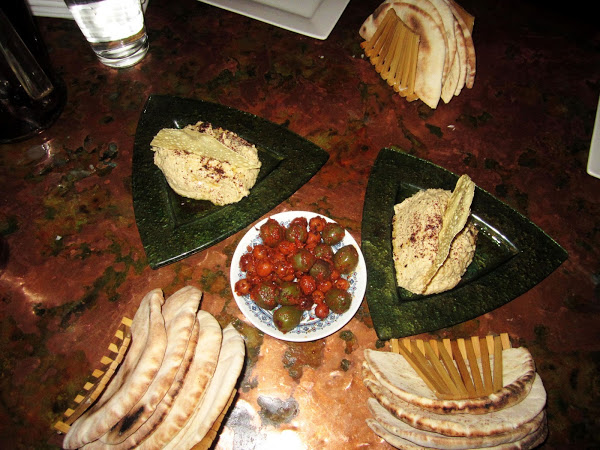 We went to happy hour last night with friends that we hadn't seen in a while (this picture was taken before Pam's boyfriend arrived). That's always the best. I love them. It had been far too long since we had gotten together with them! We went to Kasbah aka "our spot" (can I call it that after only having been there with them, like, twice? Yeah, sure, why not) and had some sangria and falafel and hummus and it was the best. They are good people and it was a perfect Wednesday night!
And now it's Thursday, and we're planning a very elaborate BBQ for Memorial Day on Monday (but not really that elaborate) and I'm daydreaming constantly about our trip in two weeks, and it's still two weeks away, so I guess I should probably hold my horses a bit. It's just, I really am looking forward to this trip so, so much. The beach. It's my happy place. June 5th, come nowwww.
What did you do last night?
Have you ever been to the Old Spaghetti Factory?
Any other former or current restaurant employees out there?
xo
Read More on Katie Did What