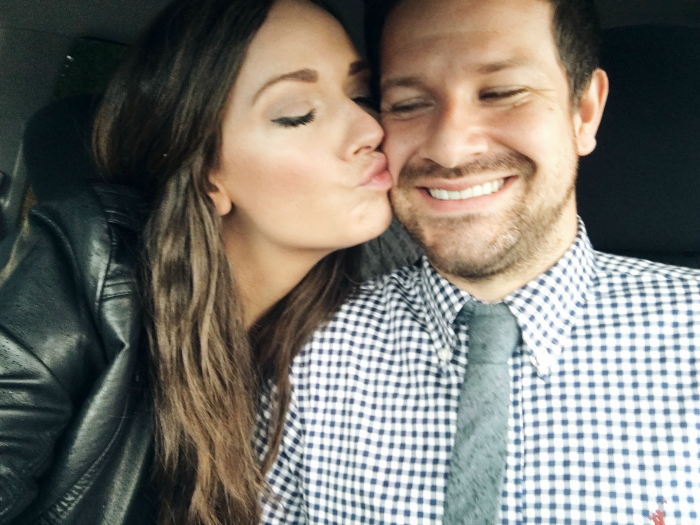 Okay, so I thought the perfect way to introduce this season's first installment of Man Quotes would be with a little romantic story, because hi, that's what The Bachelor franchise is all about, right??? Right. SO. Here we go…
On our anniversary a few days ago, Zack and I were sitting on the couch. The kids were both in bed (praise hands!!!) and we were just hanging out, chatting about life and relaxing. And he looks at me, pulls out a little ring box and says, "Katie, I have a question. Will you marry me again?"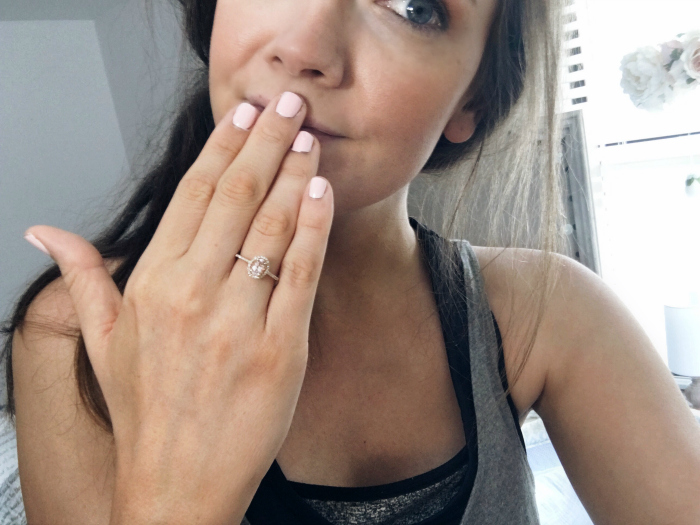 [nail polish c/o lauren b beauty- literally obsessed with this color!]
UM. HEART MELTED. FOR SURE.
And look at that beautiful ring! I've been obsessed with morganite lately, and he did SUH GOOD. It's the perfect right hand ring. :) I loves it. I loves him.
And in case you're curious, I totally said yes. ;)
Okay! Now on to Man Quotes! If you're new around here, I watch The Bachelorette each week with my hubby and record our commentary here, for your viewing (and laughing- and hopefully sometimes cry laughing) pleasure! Enjoy!
Caitlyn to JoJo: Do you feel like ready to get engaged?
Zack: Welp, that's what I told the producers!
Zack: OMG Chris Harrison. It's been too long.
Aaron Rodgers' brother: I'm in a position now where I'm ready to make love…
Zack and Katie: LOL
Katie: "Bachelor Superfan" is not an occupation.
Zack: I beg to differ.
Random Guy: Since then I've just kinda been doing my own thing.
Zack: (quoting Office Space) What exactly, do you do here?
Katie: Aaron Rodgers' brother all the way.
Guy: "I'm not going to do what Ben did last season. I'm not going to fall in love with two girls."
Katie: Well duh, there's only one girl in the house!
Other guy: I didn't come for a rose, I came for a relationship.
Zack: Now HE'S here for the right reasons!
Katie: Daniel's occupation says "Canadian?"
Katie: Is that the douche talking?
Zack: There are multiple douches, so that's a trick question.
Katie: Wait, Hipster is a job?!
Zack & Katie both: Aaron Rodgers' brother is my favorite. This guy is amazing.
JoJo: "Are you nervous?"
Guy: "Well I was until I had a few drinks."
Zack: That's awesome.
Katie: Oooh! Aaron Rodgers coming in for the kiss!
JoJo (after kissing Aaron Rodgers aka Jordan): Now THAT is a kiss.
Katie: Helllll yeah girl. Get it.
Katie: OMG ALL-4-ONE. Yessssss. And Orlando Bloom. There are so many celebrities!
The Canadian (literally what he called his "occupation"): "Have you not been following the internet?"
Zack: How does one "follow the internet?"
Zack: The fact that Aaron Rodgers' brother is on this show makes it so much better!
Zack: These guys are literally ten times more dramatic and catty than girls are.
Zack: OMG ON THE WINGS OF LOVE JAKE PAVELKA IS HERE!!
Katie: Ew. I'm so mad that JoJo is close to Jake. He sucks. It makes me like her less. Which sucks.
My conclusion: I LOVE JoJo. Like, I think she's going to be a good one. I'll even look past her friendship with Jake. ;) Also, I loooove Jordan and he is my top pick all the wayyyy! And if he doesn't win? He should DEFINITELY be the next Bachelor. Already calling it.
Okay, guys, please share your own commentary in the comments- that's the best part! Also. Share with your Bachelor-loving friends!!! The more the merrier!
xo