I have a "Wedding Countdown" app on my phone. I check it AT LEAST once a day. Why "at least," do you ask? Juuuust to make sure it really IS that close, and that I didn't read it wrong the first time. No, I'm not in denial. I just like to be sure. : )
So we are down to 9 DAYS! Yes, that's right folks, SINGLE DIGITS! Eeep! Everyone keeps asking me if I'm ready, if I'm nervous, if I'm excited. Of course, yes, and DUH! I'm marrying the man I love, the man I'm spending my forever with, in 9 DAYS! I couldn't be MORE of a huge ball of emotions all rolled into one than I am right now. And I know I'll be petrified on the day of, but I'm going to try my best to channel Princess Kate, and be as calm, cool and collected as I possibly can.
I'll try.
No promises.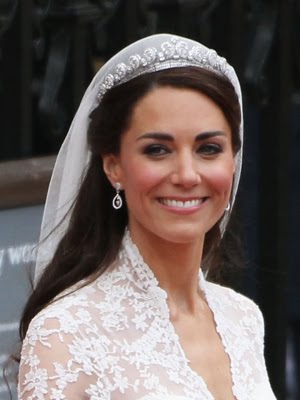 Sure, she looks all calm and nonchalant, but she is crying a little on the inside.
Speaking of Princess Kate, I cannot tell you how many times since the Royal Wedding I have been told I look like her! I am so flattered; she is beyond gorge. But, seriously, I wish I'd counted, because it's kind of ridiculous. At least five separate tables a night at work have told me that. I love it. I love that our names are the same, and we're both getting married around the same time. I also love that my mom always assures me my wedding is going to be so much better than the royal wedding. My mom's so cute.
Did you hear (I'm sure you did by now, since I'm a little late on my "Royal Wedding Re-cap") that Kate did her own makeup? She insisted upon it, in order to "keep some normality." I love that! She's one smart cookie.
Today I'm having a hair trial and the boy's getting his hurr cut and we're finishing printing our programs! We also just got our favor boxes in the mail, little did I know they are.. how you say… "some assembly required." When I told Zack I was surprised upon opening the package, since I was expecting a bunch of already-assembled boxes with already-assembled lids, he LAUGHED at me!!! I was shocked. I was upset. Many hours of folding little boxes and little lids are awaiting us, and he's laughing about it?! Grrrr. :)
That is all.
Read More on Katie Did What