i'd like you to meet the newest addition to our family.  we found miss broccoli in ikea yesterday.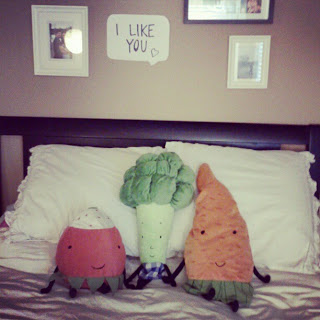 she fits right in with the rest of our produce.  she's a little top-heavy, but we don't hold it against her.  our black cat in particular has really taken a liking to her.  it's quite endearing.
i know i know.  we're ridiculous.
but also, we went to ikea yesterday.  i feel the need to expand upon that point.  because ikea?  oh man, ikea.  that store took all of our money!  and silently, too.  what a little sneaky devil, you know?  i went in for pillows!  and ohhh, did we get pillows.  five, to be exact.  well, a few were pillow covers, but still.  five pillow products.  and you know what?  couldn't be happier about it.  but we also got about 20 other miscellaneous items.  who knows.  it happens way too easily at that store.  you go in for one thing, you leave with 20.  and no money.  and a frozen yogurt cone.  because that is necessary with any trip to a store that sells frozen yogurt cones.
so, do you have any stuffed animals (or vegetables! or fruits!) in your bedroom?  please tell me i'm not the only one!
also!  happy 4th, lovelies!  be safe and have fun.  i plan on eating lots of watermelon and bbq goodness, at my in law's house.  and guess who else will be there?  my parents!  both sets of parents at a bbq on a holiday!  i'm brimming over with happiness, guys.  this is going to be so much fun.
but i should probably leave the produce at home.
xo