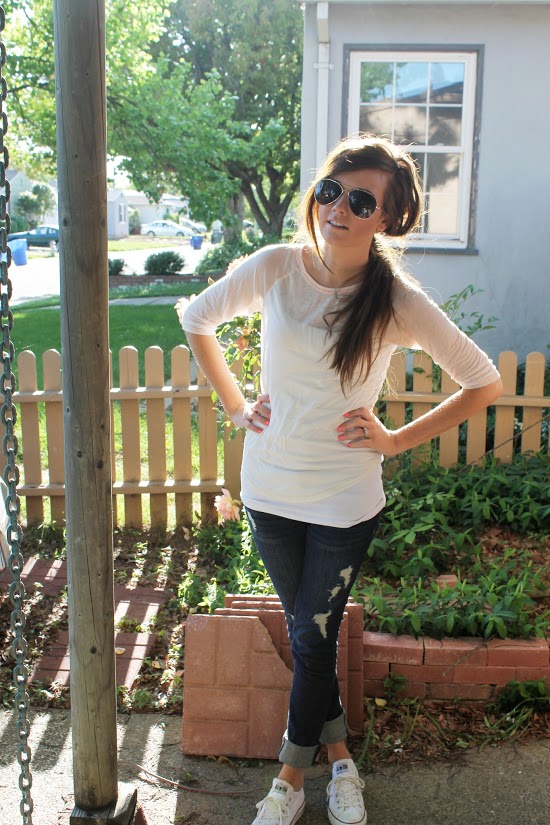 {my baseball game attire}
top and sunglasses: forever 21
Dear Boston, my prayers go out to everyone affected by this senseless tragedy that happened on Monday. A common thing I've seen around is people reminding others to hug their loved ones tighter, etc. I wish it didn't take a tragedy for us to see the importance of this. I wish it didn't take heartache and loss and fear to make this become so clear. Yes, let's hug them tighter, give your "I love you's" freely, count your blessings. Today, tomorrow, a month from now, a year from now. Always.
Dear Zack, baseball season has begun. And I'm happy because it means Summer! And you're happy because it means your favourite sport is on all the time! Win/win?
Dear Tuesday lunch, we went out with Daddio. If you're new here, we used to go to lunch every Tuesday with my parents, because it was my mom's chemo day and they'd be in town (they live an hour away). This week was the first one since December that we brought back the Tuesday lunch, and it was… good. Mostly. I mean, the lunch was delicious and it was fun getting out with my dad, but you know. There was definitely a very real missed presence that was felt. An emptiness. I don't think that will ever change.
Dear Target, stop it already, okay. I do not have a bunch of money to spend on shoes/clothes and YET, I am finding it extremely difficult to resist all of your items that fall under said categories at the moment. Just, stop it, please, for the sake of everyone's wallets, ever. (But really, don't stop, because let's be honest, ain't nobody got time for crazy expensive stuff, and you save us from that, so thank you, I guess.) (I mean, really, THE SHOES. I want them all.)
Dear Batman the cat, why must you sneeze 10 times in a row? And why must you wait to do this until you are pretty much right in our faces? I mean, jeez. Have some manners. Who brought you up, anyway?