This post sponsored by Nordstrom. All opinions are my own.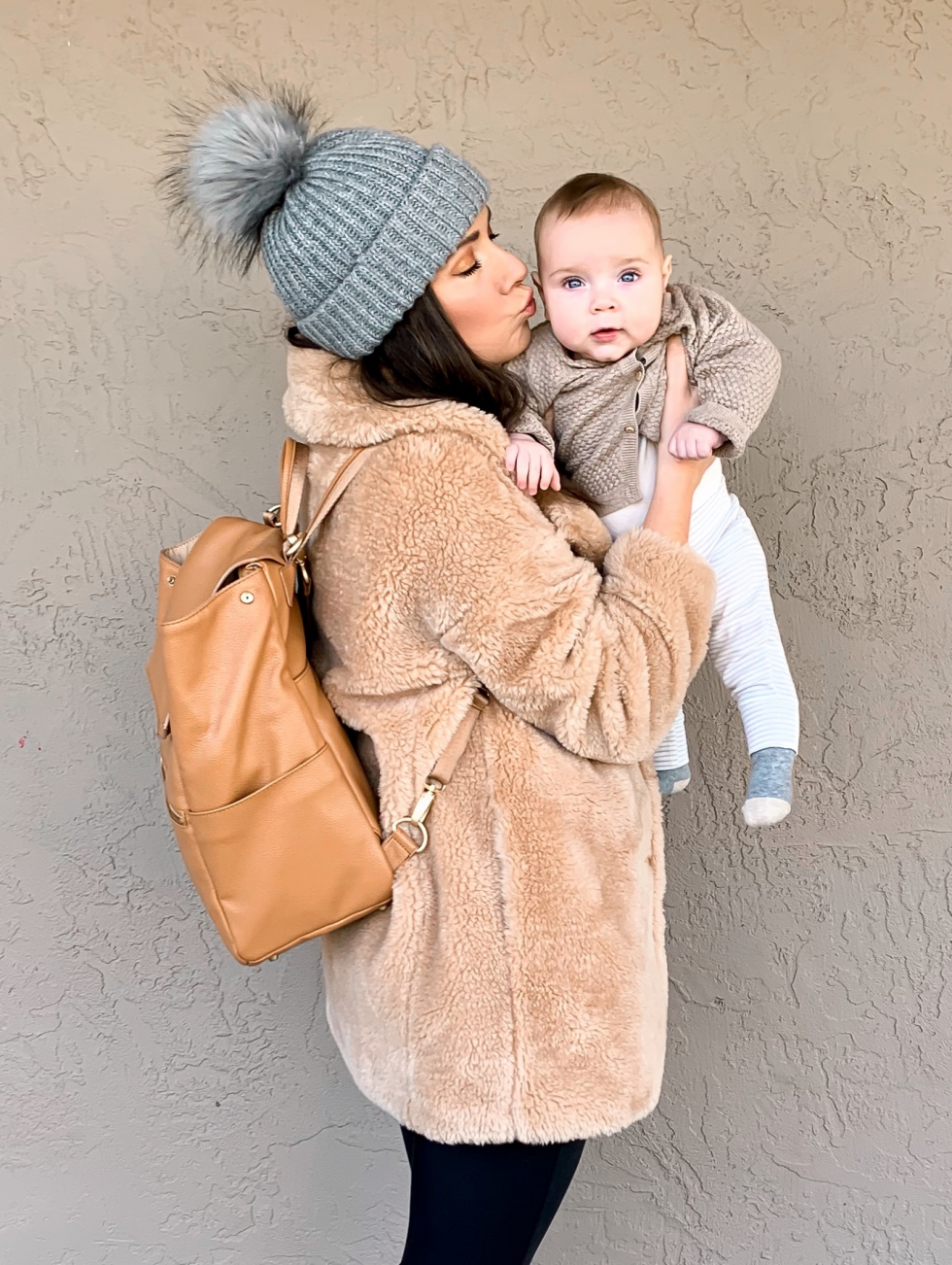 FAUX FUR COAT | BACKPACK DIAPER BAG (my favorite!) | SPANX LEGGINGS | BEANIE
We all know about my love of Nordstrom– it literally has everything you could want for anyone on your list this year! Yes, including yourself. ;) I've put together a few gift guides to help in your shopping this year, no matter who you're shopping for. All of these items are available at Nordstrom- truly your one stop shop for all your gifting needs! Free shipping and free returns? YES, please! Check them out, and let me know what your favorites are, or what's on your list this year!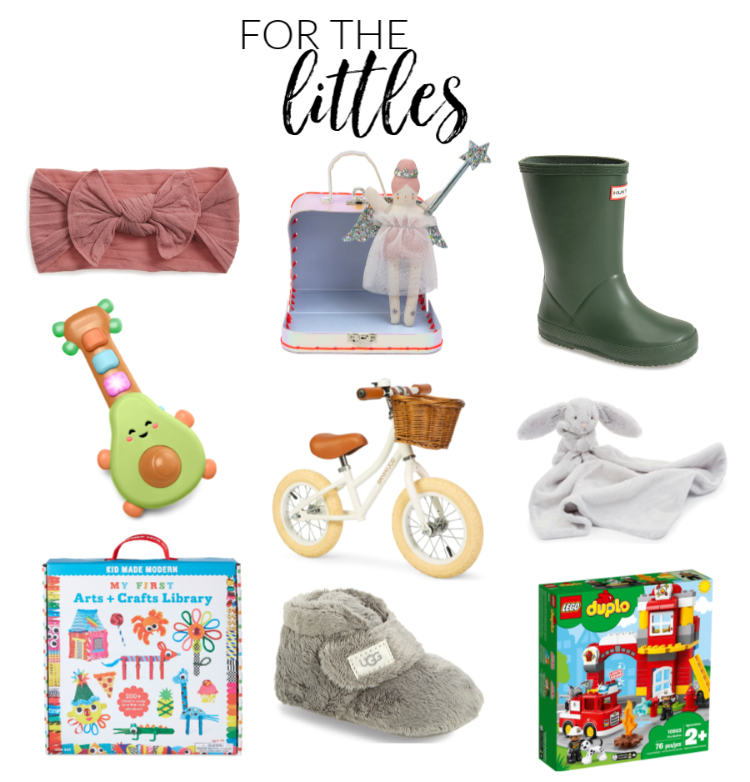 1.
BOW HEADBAND
($10) – My favorite brand for Sophie! They fit newborns through toddlers, and never leave a mark!
2.
FAIRY DOLL SET
(
$30
SALE $17.98) – Toooo cute for a little girl!
3.
HUNTER BOOTS
($55) – Classic rain boots for the kids! These are built to last!
4.
GUITAR TOY
($16) – Howwww stinking cute is this avocado guitar?! I can't.
5.
BALANCE BIKE
($189) – How darling?! This is one the kid's wishlist!
6.
BUNNY LOVEY
($20) – This brand makes the SOFTEST plush toys. This soother blanket is sure to be a hit.
7.
ART & CRAFTS LIBRARY
(29.99) – So fun!
8.
BABY BOOTIES
($34.95) – We have these for Ollie and they are the softest and so cozy for baby!
9.
DUPLOS
($49.99) – Always a good gift! This one is super cute.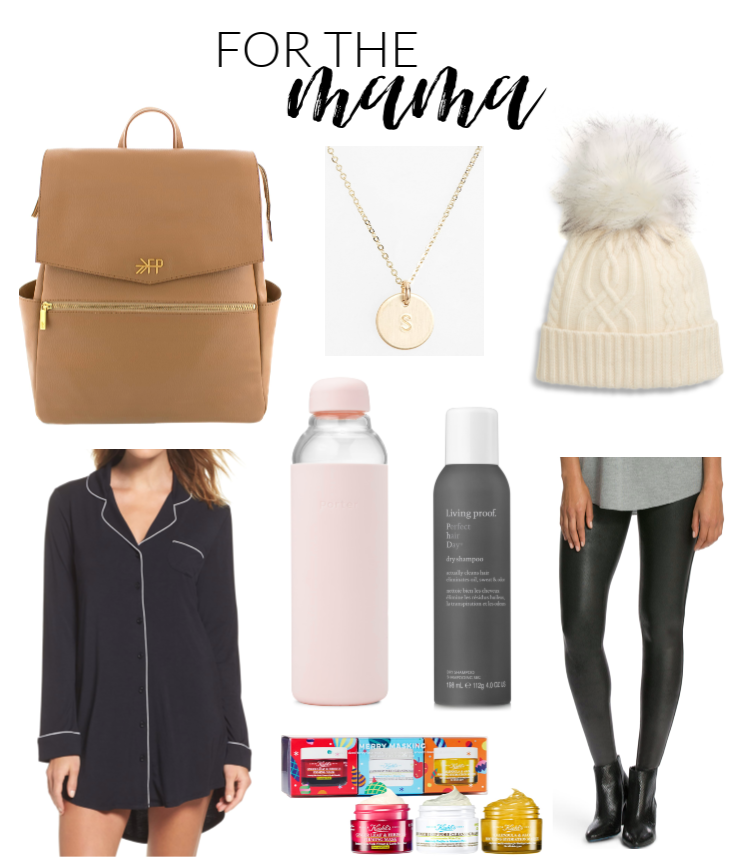 1.
DIAPER BAG
($175) – This is my most-used bag! The backpack style is a game changer!
2.
INITIAL NECKLACE
($45) – For baby's initial. Or her own! ;)
3.
BEANIE
($59) – Because chances are, she doesn't have time to wash her hair. Cute hats are necessary.
4.
PAJAMAS
($49) –
This
and
this pair
were my most-worn postpartum pajamas. Buttons for nursing and the gown in particular is what I wore in the hospital- SO comfortable, and cute!
5.
DRY SHAMPOO
($24) – This is the best. Life changing.
6.
TUMBLER
($35) – Because you gotta stay hydrated. Especially if nursing- that nursing thirst is REAL. This one is super cute.
7.
FACE MASKS
(
$39
SALE $33.15) – Any nice mask or skincare to pamper a mama! Love this fun gift set!
8.
SPANX
($98) – Because, after pregnancy, a new pair of super nice leggings that hold everything is is the best gift of all. But seriously. These are the best.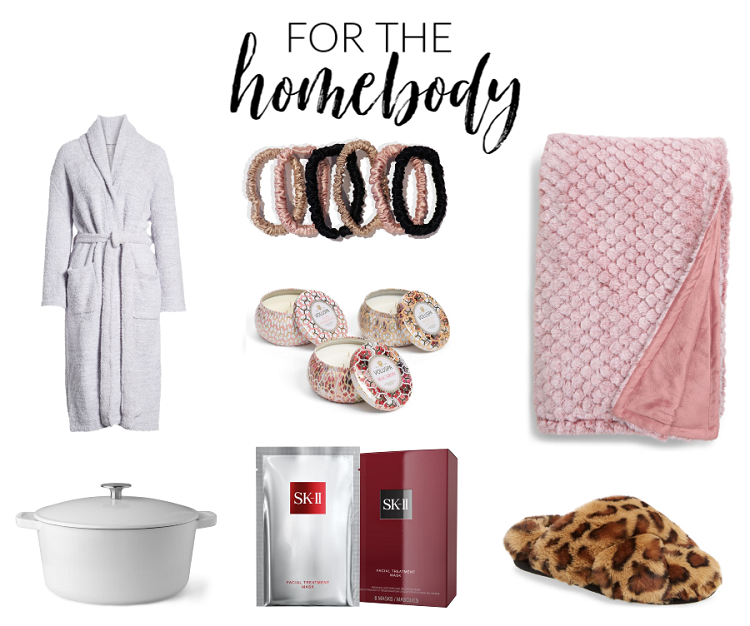 1.
BAREFOOT DREAMS ROBE
($99) – Because everyone needs a luxurious robe to lounge in.
2.
SILK SCRUNCHIES
($39) – On my list! Save the hair!
3.
VOLUSPA CANDLES
($32.50) – To create the ultimate ambiance. Plus, they're pretty decor, too, even unlit.
4.
PLUSH BLANKET
($39) – One can never have too many blankets. This is one cute and affordable!
5.
ENAMELED DUTCH OVEN
($99) – So pretty! The perfect gift for any cook- also a cute addition to the kitchen.
6.
SK-II FACES MASKS
(
$95
SALE $80.75) – Check out the reviews on these! SO good!
7.
BP SLIPPERS
($29.95) -How cute?! These are also on my list!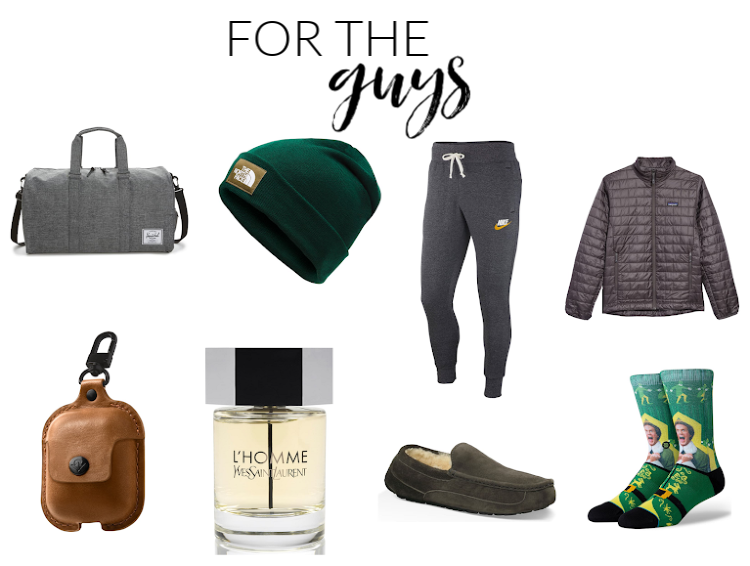 1.
HERSCHEL DUFFEL BAG
(
$90
$60.70) – Great for a gym bag or traveling in style!
2.
THE NORTH FACE BEANIE
($29) – Keep him warm- and sharp.
3.
NIKE JOGGERS
(
$55
$41.25) – You can never have too many pairs of good joggers! This is always a safe bet!
4.
PATAGONIA PUFFER JACKET
($199) – A good coat is a must!
5.
LEATHER AIRPOD CASE
(
$34.99
$28) – Something sleek to put his air pods in.
6.
YSL COLOGNE
(
$58
$49.30) – A good cologne is a must, amiright?! ;)
7.
UGG ASCOT SLIPPERS
($109.95) – Zack just got these and LOVES them.
8.
ELF STANCE SOCKS
($18) – Going in Zack's stocking (don't tell him I said that) ;) But seriously. Stance socks are a must and these are so fun for Christmas!
xo